Found November 10, 2011 on Backyard Sports Blog:
It's official, the NBA players have to much time on their hands.  This time last year they would be on the court five nights out of the week.  Now players are resorting to going on Sesame Street.  Amare Stoudemire and Carmelo Anthony join Grover this week on Sesame Street to explain what the word 'Compare' means.  The episode is set to air on Friday morning.  Don't be mad at me if I don't watch and let you know how it is. On a good note it looks like the owners and players are inching closer to a deal. Like this post? Check out our Home Page for more stories and follow us on Twitter
Original Story:
http://www.backyardsportsblog.com/201...
THE BACKYARD
BEST OF MAXIM
RELATED ARTICLES
STREET BALLIN'
Yep, that is the two New York Knicks teammates hanging out with Grover, learning more about the word "compare." Good stuff. Carmelo really seems to be enjoying the experience, while Amar'e appears keenly focused on the task at hand. Little known fact: in reality, when's he's not sticking to a bit, that Grover sure can [...]
With the NBA currently in lockout mode and no end in sight, many players have found more time to do some new things that they normally wouldn't have considered. Most recently, Knicks players Carmelo Anthony and Amar'e Stoudemire appeared on the children's televison show Sesame Street. The educational show, which has been airing on PBS since 1969, featured the two players...
Well, it wasn't really directed at Spencer and Dave Checketts, but it just as well might have been. No, they showed up on Sesame Street. Looks like Elmo's been hitting the gym more than Melo... Full story at Bob's Blitz ~ http://www.bobsblitz.com
You know you've made it in New York when you get invited to do Sesame Street. Carmelo Anthony and Amar'e Stoudemire have made it, this is a clip from a new Sesame Street episode set to air Friday morning (check your local listings). No, 'Melo and Grover do not count to 18.5 million together (that's…
Editor's note: The 2011-12 NBA season was supposed to tip off Nov. 1. With no games to watch, NESN.com will help fill the void by posting a dunk video every day until the lockout ends. Amar'e Stoudemire has been one of the most dominant forwards in the league since his rookie year in the 2002-03 season. During his rookie year with the Phoenix Suns, he showed his ability to...
The children's television show 'Sesame Street' premiered 42 years ago, and to celebrate that Thursday anniversary the fine folks at Children's Television Workshop have sent us a clip of New York Knicks All-Stars Carmelo Anthony and Amar'e Stoudemire teaching and shooting away with Grover on the set of the famed PBS show: Proving once again that 'Sesame Street...
Need further proof the NBA lockout needs to end soon?New York Knicks' Carmelo Anthony and Amar'e Soudemire are set to make an appearance on the children's show Sesame Street to teach the kids the meaning of the word "compare." And by the looks of the video below (via Backyard Sports) it seems Amar'e doesn't care for Grover.Seriously look. Melo is all...
I don't know about you, but I grew up watching Sesame Street. And although I've never asked them, I'm sure that's the same for Carmelo Anthony and Amar'e Stoudamire. With that, watch as 'Melo and STAT explain the word "compare" to their homie Grover as part of the show's ridiculous 42nd season. What's your favorite [...]
With still no deal on the table compared to other leagues that enjoy their fans… Carmelo Anthony and Amare Stoudemire took some time out to visit Sesame Street (best place ever!) and explain the word "compare" to Grover. If the league still has no deal by next week, I'm all for a Grover / Big Bird versus Melo / STAT pay-per-view game. I hear Big Bird is a monster in the paint too.
www.youtube.com/watch?v=ntOLWM2yYLI NBA superstars Carmelo Anthony and Amar'e Stoudamire explain the word "compare" to Sesame Street's Grover.  I have a feeling I can use that word quite easily right now. Can you compare how lame the NBA is being right now to how not lame the NFL was in handing their dispute? Let's compare who is worse: Lebron or Billy Owens If...
NEW YORK (AP) - NBA players are meeting to discuss whether to accept the league's current proposal to end the lockout.Carmelo Anthony of the New York Knicks, Blake Griffin of the Los Angeles Clippers and Jason Terry of the Dallas Mavericks are among the players participating in Wednesday's session with ...
(Grover is Bosh.) One of my professional goals is to make an appearance on Sesame Street and teach Grover the difference between two obvious things he should've organically learned about at some point over the last forty years. Sadly there isn't a lot of room for bloggers on children's programming ("hey kids, this is the difference between CREDITING your source and claiming...
Knicks News

Delivered to your inbox

You'll also receive Yardbarker's daily Top 10, featuring the best sports stories from around the web. Customize your newsletter to get articles on your favorite sports and teams. And the best part? It's free!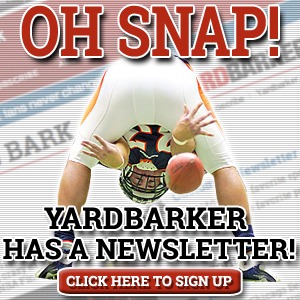 Latest Rumors
The Backyard

Today's Best Stuff

For Bloggers

Join the Yardbarker Network for more promotion, traffic, and money.

Company Info

Help

What is Yardbarker?

Yardbarker is the largest network of sports blogs and pro athlete blogs on the web. This site is the hub of the Yardbarker Network, where our editors and algorithms curate the best sports content from our network and beyond.