Found April 21, 2012 on Waiting For Next Year:
PLAYERS:
Kyrie Irving
,
Byron Scott
,
Anderson Varejao
,
Ryan Hollins
,
Semih Erden
,
Manny Harris
,
Samardo Samuels
,
Alonzo Gee
,
Donald Sloan
,
Luke Harangody
TEAMS:
Cleveland Cavaliers
,
New York Knicks
,
Boston Celtics
A sect of Cavalier fans would like their favorite NBA team to cut the engines for the rest of the season right about now (this writer has at least one foot in on that proposition). The Cavaliers were having none of that, however, as they soundly defeated the New York Knicks for the tenth straight time in Quicken Loans Arena by the score of 98-90. They did so with their star Kyrie Irving back to his old self (21 points) and the bench playing scrappy and bringing it home down the stretch. The Knicks with Stoudemire back in the fold looked like a team still searching for how they want to play as they will now be the 7th or 8th seed which brings an unfavorable matchup in either Miami or Chicago. Factor all that in, and the #TankStrong initiative was put on hold for one night.With that in mind, I have some things on my mind as the Cavaliers' season winds down.
Let me start by saying that if you let me choose, I'd prefer that the Cavaliers would lose their four remaining games and improve their odds to what could still be the third best heading into the NBA Draft Lottery, guaranteeing a top six pick. But, I'm also not going to be someone who can't enjoy positive takeaway points from an enjoyable basketball game. The same people who are upset that the Cavaliers win games are the same ones that complain the loudest when they completely fail to compete at all (see: Detroit, 50 point deficit). You can't have it both ways all the time, and with all the injuries and coming and going, the Cavaliers have been wildly unpredictable.
The reason I'm getting a little frantic about draft odds positioning is that I think you see a pretty clear dropoff after the top six prospects in Davis, Kidd-Gilchrist, Robinson, Beal, Barnes, and Drummond. The 7th pick is a nightmare, having to make a tough decision between Jeremy Lamb, Austin Rivers, and Tyler Zeller, among other possibilities. If the Cavaliers can secure one of the talented wing trio (Bradley Beal, Michael Kidd-Gilchrist, or Harrison Barnes), I think they would be overjoyed, and this team would take another huge step in competing and making it back to the playoffs. If you asked me right now, they're all incredibly close, but I would rank them MKG, Barnes, and Beal in that order.
Byron Scott said that losing Anderson Varejao and Kyrie Irving for the games that he did may have cost his team 10 wins. That sounds like a lot initially, but I can totally get behind that idea. How many games did they get positively nothing from the center position? How many times did Byron reluctantly trot Ryan Hollins or Semih Erden out there? Until Tristan was shoehorned into the center position, the Cavaliers rarely got anything of note from the five spot. Add in the tough offensive displays without Irving, and I think you get shockingly close to a 30 win team.
Manny Harris and Samardo Samuels were two of the most key contributors in this game. Harris, who is back in the fold following the end of Lesanity in Cleveland, scored a season-high 19 points and notched a career-high 12 rebounds in a by-far team-high 41 minutes. Manny played the entire fourth quarter and was actually the only starter to play at all in the final quarter. He was 6-of-12 from the field including 3-of-5 on three pointers, with one of those a halfcourt heave with the shot clock winding down that banked in.
With Gee missing his third straight game and Hudson out of the mix, maybe this is just the chance that Manny Harris needed. Manny dominated the D-League then came up here and was unable to get playing time. I have the not-so-bold prediction that Byron Scott has some sort of beef with some aspects of Manny's game. However, when you're looking for young guys with talent to bring back next year, I think you have to consider Harris one of those guys who should get an additional look as a bench option.
As for Samuels, this is the type of play that I've been hoping to see all season. He's shown flashes, but it took him some time to shed that extra weight, and he's still battling consistency issues. It's downright phenomenal how he rises to the occasion against the Knicks, posting 15 points, blocking two shots, and taking multiple charges. Samardo's still young, and I think he will carve out a role on someone's bench. I'm hoping it's here.
Back to Hudson for a second, I'm mildly upset that the Cavaliers weren't able to secure him for next year. If it was as simple as not offering him a rest of the year contract after his first 10-day deal expired, that's just foolish on the Cavaliers' part. I don't think that's the entire reason, and I don't fault Hudson for wanting to go to the playoffs with his hometown team in Memphis. It's just sad that what seemed like such a great story less than two weeks ago has become yesterday's news. You can't overvalue a 27-year-old combo guard who has a high shot volume, but he did enough in his time in Cleveland to leave me wanting more.
With the signing of D.J. Kennedy, the Cavaliers are hoping to catch lightning in a bottle from the D-League once again. It's hard to argue that the Cavaliers have some excellent scouting going on down in the D-League. First, they nabbed Alonzo Gee, who caught eyes in the NBA Development League back in 2010, last season (though they weren't the first NBA team with that idea). Then, they found Donald Sloan, who looks to be the backup point heading into next season, and Lester Hudson. They used the D-League to improve the confidence of Manny Harris and Luke Harangody too.
I'm really surprised that Kyrie Irving is playing again this year. Don't get me wrong, I'm glad that he's healthy again, and these last few opportunities should remove any shred of doubt from a Rookie of the Year award that he ran away with. However, an reinjuring of that shoulder in the final few games would be upsetting, and I expected them to take much of the same path that they did with Andy in shutting him down.
If you look back to my keepers article from a few months back, not much has changed. I still believe the Cavaliers can look to keep Kyrie, Tristan, Alonzo, and Anderson for the near future. Then, you have some question marks for role players in Gibson, Casspi, Harris, and Samuels. With plenty of cap space to utilize when they're ready and four draft picks, I think the Cavalier rotation will be plenty more easy on the eyes come November.
(Photo: David Liam Kyle/NBAE Getty Images)
Original Story:
http://www.waitingfornextyear.com/201...
THE BACKYARD
BEST OF MAXIM
RELATED ARTICLES
The Cavaliers announced this afternoon that they have signed guard/forward D.J. Kennedy to fill the roster spot vacated by the departure of guard Lester Hudson following his two 10-day contracts. Kennedy, 22, played this season for the Erie Bayhawks of the D-League, averaging 15.7 points, 7.3 rebounds, and 4.4 assists in over 37 minutes per contest.  The 6'6″ Kennedy played...
Due to continued pain in his injured wrist, Cavaliers' big man Anderson Varejao will not play the rest of the season. The pain is not from the fracture, but rather with the tendons or tissue in the wrist. "It's terrible that I'm not going to be able to play this season," Varejao said. "The good thing is that the bone is healing well. I'll keep working out but unfortunately...
A few random observations following the Cavaliers 114-98 loss in San Antonio on Sunday: Donald Sloan is proving to be a pretty decent pickup when it comes to backing up starting point guard Kyrie Irving. Sloan seems to understand when to push things and when to set up the half-court offense, never forcing the tempo. When it comes to the long term, Sloan is probably a better fit...
CLEVELAND (AP) -- The Cavaliers have shut down center Anderson Varejao for the remainder of the season with a broken right wrist. Varejao's wrist has not healed completely since he injured it Feb. 10 against Milwaukee. He was averaging 10.8 points and 11.5 rebounds before getting hurt. The Cavs went 10-26 without Varejao, the constantly hustling Brazilian and fan favorite....
Cleveland Cavaliers forward Anderson Varejao is out for the remainder of the regular season due to a fractured right wrist, the team announced in a press release Friday.An MRI revealed Varejao had suffered a non-displaced wrist fracture during a Feb. 10 game against Milwaukee. The 29-year-old hopes to recover in time to play for his native Brazil during the 2012 Summer Olympics.Varejao...
The Cavaliers competed, but in the end, they were no match for a San Antonio Spurs team that looks poised for a deep playoff run. The Spurs shot 55% and connected on eight three pointers as they defeated the Cavaliers 114-98 in the AT&T Center. The Spurs were led by their bench of Manu Ginobili (20 points, 9-of-12 shooting) and Stephen Jackson (17 points) as their bench outscored...
I'm betting this version of the New York Knicks would prefer to never enter Quicken Loans Arena again. The Knicks lost their 10th straight in The Q as the Cavaliers looked much more focused and determined against a playoff team that had plenty more to lose. Kyrie Irving shook some rust off and finished with  21 points on 6-of-15 shooting, while Manny Harris added 19 points and...
The Memphis Grizzlies have signed free agent guard Lester Hudson. The 6-foot-3, 190-pound Hudson averaged 12.7 points, 3.5 rebounds and 2.7 assists in 13 games for the Cleveland Cavaliers this season. He scored a career-high 26 points on April 8 at New Jersey. Grizzlies coach Lionel Hollins says ''if he can come in and help us for one game or two games in the playoffs it...
You probably heard about how Kyrie Irving only played eleven games at Duke last year, so I won't bother mentioning that. What I will point out, however, is that if Kyrie did not return to the Cleveland Cavaliers line-up last week, to play in these last handful of meaningless games, that would've marked the second straight season he was unable to complete due to injury. It...
Besides that [running], he's one of the best coaches in this league. Just based on the fact he listens to you, but also he gives you an opinion that's in your best interest all the time. He was a player, so he understands how we're feeling. That's basically what it's about. Having a coach to go out there and play, he understands you're going to make mistakes and he doesn't...
When the Cavaliers landed the #1 and #4 picks in the draft, it was imperative they land two impact players with those picks. We know Kyrie Irving has lived up to the top pick and then some, but there's a fair debate as to whether or not Tristan Thompson was the right pick at #4. ESPN's David Thorpe, one of the sharpest talent evaluators in the media, think the Cavaliers might...
NBA News

Delivered to your inbox

You'll also receive Yardbarker's daily Top 10, featuring the best sports stories from around the web. Customize your newsletter to get articles on your favorite sports and teams. And the best part? It's free!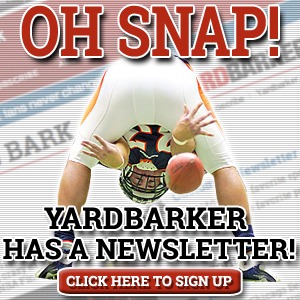 Latest Rumors
The Backyard

Today's Best Stuff

For Bloggers

Join the Yardbarker Network for more promotion, traffic, and money.

Company Info

Help

What is Yardbarker?

Yardbarker is the largest network of sports blogs and pro athlete blogs on the web. This site is the hub of the Yardbarker Network, where our editors and algorithms curate the best sports content from our network and beyond.