Found November 04, 2012 on Fox Sports Ohio:
PLAYERS:
C.J. Miles
,
Byron Scott
,
Daniel Gibson
,
Tyler Zeller
,
Donald Sloan
,
Reggie Miller
,
Brandon Jennings
,
Kyrie Irving
,
Anderson Varejao
,
Joakim Noah
,
Alonzo Gee
,
Dion Waiters
TEAMS:
Cleveland Cavaliers
,
Milwaukee Bucks
,
Chicago Bulls
Random stuff from the Cavaliers 105-102 loss at Milwaukee on Saturday night: Losses like this you can handle. It was a road game on the second night of a back-to-back for a young team. And if it wasnt for some awful play from the reserves in the second quarter well, lets not even talk about it. Im stating the obvious here, but through three games, the bench has been atrocious. C.J. Miles is particularly out of sorts. Lets hope this isnt as good as he gets. Hopefully, he just needs some time to adjust to his new surroundings. Miles finished 0-for-6 shooting for 0 points, with four fouls and three turnovers. Yuck, yuck and double yuck. Cavs coach Byron Scott worked in the bench slowly in the second half, strategically putting in Daniel Gibson, Tyler Zeller and Donald Sloan one at a time (as opposed to the major wave of the first half). Things went much better, and as Scott has hinted repeatedly, everyone is still trying to figure things out. That includes the coaching staff, and understandably so. Mostly, as analyst Austin Carr said during the broadcast on FOX Sports Ohio, the Cavs showed me a lot of character. They had every reason to fold, especially with Bucks reserve Mike Dunleavy doing his best Reggie Miller imitation, knocking down six of his seven three-point attempts and shooting 10-for-12 overall for 29 points. But the Cavs kept fighting and took it to the final buzzer (plus a few seconds). Bucks guard Brandon Jennings ended it with a fadeaway three at the top of the key with .07 seconds left. Scott said the clock started late, and hes right. After further review, the clock didnt start until more than a second after Jennings caught the ball off the inbounds pass. Jennings was given time to turn and release, and beat the buzzer. Nonetheless, it was a great shot to end a classic game. But as Scott said, the NBA needs to do something about the clock starting late -- particularly in arenas where the home team has the ball and the score is tied. Kyrie Irving finished with a game-high 27 points (and team-high 7 assists). He said his father once told him that pressure makes diamonds. Well, Kyrie may be in line for some new jewelry, because he scored the Cavs final 13 points, and not a single one of them was easy. This one also provided further evidence that the Cavs arent a bad team. They just match up horribly with the Bulls, who rocked the Cavs at The Q on Friday. Anderson Varejao has been awesome in two of the Cavs first three -- but is never the same against the Bulls Joakim Noah, a mirror image who is slightly more skilled and just as energetic. Varejao finished with 20 points and 17 rebounds Saturday. Alonzo Gee was also (mostly) fantastic, proving that good defense really does lead to offense. Gee finished with 18 points, six assists and two steals. Scott has told Gee that if it doesnt happen in three dribbles, its probably not going to happen. This is something Gee is still applying to his game. He needs to remember it, though, because he still forces a little too much. It also wouldnt hurt for him to learn to dribble with his head up, especially in traffic. As for rookie Dion Waiters, I cant imagine the Cavs without him. Honest. He still makes some rookie mistakes (and will for some time), but he is constantly trying to create and make things happen. And there may be a better-passing NBA shooting guard, but I just cant think of one off the top of my head. Rookie or veteran. Waiters tallied 13 points on 5-for-12 shooting. Jennings, a borderline All-Star, had 13 on 5-for-13 shooting (and 13 assists). As for the bench guys, Sloan played much better in the second half, hitting a couple of big shots on his way to eight points. Zeller is still way too tentative, but thats the way it usually goes for rookies. Still, seven boards arent too shabby for a rookie who played 21 minutes. The Cavs were 18-for-29 on free throws. That includes an 0-for-5 showing from the bench. Why are Zeller and Gibson each going 0-for-2? Theyre better than that. But they alone cant be blamed. Bottom line: Free throws are among the little things the Cavs always talk about needing to do well as a young team. No excuse. Follow Sam Amico on Twitter @SamAmicoFSO
Original Story:
http://www.foxsportsohio.com/11/04/12...
THE BACKYARD
BEST OF MAXIM
RELATED ARTICLES
Full disclosure: I was asked to be part of Verizon Wireless Midwest Bloggers program. I have been provided with a wireless device and five months of service in exchange for my honest opinions about the product. The phone is the Motorola Razr M. At the end of the program I get to keep the phone. Dan Gilbert himself broke the news via twitter that the Cavaliers were going to be launching...
(Photo by Nathaniel S. Butler/NBAE via Getty Images) It was a rough weekend for the Cleveland Cavaliers, as they dropped both of their games Friday and Saturday night. The Cavaliers showed us two very different types of losses, though. Friday night against Chicago was a reprise of the song we heard so many times last season. The Cavaliers fell behind by 16 in the first quarter and...
This game looked like it was going to overtime. Kyrie Irving's layup tied the game with 0.7 seconds left but Brandon Jennings nailed a 28 footer as time expired. This was a back-and-forth affair. The Cavs built an early lead, then blew it. The Bucks had a lead for awhile, but the Cavs fought back. There's a few takaways from this game: 1) Kyrie Irving is REALLY good. 2) So is...
It appeared that Cleveland Cavaliers guard Kyrie Irving game-tying lay-up with less than one second to play was going to send their game against the Milwaukee Bucks to overtime. With less than 0.7 seconds on the clock, Bucks guard Brandon Jennings decided to end the contest with a game-winning three pointer:
Not the ideal start to the road trip I thought this game was headed to overtime. Trailing 102-100 with eight seconds left in the game, Kyrie Irving went the length of the floor and hit the game tying layup, leaving just seven tenths of a second on the clock. With that little time left, I figured that we were going to get an extra five minutes of the Cavs not guarding Mike Dunleavy...
Upon further review....here are a few thoughts looking back on week one of the new Cavaliers campaign: -Andy. Wow.  13,15, 4 and shooting 64%.  We all had fun with the fact we were passing off Antawn Jamison and Anthony Parker as "veteran leaders" last year.  I couldn't imagine a player playing that role any better than a guy like Andy.  Just relentless and a joy to...
I felt we came out ready to play. I don't want to get fined, so I'm not going to say anything about the clock starting late on the last shot. They have to figure out a way to do something about that. Bottom line is it doesn't count or you have to take it out again. Looking at it again in the locker room a couple of times, the shot shouldn't have counted. The clock started...
NBA News

Delivered to your inbox

You'll also receive Yardbarker's daily Top 10, featuring the best sports stories from around the web. Customize your newsletter to get articles on your favorite sports and teams. And the best part? It's free!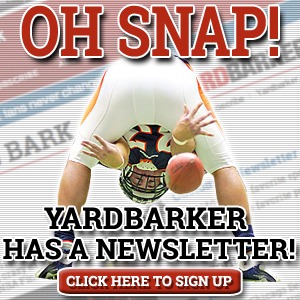 Latest Rumors
The Backyard

Today's Best Stuff

For Bloggers

Join the Yardbarker Network for more promotion, traffic, and money.

Company Info

Help

What is Yardbarker?

Yardbarker is the largest network of sports blogs and pro athlete blogs on the web. This site is the hub of the Yardbarker Network, where our editors and algorithms curate the best sports content from our network and beyond.