Found December 07, 2011 on NBA 24/7 365:
PLAYERS:
J.R. Smith
,
Dan Gadzuric
,
Josh Boone
,
Kenyon Martin
,
Patty Mills
,
Mike Harris
,
James Singleton
,
Stephon Marbury
,
Shavlik Randolph
,
Anthony Roberson
TEAMS:
Denver Nuggets
,
Brooklyn Nets
,
Portland Trail Blazers
,
San Jose Sharks
,
Houston Rockets
Zhejiang 104, Jiangsu 99: I only caught the second half, but that sample alone makes this my favorite CBA game of the year thus far.  This game was wild down the stretch… I'm talking JR Smith repeatedly dunking on people in crunch time and Dan Gadzuric getting fouled a on three-pointer with 13 seconds to go.  See for yourself…
Jiangsu trailed by five by the time Gadzuric was fouled on the three, and it ended up being too little too late.  Still, the bonehead play momentarilly appeared to give life to a Jiangsu team that should've already been put away for sure.  JR's 46 points were easily the game's high, but Marcus Williams was quite effective in his own right with 26.  He was heating up a bit in the third quarter while Smith was slumping, helping Jiangsu to close the gap and briefly take a lead.  It was Marcus vs JR down the stretch, and it was a lot of fun to watch.  When JR wasn't scoring he was setting up Josh Boone for a dunk (4 assists), and Marcus Williams also distributed the ball well (7 assists).  As he did in his 52-point game, JR made it a double-double with 10 boards.  He's obviously stepped his game up to a god-like level in the past two games, and Zhejiang is rolling.  This is their 5th win in a row.
Xinjiang 91, Qindago 81: This Xinjiang home game featured the loudest CBA crowd I've ever witnessed.  I actually could not wear my headphones directly over my ears while I watched this game.  The fans calmed down a bit towards the end, probably due to the fact that the outcome was never really in question, but they were still pretty hype even in the game's later stages.  Once again, we didn't see much of Kenyon Martin today.  He played just 16 minutes and spent much of the second half riding the stationary bike.  I think he must be suffering from some sort of nagging injury, but I've got no confirmation on that.  Anyway, Patty Mills led the way with 23.  Lester Hudson did his best to keep Qindago in the game (I'm going to give him the benefit of the doubt and assume this was his primary goal as he shot 35 times) by taking over 47 percent of their shots.  He did finish with more points than shot attempts today; 41-35.
Guangdong 95, Shanghai 76: The Sharks dropped another one by a wide margin as Mike Harris had his second consecutive un-Mike-Harris-like game; he was only able to muster 9 points and 8 boards today.  Neither Aaron Brooks nor James Singleton played 30 minutes, but Brooks was the game's leading scorer with 23 and Singleton was the leading rebounder with 15.
Beijing 112, Bayi 75: Beijing had no trouble staying undefeated (8-0) today; they were up 18 points in the second quarter and hadn't even gotten a point out of Stephon Marbury yet.  As a team they shot 53 percent from the field, came up with 18 steals, and out-assisted the Rockets by 13.  Steph hardly played and finished with 6 points.  Randolph Morris posted 16/8.
Shanxi 112, Tianjin 90: Charles Gaines beasted all over David Harrison and company to the tune of 33 points and 11 boards (both team highs), and Marcus Williams pitched in 29 as Shanxi improved to 3-3.  Tianjin is sinking like a rock… they're now 2-6 with 5 Ls in a row.
Dongguan 117, Foshan 104: Shavlik Randolph and Josh Akognon combined for 50 points as Dongguan won their 4th in a row.  This streak may have less to do with Dongguan than it does with their opponents of late; they've beaten four of the worst teams in the league after starting 0-4.  I guess it does indicate that they're probably a step above the teams that sit at the bottom of the barrel.  Marcus Hailslip had 16 in his second game with Foshan.  He got off to a quick start but didn't do much later on.
Fujian 112, Shandong 105: Shandong loses again (5th straight after winning their first three) despite Alan Anderson's relatively efficient (13-28, 6 assists), game-high 39 points.  They were absolutely pounded on the glass… Othello Hunter only finished with 6 boards in 24 minutes–a surprisingly low total for him considering his league-leading 16.6 RPG average coming into this game.  Anthony Roberson led Fujian with 29.  Will McDonald scored 28, Zaid Abbas had 26, and Gong Songlin had 16.  Nice balanced attack… rather unusual for a CBA game.
Original Story:
http://nba247365.com/?p=3513
THE BACKYARD
BEST OF MAXIM
RELATED ARTICLES
JR Smith won't be in the NBA this season but that isn't stopping him from finding his groove in China. His team Zhejiang Chouzhou is currently on a 5-game winning streak and JR added the explanation point to the most recent victory with a 46-points-10 rebounds performance. and then there's this:     Source
Kosta Koufos may yet be done growing. The 7-foot Koufos, who is 22, was told by a doctor this offseason that his growth plates were still open. And while he isn't taller than he was last season, the possibility remains that Koufos could inch higher. Or broader. Koufos, a three-year veteran, said this morning that his wingspan is now 7-7. It may all be extremely relevant to the...
J.R. Smith and Wilson Chandler are still in China. In fact, Smith dropped 46 points the other night (via nba247365.com). Which on the surface is what they should have expected — from the start the proud Chinese Basketball Association said it was not going to allow teams to rent NBA players during the lockout. The…
While Nuggets execs continue to hammer out a possible deal with Arron Afflalo – a restricted free agent who said he wants to return to Denver – coach George Karl spoke honestly about the importance of Afflalo in his post-Carmelo system. "I think Arron has become our most intangible glue guy," the coach said. "When we [...]
Danilo Gallinari is a budding star in the NBA and a superstar in his native Italy, but he only started a couple games this fall because his coach in Milan figured the lockout would end – and the coach wanted to his starters to bond on the court. "It was a little bit (weird) — I wasn't used to it, but it was for the good of the team," the Nuggets forward said this afternoon...
When Danilo Gallinari arrived in New York in 2008, the city couldn't get enough of him. What was he wearing, where was he going – it's as if he was dating a Kardashian. But after being traded to Denver last season as part of the deal for Carmelo Anthony, the fervor screeched to a halt. [...]
Denver Nuggets coach George Karl sort of looks like Rush guitarist Alex Lifeson in this high school picture, courtesy of the most-follow Twitter feed @si_vault, and you're damn right we're jealous of his blazer.
Beijing 101, Zhejiang 98: Both JR Smith and his Zhejiang squad came into this game about as hot as it gets.  Smith?  He's scored 98 points in his last two outings.  The team?  They've won five in a row.  Despite 43 points, 9 rebounds, and 5 assists from JR, their win streak came to an end on their own floor at the hands of the undefeated (9-0) Beijing Ducks.  Zhejiang...
John Hollinger has written profiles of every NBA player. On the Nuggets page (Insider), he has this to say about Arron Afflalo: Afflalo really stepped up his offensive game this past season, getting more aggressive attacking off the dribble and drawing fouls while still maintaining his deadly 3-point threat (42.3 percent on the season, 40.8 percent career). As a result, he led all...
While Nuggets execs continue to hammer out a possible deal with Arron Afflalo – a restricted free agent who said he wants to return to Denver – coach George Karl spoke honestly about the importance of Afflalo in his post-Carmelo system. "I think Arron has become our most intangible glue guy," the coach said. "When we evaluate why we lost in the playoffs (to Oklahoma City...
The Nuggets will open the season against the defending champions in Dallas, a Dec. 26 game, while playing four games in six days to begin this squeezed-in season.
Point guard Ty Lawson and the Nuggets will open the 2011-12 regular season on the road Dec. 26 against the defending NBA champion Dallas Mavericks. Denver plays its first home game two nights later against the Utah Jazz. Single-game tickets go on sale to the public Dec. 13.
NBA News

Delivered to your inbox

You'll also receive Yardbarker's daily Top 10, featuring the best sports stories from around the web. Customize your newsletter to get articles on your favorite sports and teams. And the best part? It's free!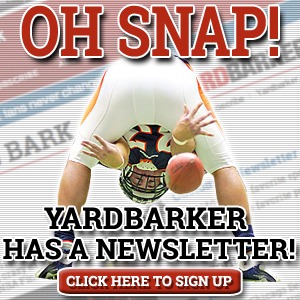 Latest Rumors
The Backyard

Today's Best Stuff

For Bloggers

Join the Yardbarker Network for more promotion, traffic, and money.

Company Info

Help

What is Yardbarker?

Yardbarker is the largest network of sports blogs and pro athlete blogs on the web. This site is the hub of the Yardbarker Network, where our editors and algorithms curate the best sports content from our network and beyond.