Found January 05, 2012 on Sportress of Blogitude:
A grand time was had by one and all on Wednesday and many guffaws were guffawed when it was discovered that in a print version of Charlotte Observer's "Bobcats Gameday" notes report that New York Knicks point guard Baron Davis' herniated disc injury was erroneously (and hilariously) reported as a herniated, um, man part. Thankfully [...]
Original Story:
http://www.sportressofblogitude.com/2...
THE BACKYARD
BEST OF MAXIM
RELATED ARTICLES
(Source) The Charlotte Observer issued what is surely its most embarrassing correction ever — and certainly its most delicate — after a typo resulted in reporting a rather unique injury to New York Knicks guard Baron Davis. Let's just say a misplaced letter turned a herniated disc into something somewhat more sensitive — and no doubt substantially more painful. As for...
Baron Davis has been suffering from a back injury since the beginning of training camp and he's expected to miss a good portion of the season because of it.  That's old news, but according to a recent report from the Charlotte Observer, Baron has further medical issues that have nothing to do with his back.  Via sbnation.com… Uh… ouch!  The good news for Baron is that...
DON'T PRINT THAT
The Charlotte Observer is still trying to clear itself of the Baron Davis 'herniated dick' error in yesterday's newspaper, actually running a correction in today's edition. Old newspaper people act like errors don't occur. Us Internet people love the errors and embrace them. We build lists such as the '32 Great Moments In Newspaper & Internet Sports Erros &...
And here I thought Knicks guard Baron Davis was on the shelf due to lower back problems, instead of the painfully sounding herniated dick he seems to be suffering from.  Thank you, Charlotte Observer, for clearing that up for us. OK, so it's just an unfortunate typo, whereby the word disc becomes the word dick.  Sure it's sophomoric and juvenile, but so are most things people...
How Do You Herniate That Again? Everybody makes mistakes. You have to admit it's funnier when those errors lead to d*#k jokes. We're looking forward to Baron Davis making some on-the-court headlines, but, for now, we'll have to accept this. Don't hate on the folks at the Charlotte Observer who mistakenly referred to Baron Davis's lower back problem by confusing his disc...
New York Knicks point guard Baron Davis is weeks away from returning to the court due to a herniated disk. But the injury could be a lot more severe, as Davis and thousands of readers learned from Wednesday morning's editions of the Charlotte Observer. Due to an error in the copy-editing process, Davis was mentioned as recovering from a herniated ... (rhymes with sick). &quot...
It's the typo that is causing lots of LOLs around the basketball and newspaper world as the Charlotte Observer seemed to have some deadline issues with this morning's sports page. Of course newspaper/media insider Jim Romenesko went searching for answers. A sports editor tried to explain how a copy editor went to correct the disc spelling to disk and instead ended up with dick...
According to the print edition of a "Bobcats Gameday" report in the Charlotte Observer (via @RosinskiBill by way of SB Nation), the injury that New York Knicks guard Baron Davis is currently recovering from is a real doozy. As a side note, the glaring error has since been corrected in the online version of the [...]
It always comes around five to ten times a year, that dick/disk typo. Baron Davis is just hoping that this morning's newspaper report is just a typo and not an actual fact. Rumor has it that he has checked 173 times today to make sure it is just his disk that is herniated. More Information
Due to the "people in glass houses" rule I am loath to report on the typos of other publications, but this one is too funny to pass by without a note. The Charlotte Observer's game story about the Bobcats vs. Cavaliers had a note about Baron Davis (remember he was on the Cavaliers roster when…
While Baron Davis works his way back from injury, folks at the Observer need to get off his…well you know. New York Knicks fans are waiting to see what veteran point guard BARON DAVIS will offer to their team this year as he recovers from injury. But according to the Charlotte Observer, Davis's injury has to be the most painful in sports history. Check this out: Uhh, typo!...
Baron Davis' injury took on a painful new meaning on Wednesday, when the Charlotte Observer reported the Knicks' injuries entering Wednesday night's game against the Charlotte Bobcats. Davis, who has yet to debut in a blue and orange uniform due to injury, was listed as "recovering from a herniated dick."
Knicks News

Delivered to your inbox

You'll also receive Yardbarker's daily Top 10, featuring the best sports stories from around the web. Customize your newsletter to get articles on your favorite sports and teams. And the best part? It's free!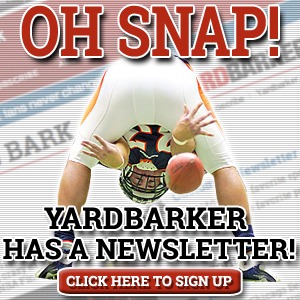 Latest Rumors
The Backyard

Today's Best Stuff

For Bloggers

Join the Yardbarker Network for more promotion, traffic, and money.

Company Info

Help

What is Yardbarker?

Yardbarker is the largest network of sports blogs and pro athlete blogs on the web. This site is the hub of the Yardbarker Network, where our editors and algorithms curate the best sports content from our network and beyond.