Found June 20, 2013 on BlackSportsOnline:
Although Chris Bosh is relevantly soft-spoken, the Miami Heat forward has become more vocal as the NBA Finals wind down. Before the beginning of Game 6 according to Gossip Extra, Bosh decided it was the perfect time to confess his love for the Heat organization while proclaiming he is there to say until the end. "I'm in Miami for the rest of my career. I plan to be there. I plan to retire there. I plan to win hopefully a lot more championships there. So that's where home is." Besides the fact it's uncertain if Miami wants to keep Bosh for the remainder of his career, there are a few flaws with Bosh proclaiming that Miami is his home. The mother of Bosh's daughter Allison Mathis took Bosh to court in August seeking a higher amount of child support. Florida may have nice palm trees and tropical weather along with no state taxes, but Texas is the place to be if you have money and want to retain it. Which is why back in August, Bosh insisted he was a Texas native and resident when asked about his residency by a Orlando judge in connection to the child support case. Bosh was able to convince Orlando judge  Robert Evans he was resident of Texas, therefore resulting in Bosh only paying $2,600 a month in child support versus $30,000 a month in Florida. Bosh will now have to defend himself from his own words now that the case is in appeals courts. "Chris Bosh's testimony in court about his being a Florida resident is exactly opposite of what he recently told the media," said attorney Jane Carey. "He now says he intends to retire here after playing for the Heat. "You can't be a resident of Texas and retire in Florida. "Chris Bosh fooled the trial judge, but we believe that the Appellate Court will reverse the lower court decision." Bosh's lawyers were able to draw up a good concoction to avoid paying the higher child support rate initially. By claiming he resides in a $73,000 home in Texas opposed to the $12 million dollar mansion he shares with his wife Adrienne may have worked for a while, but not for long if his ex Allison can help it. However, Bosh has a few experts on his team who can help him deal with this situation. Baby mama's and court proceedings are becoming a popular trend with the Heat. I wouldn't be surprise if his next move would be full custody.
Original Story:
http://blacksportsonline.com/home/201...
THE BACKYARD
BEST OF MAXIM
RELATED ARTICLES
Ah yes, Chris Bosh. The gift that keeps on giving. Just recently he was mocked in a Taiwanese Animation Treatment of Game 7 of the NBA Finals due to his scoring-wise no-show in the big game. Heck, he was compared to an ostrich once, for goodness sakes. But there have been good times, too. Chris [...]The post Chris Bosh nearly chokes on piece of confetti during celebration (video...
Chris Bosh had some words of advice for the fans who gave up on the Heat in the fourth quarter and left Game 6 early Tuesday night before the team's historic comeback: "Don't come back."   "For all those guys who left, don't come back for Game 7." – Chris Bosh — Ryan Wolstat (@WolstatSun) June 19, 2013
  I unlike many, actually like Chris Bosh and acknowledge his vast contributions to the Miami Heat's championship run these past two years. So it pains me to this, but during the on-court celebration while the confetti was streaming down, the power forward was caught struggling a bit with a piece of confetti. Bosh just can't seem to avoid these awkward moments. Check it out...
One of the positives of the Miami Heat winning the 2013 NBA title, we get to see Chris Bosh celebrate the accomplishment. It appears that Chris learned from last season's victory and decided to don some protective eyewear before popping the champagne: Also, check out the double-fisting action… *** Oh My [@TheWorldOfIssac] Chris Bosh [@NBA]
Poor, Chris Bosh! Even when he's trying to celebrate normally, a rogue piece of confetti decided find his mouth… *** Chris Bosh nearly eats rogue piece of confetti [Busted Coverage]
Bosh took it in the mouth
South Florida basketball fans have taken flak for being apathetic when it comes to how they support the Miami Heat. They show up late, they leave early, they are not loud enough, they only want to be "seen" that kind of thing. When the Heat appeared to be choked out at the hands of the San Antonio Spurs on Tuesday, fans began to file out of American Airlines arena during the...
Miami Heat Forward and Struthiomimus lookalike Chris Bosh called out non-believer, pessimistic Heat fans who abandoned them early in game six of the NBA Finals. He declined to invite them back for game seven. Chris Bosh had a lot to say at the Heat's Wednesday practice, calling out the "fans" who left  American Airlines Arena early when the Heat were down 5 with less than...
As the Heat trailed by 10 points entering the fourth quarter, the NBA began to prep for a Spurs postgame championship ceremony which irritated LeBron James and Chris Bosh and helped fuel a furious rally that resulted in a OT and Heat 103-100 win to force a Game 7.  There would be no celebration Tuesday night. According to the Miami Herald: "I noticed it," James said. "We...
Miami Heat forward Juwan Howard, who has played in only seven games this season (zero in the postseason), made a nice behind the back one-handed half-court shot in practice as his team prepares for Game 7 against the San Antonio Spurs.   
In one of the most riveting NBA games this postseason, and a must-win game for the Miami Heat, many of the Heat "faithful" were seen leaving the game early when the Heat were down by two.  Ray Allen ended up hitting a game-tying three pointer with five seconds left to send the game to overtime.  The game was close until the bitter end when Chris Bosh packed Danny Green's...
It has been less than twenty-four hours since the Miami Heat were crowned champions, and they are already favored to win the title again next year.  Bovada has the Heat at 2-1 odds, with the Thunder behind them at 11-2.  The Spurs, the finals runner-up, are listed at 17-2, the fourth best odds. The Bobcats and Magic are the heaviest of underdogs with each team sporting 500-1 odds...
Heat News

Delivered to your inbox

You'll also receive Yardbarker's daily Top 10, featuring the best sports stories from around the web. Customize your newsletter to get articles on your favorite sports and teams. And the best part? It's free!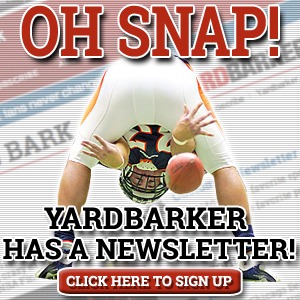 Latest Rumors
Best of Yardbarker

Today's Best Stuff

For Bloggers

Join the Yardbarker Network for more promotion, traffic, and money.

Company Info

Help

What is Yardbarker?

Yardbarker is the largest network of sports blogs and pro athlete blogs on the web. This site is the hub of the Yardbarker Network, where our editors and algorithms curate the best sports content from our network and beyond.