Found June 14, 2013 on StraitPinkie.com:
The NBA announced the fine on Chris Bosh today. Bosh flopped right in the middle of the second quarter in Game 4 last night. Bosh was trailing Spurs forward Tim Duncan as the two headed back down the court. Duncan looked to set up his position in the paint. Then Duncan's teammate, Gary Neal approached with the dribble. Duncan set up his body to keep Bosh away from the play. Bosh flailed his arms and fell to the ground. Can you guess what happened next? If you said the refs whistled Bosh for another flop…..well you are wrong. It was Duncan who was called for the foul. To add insult to injury the basket that Neal made was voided. Besides stopping two points and causing Duncan to get another foul, Bosh had a huge game. He had 20 points and 13 rebounds as the Heat won Game 4 and tied up the series at two games apiece. Let's get back to the flopping. So far in these playoffs there have been eight players to get fined for flopping. In the regular season, there was a total of 19 players that received warnings for flopping. For those who don't know this is how much each flop will cost one player. Violation 1: $5,000 fine Violation 2: $10,000 fine Violation 3: $15,000 fine Violation 4: $30,000 fine Bosh will make $17.5 million this season so that is pocket change for him. David Stern believes that the league's current fine system is "not enough" to prevent players from flopping. If you look at a player's income as opposed to the cost of the fine I am surprised more players don't flop. Especially in the Finals. If you can cause a star player like Tim Duncan to get a foul early in the game, he might play a bit more cautious. People say flopping has been around the league forever. I beg to disagree. I don't remember MJ, Magic, Larry, or the other greats from back in the day falling to the ground in hopes of causing a foul for their opponents. Most of the time if a player fell to the ground it was because the Bad Boys from Detroit knocked you down. Just sad to see a game in a series that has the NBA title on the line "fall" victim to a bunch of athletes turned actors. David Stern your last move in the NBA as the commissioner is to create some sort of rule that would make flopping extinct in the league.
Original Story:
http://www.straitpinkie.com/sports/ch...
THE BACKYARD
BEST OF MAXIM
RELATED ARTICLES
As much as flopping has continued, the fine amounts obviously aren't enough. NBA fines Miami's Chris Bosh $5,000 for flopping in Game 4 — Chris Mannix (@ChrisMannixSI) June 14, 2013
Chris Bosh should be a little less richer after he flopped real bad in Game 4. I would be shocked if the NBA doesn't fine him $5,000 for flopping. This is one of the worst flops you will ever see check it out below. Tim Duncan barley touches Bosh, but Bosh flops around like someone really hit him. Some say this is a smart play, to me this disrespects the game, if you want to flop...
San Antonio's Tim Duncan nudged Miami's Chris Bosh during Game 4 of the 2013 NBA Finals, and the 6-foot-11 Bosh went flying in a flop for the ages.
Right before the end of the first half, Chris Bosh tried to slam home a dunk but was way late.  The clock went off when he was still in the air, yet he was so confident that he got it off that he wanted a review on the play. Bosh should know better than you can't go for the dunk that late in the half.  And him asking for a review just shows fans that he truly was not paying...
The Heat's Chris Bosh has been fined $5,000 for violating the league's anti-flopping rules during Game 4 of the NBA Finals. During the first half of Game 4, Tim Duncan sealed Bosh on a Gary Neal dribble-drive to the basket and was called for the offensive foul as the Miami Heat forward FLAILED to the floor.
Chris Bosh: King of the Floppers
Sure, at the end of the night, the Miami Heat walked out of AT&T Center with a huge 109-93 win over the San Antonio Spurs in Game 4 of the NBA Finals to tie the series at two games apiece. And while each member of the Big Three had monster games (LeBron James: 33 [...]The post D-Wade's purse, LeBron's camo and Bosh goes nerd chic for Game 4 (pics/vid) appeared first on Sportress...
SAN ANTONIO (AP) -- David Robinson was 37 years old when he rode off into the NBA sunset with a fresh Lawrence O'Brien trophy under his arm and his legacy as the greatest player in San Antonio Spurs history firmly intact. It's been 10 years since Robinson left his team in the hands of Tim Duncan and a couple of precocious and unpredictable young guards named Tony Parker...
Everyone knows that the fifth game in a best-of-seven series is pivotal to determining a winner. All the stats say that the team that wins Game 5, should go on to win the series. So it's safe to say that tonight's Game 5 between the Spurs and the Heat is pretty important. After a thriller in Game 1, the other three games of this series have been blowouts. Just about every player...
Chris Bosh knows it's hopping time! DO IT NOW! "I watch, write, suffer, and succumb to this show, yet have to remind myself of what happened only minutes after each episode. That is how G's Smackdown reviews work. And as J.T. Hogan has observed, it often makes more sense than the program you are actually watching. This is not a play-by-play recap, there's enough of...
In Game 4 of the NBA Finals Thursday night there was a sequence of basketball-deliciousness that needs to be seen to be believed. Stephen Douglas of The Big Lead referred to it as basketball porn and I really can't argue with that assessment. Late in the third quarter, San Antonio Spurs guard Manu Ginobili drove into the lane and threw a no-look, behind-the-head pass to Tim Duncan...
  This is the third installment of NBA Entertainment's behind the scenes look at the NBA Finals between the Miami Heat and the San Antonio Spurs, and three things jumped out at me. 1. Tim Duncan's truly woeful wardrobe. 2. Ray Allen and Chris Bosh's pre-game speech didn't have the same impact as Dwyane Wade's gem from Game 2. 3. Greg Popovich's hilariously calm and sarcastic...
NBA News

Delivered to your inbox

You'll also receive Yardbarker's daily Top 10, featuring the best sports stories from around the web. Customize your newsletter to get articles on your favorite sports and teams. And the best part? It's free!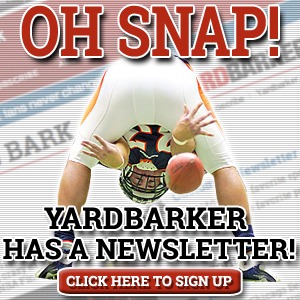 Latest Rumors
Best of Yardbarker

Today's Best Stuff

For Bloggers

Join the Yardbarker Network for more promotion, traffic, and money.

Company Info

Help

What is Yardbarker?

Yardbarker is the largest network of sports blogs and pro athlete blogs on the web. This site is the hub of the Yardbarker Network, where our editors and algorithms curate the best sports content from our network and beyond.