Found July 10, 2013 on Fox Sports West:
PLAYERS:
Chris Paul
,
Ryan Hollins
,
J.J. Redick
,
Matt Barnes
,
Doc Rivers
,
Dwight Howard
TEAMS:
Los Angeles Clippers
,
Milwaukee Bucks
,
Boston Celtics
,
Los Angeles Lakers
,
Houston Rockets
,
New Orleans Pelicans
,
Wake Forest Demon Deacons
PLAYA VISTA, Calif. -- This could have been about Chris Paul. Really, it should have been about Chris Paul. But that idea didn't fly; in fact, just the opposite. If anyone was going to receive special attention on Wednesday, it was going to be everyone. So when the Clippers held their news conference on Wednesday to announce their newly signed players, Paul sat in the back row, between Ryan Hollins and J.J. Redick. Just one of the guys. He wanted it that way. The night before, Paul signed his five-year, 107.3-million free-agent contract at the same time new Clippers Redick, Jared Dudley and Darren Collison and holdovers Matt Barnes and Ryan Hollins signed theirs. Paul could have commanded all the attention, but he preferred to share it. "I didn't want that," he said. "We all had to sign at the same time, so why not do a press conference together? There's no one person who's more important than the team, and I absolutely mean that." But there's little question that Paul and new head coach Doc Rivers have the necessary pull to make the Clippers an attractive destination. Barnes wanted back in; Collison had a chance to be reunited with Paul, his former teammate with the New Orleans Hornets. Redick was happy for the trade that brought him to L.A. from the Milwaukee Bucks. "Who would've thought, five or six years ago, that a Boston Celtics head coach would want to come to the Clippers, like that was his dream?" Redick asked. "It shows how far this franchise has come. The fact Chris didn't really entertain anything (else) speaks volumes." Paul said he didn't need much time to decide that L.A. was the place. He spoke about "unfinished business," a reference to last season's first-round exit from the playoffs, but it was really just a matter of speaking with his family his wife Jada, his kids, his brother and his parents to confirm what he already knew. No drawn-out process, no visits with other teams, no mulling and hinting about his future. "I didn't feel like that would be fair," Paul said. "I'm pretty aware of what could've happened or where you could go. I'm pretty knowledgeable about the situations. There was no need to put any of that stress on anybody, especially my family. "Once I knew, I felt like I should go ahead and notify the other teams. That way they could move forward and worry about who they were going to sign for the upcoming season." Paul didn't recall the time or date when he decided he was coming back. He was sitting at home, he said, and he looked as his wife and asked her if she felt like they would stay. She said she did. And that was it. It should always be like this, but it isn't. Dwight Howard had the Lakers sitting on edge for weeks before finally walking away and choosing the Houston Rockets. Paul isn't one to drag out the process. In high school, he made one visit to Wake Forest and signed. "Why ask someone to pull out all the bells and whistles when I know where I want to be?" he said. Now the Clippers have assembled a team of veterans with great possibilities. Redick and Dudley are accurate outside shooters. Collison will be one of the league's best backup point guards. Barnes and Hollins are important role players. "They're a good fit, all of them," Rivers said. "They know who they are, and they're over themselves. They just want to win." But that's going to take time, and everyone knows it. The Clippers set a franchise record with 56 regular-season wins and won their first Pacific Division title, but they didn't get past the first round of the playoffs. "Last year we were disappointed," Hollins said. "This year, it's all about results." But Wednesday, it seemed to be about unity. The Clippers didn't place focus on Paul; they shared it. How often does that happen? "This is probably one of the biggest days in the history of the franchise because of all of us doing this together," Paul said. "It shows how unselfish everybody is. "There could have been six different press conferences. That would've been tough, but I just think it shows what Doc and our front office are trying to do here, and that's make it a family and build."
Original Story:
http://www.foxsportswest.com/nba/los-...
THE BACKYARD
BEST OF MAXIM
RELATED ARTICLES
With the departure of Eric Bledsoe, the Los Angeles Clippers were faced with a dilemma requiring them to find a replacement for one of the most explosive players in the league at the point guard position, one of the most vital roles on an NBA roster. A team facing this ordeal usually searches for a "serviceable" guy who can give you good enough minutes to get by and hold the...
HE LOVES L.A.
Chris Paul officially put pen to paper on Tuesday night, signing a five-year, $107 million deal to remain with the Los Angeles Clippers.
It's all smiles in Clipper nation right now as their superstar point guard Chris Paul recently signed a 5-year, $107 million contract extension with the Los Angeles Clippers. Chris was spied celebrating his new contract over dinner with his wife Jada, as he looked pretty comfortable wearing a solid Henley shirt, grey trousers, and white sneakers. Smooth look, a simple Henley complemented...
Yesterday, Los Angeles Clippers guard Chris Paul officially signed his new five-year contract with the team worth up to 107 million dollars. The Clippers posted a photo on their Twitter page of Chris signing the contract along with his son, Chris Paul the 3rd looking over the specific terms of the deal: .@CP3 is back! #ClipperNation pic.twitter.com/a6KyhBMK7v — Los Angeles Clippers...
Chris Paul wasted little time signing his new five-year, $107 million contract with the Los Angeles Clippers early on Wednesday morning, shortly after the NBA lifted its moratorium on free-agent signings. Paul tweeted out this photo of the pen hitting the paper: . @CP3 is back! #ClipperNation pic.twitter.com/a6KyhBMK7v -- Los Angeles Clippers (@LAClippers) July 10, 2013 The...
BLAKE IS BOLD
Los Angeles Clippers superstar Blake Griffin claims he doesn't concern himself with the perception that he's soft, saying, "It's not something that I dwell on."
The NBA's free agency moratorium ended Tuesday night, allowing teams to officially make the transactions and free agent signings they have talked about since Draft night and July 1. The NBA has set the salary cap at $58.679 million and the luxury tax at $71.748 million. Action happened immediately Tuesday night as Chris Paul and J.J. Redick inked their deals with the...
Sometimes one of the best parts of a play is the way the team's bench reacts. Check out some of the best ones from the 2012-2013 season!I want the "best dunks of the year" video description to be worded exactly like that.Sometimes dunks are one of the best plays. Here are a bunch of dunks!Anyway, as the first blockquote says, the NBA put together a compilation (a supercut...
Just about every NBA team would like Dwight Howard. Only the Houston Rockets could get him, and on Wednesday some of his other suitors either announced their backup plans or were still working on them. Paul Millsap is headed to Atlanta. The Dallas Mavericks are considering Andrew Bynum. The Golden State Warriors have acquired Andre Iguodala. The Los Angeles Clippers never had...
Clippers VP of Basketball Operations Gary Sacks sat with our Joe McDonnell to discuss Wednesday's news conference, player evaluations, future of the franchise and more. It was a packed house for the Clippers on Wednesday, as the team re-introduced Chris Paul, Matt Barnes and Ryan Hollins, and officially announced the arrival of J.J. Redick, Jared Dudley and Darren Collison....
NBA News

Delivered to your inbox

You'll also receive Yardbarker's daily Top 10, featuring the best sports stories from around the web. Customize your newsletter to get articles on your favorite sports and teams. And the best part? It's free!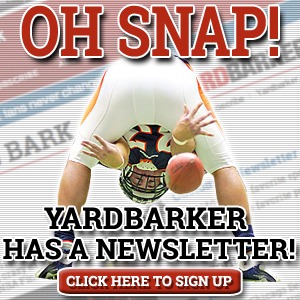 Latest Rumors
The Backyard

Today's Best Stuff

For Bloggers

Join the Yardbarker Network for more promotion, traffic, and money.

Company Info

Help

What is Yardbarker?

Yardbarker is the largest network of sports blogs and pro athlete blogs on the web. This site is the hub of the Yardbarker Network, where our editors and algorithms curate the best sports content from our network and beyond.