Found February 15, 2013 on Laker Nation:
Duke or North Carolina? Both schools have storied traditions, outstanding coaches, and an atmosphere that other colleges can only dream of. Both schools figured that would be enough to bring Chris Paul into their basketball programs. Then Skip Prosser had something to say about it. "Wake Forest beat Duke after a big game, and I was a junior or senior in high school," Paul said. "And Skip Prosser came up to me and said, 'See, we're trying to build something.' We wanted Wake to be like the Dukes and North Carolinas. Obviously we have a long way to go but that had a lot to do with why I went to Wake." Photo Credit: Getty Images ESPNLA Writer Arash Markazi reported Chris Paul's statements on his decision on Wake Forest and how it relates to Clipper mania. It revisited when David Stern decided against sending Chris Paul to the Lakers for "basketball reasons" but discussed that not many people know that Chris Paul wanted to go to the Clippers instead. Some might think Paul is simply playing revisionist history, but he swears he always wanted to be a Clipper. Even while his trade to the Lakers was being worked out with a Clippers trade on the backburner, Paul said Thursday night, he always hoped the Clippers deal would happen instead of the Lakers deal. "They were talking about the possibility of where I might be traded to," Paul said. "I really hoped and wanted to come here and try to build something and do things that have never been done here." Kind of difficult to believe for someone that tweeted "WoW" minutes after it was reported that the trade was declined, yet to each their own. Since then the Clippers and Lakers have traded roles as franchises. The Clippers are one of the hottest teams in the NBA this season while the Lakers are attempting to reach .500 and make the playoffs. Even to this day people wonder how the Lakers would look if Chris Paul was inserted into their lineup. Everyone except Chris. "Never," Paul said. "I can't. I'm in the moment and loving what I'm doing right now." During this All-Star break the Lakers have a chance to regroup and rest. With all the abuse they have taken this season, on and off the court, they certainly need it if the want to make a serious run at the playoffs after Sunday. I know for certain that something must also be done about merchandise sells in Los Anegels as well. When Paul arrived in Los Angeles, he couldn't find a single Clippers hat. He and his wife drove around the city, trying to find one hat to wear but continually came up empty. Fast-forward a year, and Paul was sent a picture of the Magic Johnson Sports store at LAX last week that was filled with more Clippers hats and shirts than Lakers merchandise. Only a Laker turn around can fix this as soon as possible. The post CP3 preferred the Clippers over the Lakers appeared first on Laker Nation.
Original Story:
http://lakernation.com/cp3-preferred-...
THE BACKYARD
BEST OF MAXIM
RELATED ARTICLES
Chris Paul's "twin brother" was "seen in the crowd" during NBA All-Star Saturday. The TNT broadcast of the Saturday night festivities pulled off a neat special effect by airing a pre-taped segment of CP3's "long lost identical twin brother Cliff Paul" in the stands (rooting for the Eastern Conference) side-by-side with a live shot of Chris...
Jada Paul and Savannah Brinson decided to skip All-Star weekend and celebrate Jada's 29th birthday on Catalina Island. Mrs. Chris Paul and the future Mrs. LeBron spent the weekend zip lining, parasailing and hanging out. Check out a few photos. Looks like the ladies are having an amazing weekend. photos via Instagram @Jada_AP
  Although still a relative twitter newbie Kobe has seem to have perfected the art of Twitter trolling like no other athlete. Yesterday Bryant (@KobeBryant) threw a subtle jab at the NBA and Stern's 'Basketball reasons' veto of the Chris Paul trade. Last night during the festivities of All Star Weekend Kobe tweeted out a photo of his daughter Natalia shooting hoops with Chris...
State Farm continues the separated at birth story of Cliff and Chris Paul with their latest commercial titled "Game On." This is sequel to widely popular Chris/Cliff "Born to Assist" [...]
Filed under: Avoid HomePage
NOW YOU SEE IT...
The NBA All-Star game is certainly not known for its defense or anything resembling it, but it can still be fun to watch at times. Some of the best athletes in the world get the chance exhibit their skills and flash some moves that they might not get to use in a game that actually counts for something. Exhibit A: Chris Paul dribbling between the legs of Chris Bosh. Yes, you read...
Chris Paul had 24 points and 13 assists, Blake Griffin scored 18 of his 22 points in a spectacular first quarter, and the Clippers cemented their supremacy in Los Angeles with a 125-101 victory over the Lakers on Thursday night.
Tweet   Remember when Lakers fans were ecstatic because it seemed a certainty the team would have a dream back court of Chris Paul and Kobe Bryant? Then the league stepped in and said "Not so fast", shattering those hopes. To rub salt in the wound the Clippers ended up being the ultimate beneficiary as [...]
Day two of NBA All-Star weekend brings the Three Point Shoot Out, the Dunk contest and a host of other events and parties.  Let's check out what the fashion looks were for Saturday.Leather was a staple piece for the evening, expect to see more of that this spring for NBA athletes. There was an abundance of leather pants, leather sleeves and jackets on display during All-Star Saturday...
Here is what Chris Paul and Blake Griffin said about Kevin Garnett and the possible future trade between the Los Angeles Clippers and Boston Celtics, according to ESPN. "I think people are just talking," Paul said. "At the end of the day, who wouldn't want to have Kevin Garnett on their team? I talk about [...] [[ This is a content summary only. Visit my website for full...
Imagine you singed some ridiculous $150 million NBA contract and needed a house. Where would you buy? How many square feet would you need? Would you install air conditioning in the dog's house? Would you personalize the bottom of your pool? These are serious questions your favorite NBA all star has to answer. 12,000 square feet seems to be just the correct amount of space for most...
Players came dressed to impress for the 62nd NBA All-Star game at the Toyota Center in Houston. Here's a collection of Sunday's best dressed: Russell Westbrook, David Lee, Kevin Durant Russell Westbrook Kevin Durant Chris Bosh Chris Bosh Luol Deng, Joakim Noah Chris Paul LeBron James Jrue Holiday, Brook Lopez, Tyson Chandler, Luol Deng, Paul George Tyson Chandler Dwight Howard...
NBA News

Delivered to your inbox

You'll also receive Yardbarker's daily Top 10, featuring the best sports stories from around the web. Customize your newsletter to get articles on your favorite sports and teams. And the best part? It's free!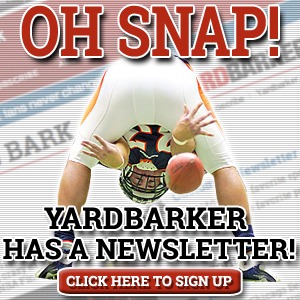 Latest Rumors
Best of Yardbarker

Today's Best Stuff

For Bloggers

Join the Yardbarker Network for more promotion, traffic, and money.

Company Info

Help

What is Yardbarker?

Yardbarker is the largest network of sports blogs and pro athlete blogs on the web. This site is the hub of the Yardbarker Network, where our editors and algorithms curate the best sports content from our network and beyond.