Everyone's talking about Dallas's problems.  The talk tends to revolve around the players they lost in the offseason, and while various departures clearly haven't helped, could their biggest problem be Dirk Nowitzki?  Thursday night, the Mavs picked up what was just their second victory in a game decided by five points or fewer.  It wasn't Dirk's meager 12 points on 12 shots that managed to get the Mavs past the much-improved Jazz, though.  It was Shawn Marion leading the way with 22, Roddy Beaubois sparking a 44-point bench effort with an explosive 17, and Jason Terry's clutch shooting that got the job done.  Throughout the game Dirk appeared frustrated about damn near everything and was uninvolved at junctures where he almost surely would've dominated not long ago.  It would be one thing if he simply had a bad game, but this performance was only slightly below average.  Dirk's scoring has dropped to 17 PPG and he's shooting 6% worse than he did last year.  In Wednesday's loss to the Clipps Dirk scored 17 on 6 of 18 and I'm sittin' there thinking he had a half-decent game.  That should've raised the red flag, but it took a repeat performance in Utah to convince me that there's something wrong with this dude that goes beyond his insufficent offseason routine. The 6.4 shots Dirk is making per game, down from 8.4 last season, show rust.  The 14.1 he is taking indicate a bigger issue.  Nowitzki is still getting his looks in pick and pop situations, and he knocks 'em down most of the time.  What I haven't seen from Dirk this season, though, is that dominant post game that put the Mavs past the Thunder and the Heat just seven months ago.  The tough, one-legged, falling jumper over the out-stretched arm of Serge Ibaka?  That's been nowhere to be found.  You can talk about Tyson Chandler and DeShawn Stevenson until you're blue in the face, but with Dirk in his current form the Mavs may not have made it out of the first round.  While the loss of perfect fits like Chandler and Stevenson has hurt the team in the early going, everything the Mavs have done over the past…however many years starts with the offensive dominance of Nowitzki… and right now he looks anything but dominant.  He looks like he wants to be dominant, but something is keeping him from doing so and he knows it.  Could something be a pair of sore knees?  I fail to come up with any other explaination.  He supposedly went two months without touching a ball in the offseason, but I think he'd have had at least one vintage Dirk game by now if there wasn't some physical problem compounding his rustiness.  Via SBNation.com…
"I'm having trouble bending my knees," said Nowitzki, who has been wearing a protective sleeve over the knee, the same one he sprained last season and caused him to miss nine games. "I've just got to get my legs stronger, get my base back. I've got to use my legs in my shot and hopefully they'll come back soon." "It's OK, better than it was three weeks ago, so that's very good," Nowitzki said. "But, it's still just stiff and I can't move the way I want to, but it will be OK. I'm going to keep on working, get a stronger base, get my legs strong where they were in June and hopefully I'll be back to my normal self."
Just as I thought, there is a physical issue–his base is weak.  It makes sense.  The legs and base just so happen to be two of the most important physical aspects of post play and three-point shooting, and Dirk has struggled in both of those areas so far this season (his three-point percentage is down 16 points from last season on about the same number of attempts).  In short, we haven't seen the Dirk Nowitzki of old because he's got no legs.  The biggest problem in Big D is Dirk's base.  If and when he gets himself right we can re-assess where this team stands.  As of right now they aren't very good simply because a player who proved to be unstoppable last June has looked quite defendable this January.  The good news for the Mavs is that they're still in 8th place and none of the seven teams that trail them have shown a whole helluvalot of promise.
Original Story:
http://nba247365.com/?p=4554
MORE FROM YARDBARKER
NBA News

Delivered to your inbox

You'll also receive Yardbarker's daily Top 10, featuring the best sports stories from around the web. Customize your newsletter to get articles on your favorite sports and teams. And the best part? It's free!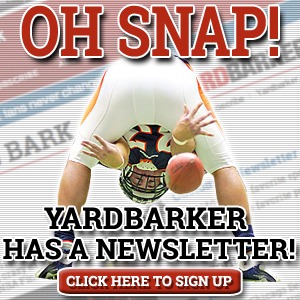 Latest Rumors
Best of Yardbarker

Today's Best Stuff

For Bloggers

Join the Yardbarker Network for more promotion, traffic, and money.

Company Info

Help

What is Yardbarker?

Yardbarker is the largest network of sports blogs and pro athlete blogs on the web. This site is the hub of the Yardbarker Network, where our editors and algorithms curate the best sports content from our network and beyond.