Found January 17, 2013 on isportsweb.com:
PLAYERS:
James Harden
,
Shawn Marion
,
Dahntay Jones
,
Jeremy Lin
,
Chandler Parsons
,
Omer Asik
,
Greg Smith
,
Darren Collison
,
Jae Crowder
,
Elton Brand
TEAMS:
Dallas Mavericks
,
Houston Rockets
,
Orlando Magic
,
New York Knicks
,
Oklahoma City Thunder
And they call it the streak! Well, the Dallas Mavericks won't, but we will. Dallas has now won 4 in a row, their longest winning "streak" this season and this is against one of the strongest, highest scoring teams in the NBA. This was, I think, one of the most exciting games this season. You might ask why, well I'll tell you. Dallas is finally getting their groove back, Dirk is getting into form, all the guys are buying into a system that seems to be working, well at least for now anyway. Houston is sitting in the 8th seed in the Western Conference and has lost now 5 in a row, but prior to their demise, they were in the top grouping of the Conference and are #2 in the league in scoring, well by just a smidgen, Oklahoma City is #1 with averaging 105.41 points per game, where Houston averages 105.40 per game and Dallas was able to keep them at only 100. Now I realize that doesn't sound like much of an undoing, but with the way this game was, it was a great accomplishment. The Rockets early 15-10 lead on Dallas, but when a regular timeout was called, Dallas then went on a 19-0 run before the end of the first quarter with a 29-18 lead. There were several runs by both teams, but once Dallas took the eventual lead during the first quarter, they never gave it up, came close in the fourth with a 97-97 tie, but still maintained their led that would also lead to their victory. Houston is a run and shoot type offense, that's why they score high numbers and are not afraid to take the three point shot, especially with one of the toughest three point shooting threats in the game with James Harden. Dallas was, to an extent, able to contain him and even though he scored a team high 20 points, he had to take 23 shots to do it in. Harden was 5 of 23 from the field, which included only 1 of 8 from downtown and was 9 of 12 from the free throw line. So with the tough defense that Dallas put against him, between Shawn Marion and Dahntay Jones, they did their job. Jeremy Lin, the phenom from last year's New York Knicks, didn't have that great of a night also. He scored 19 points and was only 1 of 3 from downtown. Chandler Parsons was a horse of a different color in the three point category. He scored 18 points and was 4 of 6 from behind the arc and the big man in the middle Omer Asik got his 16th double-double of the season by scoring 12 points and grabbing 15 rebounds. Greg Smith had a strange stat for the night by scoring 0 points, but had 10 rebounds and 3 blocks. Houston finished the night with winning the rebound game with 52 rebounds and 40.7% from behind the arc by connecting on 11 of 27 three point attempts, but their problem was the 16 turnovers they committed which resulted in points for Dallas. Dirk, our new man in space, led the Mavericks in their victory with 19 points on 7 of 14 shooting and had 8 rebounds. Marion and O J Mayo each had 18 points for the night; Marion also had 9 rebounds and Mayo notched up 8 assists and was 12 of 13 from the free throw line. Darren Collison and Jae Crowder each added 10 points and Elton Brand, who had his 400th career double-double had 11 points and 10 rebounds. Not bad for a team that everyone said was pretty much done. Dallas also hit 34 of 43 free throw attempts for the night, finishing with 79.1% and only had 10 turnovers and 47 rebounds. The Mavericks are finally making people recognize that maybe they are still in contention for something in this league. At this time, Mayo is #10 in scoring averaging 18.3 points per game, where Dirk is currently averaging 13.7 points per game, but he has only played 13 games, so he's not on the scoring list at this time, but he is making strides to get where he needs to be. It's been a rough one for the Mavericks so far; their leader on the court missed the first 20+ games at the beginning of the season and even though he is back on the court in the starting line-up, he still has some conditioning to do to get where "he" feels he needs to be. There is a lot of talk about the All-Star game and should he or shouldn't he be included in it. Dirk has never cared one way or the other about the All-Star game, even though he has been a part of it for the last 10+ years and feels that it's an honor for the fans and/or coaches to chose him, but it matters none if he doesn't make it.  At this point, I think it would be great for him to be included, and if he were chosen I feel that he would play, but I really think it would be best for him to take those couple of extra days and work more on his conditioning and getting a little bit more rest; but Dirk doesn't know what that  part really means. Dallas had the heart and soul of a team that can do anything they want to, it's just a matter of them putting it together and making it work on the court and they have done that over the last several games. Even though they have only won the last 4 games in a row, and that was preceded with several losses, some of those losses were close games, it was just a matter of closing them out and I think they are doing much better of that here lately. Case in point was in last nights game within the last 2 minutes. Lin tied the game up, 97-97, with 1:52 left in the game, but  Dallas was not through either. With a few field goals and free throws, Dallas got the lead back and kept it, but it was the defensive end that impressed me the most during that crucial point of the game. Harden was determined to score or to get a call and Dallas was determined to not let that happen and with defensive stops, Dallas prevailed as the victor. So where do we go from here? Dallas now will take on the Western Conference champs, Oklahoma City Thunder and then travel to face the Orlando Magic before coming home for anther stretch of home games. And with that, I will bid you all a good day and say good luck and let's go Mavs!
Original Story:
http://feedproxy.google.com/~r/isport...
THE BACKYARD
BEST OF MAXIM
RELATED ARTICLES
After their win over the Minnesota Timberwolves in Dallas on Monday night, Dallas is looking more like the team of old, not in age, but in working together and putting something nice on the court for the fans to see. It felt good, it looked good and you could tell that the players were in agreement with it because they looked relaxed and even smiling, yes I said smiling during the...
The Dallas Mavericks signed guard Mike James to a second 10-day contract on Friday. James had signed a 10-day contract on Jan. 8 and played in five games, averaging 1.6 points and 1.0 assists off the bench. The 10-year NBA veteran has averaged 10.3 points and 3.5 assists with a well-traveled career that has included stops in Miami, Boston, Detroit, Milwaukee, Houston, Toronto...
As expected, Mike James will sign a second 10-day contract with the Dallas Mavericks today. The Mavs were convinced they needed to keep James following his solid play after the point guard signed his original 10-day contract with the club on Jan. 8…"He played real solid [Wednesday] night," coach Rick Carlisle said. "He did a lot of good things." via Dwain Price, Star-Telegram  
With the NBA trade deadline about six weeks away, Dallas Mavericks owner Mark Cuban has announced that team is ready to make a deal.  "We're letting everybody know that the 'Bank of Cuban' is open. If it's the right deal, we don't mind taking back money. But we're not going to do a trade just to do a trade. It's got to be worthwhile." The Mavericks are having...
Dirk Nowitzki wants to be a Dallas Maverick forever, but also doesn't want to be chasing a low playoff seed every year either. The figurative (possibly literal) Bank of Mark Cuban is open, but he doesn't want to take on bad salary or deviate too far from the flexibility Dallas has built either. The Mavs have won [...]
DALLAS -- The Mavericks have "a heart of a champion," says Kevin Durant. "Dallas is a championship-level team, no matter what their record is." Ah, but OKC is a championship-level team and has the record to prove it. The Thunder downed the Mavs in a Friday night thriller, a 117-114 decision in yet another OT game, this time Durant as the tone-setter with 52 points...
DALLAS (AP) -- Dirk Nowitzki scored 19 points, O.J. Mayo hit two tiebreaking free throws and the Dallas Mavericks held off a Jeremy Lin-led surge to beat the Houston Rockets 105-100 on Wednesday night. Lin and James Harden combined to score the last 18 points for the Rockets, who erased an 11-point fourth-quarter deficit and got even at 97. After Elton Brand blocked a layup attempt...
DALLAS -- On the eve of the All-Star starters for each conference being announced, the Houston Rockets' backcourt hardly looked All-Star worthy in a 105-100 loss to the Dallas Mavericks Wednesday night at the American Airlines Center. Jeremy Lin missed 1 of 2 free throws in two critical trips to the free-throw line late in the game and then committed a turnover with 15 seconds...
Jeremy Lin was as good as any point guard in the NBA for a two-month stretch last season, and he entered this season with big hopes for the Houston Rockets. So far, his numbers are comparable to last year's statistics, but very few fans would call Lin an All-Star at the moment. Lin agrees with that assessment. "Uh, no," Lin said in response to a question about whether he feels...
DALLAS -- On the eve of the All-Star starters for each conference being announced, the Houston Rockets' backcourt hardly looked All-Star worthy in a 105-100 loss to the Dallas Mavericks Wednesday night at the American Airlines Center. Jeremy Lin missed 1 of 2 free throws in two critical trips to the free-throw line late in the game and then committed a turnover with 15 seconds...
Kobe Bryant's argument for the All-Defense berth he will inevitably receive can now be made on the basis of one game.  As the Lakers held the Bucks to just 35.8% shooting and 15 fourth-quarter points in a 104-88 victory, Bryant took the responsibility of checking Brandon Jennings, the Eastern Conference's reigning Player of the Week.  It's been no secret that the Lakers have...
Jamal Crawford scored a season-high 30 points, including 12 straight to start the fourth quarter, and the Los Angeles Clippers looked just fine without Chris Paul in a 117-109 win over the struggling Houston Rockets on Tuesday night. The Clippers won their second game in a row despite missing their star point guard, who is day to day with a bruised right kneecap. Los Angeles used...
NBA News

Delivered to your inbox

You'll also receive Yardbarker's daily Top 10, featuring the best sports stories from around the web. Customize your newsletter to get articles on your favorite sports and teams. And the best part? It's free!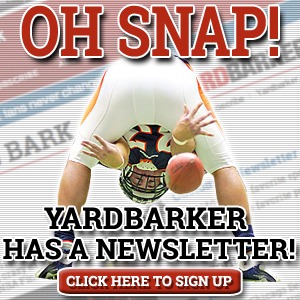 Latest Rumors
Best of Yardbarker

Today's Best Stuff

For Bloggers

Join the Yardbarker Network for more promotion, traffic, and money.

Company Info

Help

What is Yardbarker?

Yardbarker is the largest network of sports blogs and pro athlete blogs on the web. This site is the hub of the Yardbarker Network, where our editors and algorithms curate the best sports content from our network and beyond.