Found December 19, 2012 on isportsweb.com:
As the saying goes, "open mouth, insert foot", comes to the forefront of my thoughts on the Dallas Mavericks today as they actually looked like a contender in their victory over the Philadelphia 76′ers. This is of course after I had stated that they looked lost over the last 3 games, and they did at times, but tonight, they looked very good. From the get go, Dallas looked as if they knew what they were doing and what they wanted to accomplish and that was a victory and to wipe the 3 game losing streak from everyone's memory and they looked like they would do it, even if it was just for a moment. Dallas got off to a quick 11-2 start before they hit a bit of a cool spell and let Philadelphia get back into it and then it was a back and forth game. Dallas, as I have stated several times, has a lot of talent, they just have not used it in a positive way all the time throughout this young season. But this game was a bit of a difference. The Mavericks lost Derek Fisher in the first quarter to a leg strain, but they didn't let that hamper them. Darren Collison stepped in and took control of the floor as well as Roddy B and Dominique Jones when each of them played the point guard position. But the man of the game, or should I say men of the game, were O J Mayo and Chris Kaman. With the Mavs without Elton Brand for this game, Kaman and the other bigs would have to suck it up and play hardball against the young and vibrant 76′ers. After all, this is a team that they just lost to in not too distant past and that was one of those games that they should have won, but didn't. Tonight was a different ball game though. Mayo was back to his monstrous self on the court and led the Mavs with 26 points on 8 of 12 from the field, but he also had 9 assists and 3 steals. Kaman added 20 points of his on with shooting 9 of 15 from the field, but the most important thing was that he was on the court during the most important 4th quarter. Kaman doeen't usually play the fourth, but with Brand out, the Mavs relied more on Kaman than in the past and he came through. As a matter of fact, Mayo and Kaman combined for 17 of the last 19 points that the Mavericks scored in the fourth to hold off the 76′ers and Dorrell Wright, who was the hot man for Philadelphia. Both teams had 5 players in double digit scoring for the night; besides Mayo and Kaman, Dallas had Shawn Marion who added 14 points and had 9 rebounds, Collison put up 12 points of his own and Brandan Wright added 10 points and was 5 of 6 from the field and had 6 boards. Wright has shown Rick Carlisle and the coaching staff that he is someone they can depend on and with the shooting he was doing in this game, they should utilitze him at every opportunity they have. The only good thing I can say about Dorrell Wright is that he helped my fantasy team with his 25 points and 7 three pointers. But needless to say, he kept shooting and trying to help his team win. The good thing is that Dallas was able to hold him off at the end and secure the win. Besides Wright, Spencer Hawes had 18 points, Evan Turner also had 17, Thaddeus Young added 12 and Jason Richardson notched up 11 of his own. Philadelphia's rookie, Maalik Wayns had 9 assists in just 21 minutes off the bench; not bad for a guy that had only 11 assists in 16 games. The biggest thing that I can say that Dallas definitely improved on was in the turnover category. They only had 11 turnovers to Philly's 14; this was a vast improvement on a team that had 28 turnovers in less than a week ago in one game. Dallas fought in the paint, on the perimeter and everywhere on the court; if they can take that momentum to the next games ahead of them, they can again prove to people that they are a force to be reckoned with and they can be. Now I'm not saying that with just this one win that everything will be better, but it certainly gives them something to build upon and can definitely help with their game esteem and mental toughness of the game. The good thing also is that Dallas is 11-1 when leading after the third quarter and with them shooting over 54% in the game, this is a good thing, now it's just a matter of if they can carry that forward. The other good thing is that as time passes, the closer it comes to the time for Dirk Nowitzki's return. We saw the other day some of the drills he is doing for his rehab and working on getting back into game form. He is taking shots and runs on the court, just not any practice contact, yet. But you can tell that he is chomping at the bit to get out there and help his team and I'm sure his team can't wait either. As a side note, before the game started tonight; the Mavericks took a moment of silence to pay tribute to those that lost their lives in the Sandy Hook, Connecticut shooting, but also showed tribute to season ticket holder, Fisher Floyd, who died in a plane crash. From Carlisle's recollect of the young man, he sat behind the Mavs bench and was an avid fantasy camp enthusiasts. So where do we go from here? Well, with the one win under their belt, the Mavs will take on the Miami Heat at home on Thursday and hopefully will have Fisher and Brand back as well as the rest of the team and build on that momentum they gained with this victory. And with that, I will bid you a good day and say good luck and let's go Mavs!
Original Story:
http://feedproxy.google.com/~r/isport...
THE BACKYARD
BEST OF MAXIM
RELATED ARTICLES
HASSELHOFF ALBUMS?
The Dallas Mavericks have released a new holiday-themed video in which "Santa Dirk" Nowitzki comes to town and gives "presents" to his Mavs teammates. The reactions by Nowitzki's teammates to the gag gifts that he gives out, which include Angry Birds boxers, a rotary phone, and a Shake Weight, are priceless. Video via DallasMavericks. Visit us at holdoutsports...
DALLAS "You can't throw a ball through the nose of a defender and have it come out of his (rear) to a teammate," Dallas Mavericks coach Rick Carlisle said on the eve of Sixers-at-Mavs, by way of clarifying what might be a misunderstanding that is leading to his team's turnover woes. After climbing above .500 last week, Dallas dropped three straight games, all...
Somehow I feel like I'm in the middle of a "Where's Waldo" cartoon when I'm watching the Dallas Mavericks as of late. I am and will always be a MFFL, but I have to agree with some of the critics here lately, that the Mavericks are in for a heap of trouble if they don't clean up their game. Dallas had gone on a three game winning streak, anxiously awaiting the return of...
Dirk Nowitzki practiced yesterday for the first time since he underwent arthroscopic knee surgery before the season began.  The Dallas Mavericks' star has missed the entire season so far as his recovery process has taken longer than expected.  However, yesterday's return to the practice court was a major step in the right direction. According to Dwain Price of the Fort...
Dallas forward Dirk Nowitzki practiced for the first time Wednesday since he underwent arthroscopic knee surgery in October and there's a chance he could playing again after Christmas. The Mavericks have yet to discuss when he might be cleared for game action, ESPNDallas.com reported, but Nowitzki indicated it might be relatively soon. "We'll just see how it goes...
DALLAS (AP) -- Mavericks point guard Derek Fisher left Dallas' game against the Philadelphia 76ers on Tuesday night with a strained right knee. Fisher had his shot blocked by Evan Turner and went down to the floor holding his knee after he landed. He walked slowly to locker room with 6:50 left in the first quarter. The team said Fisher's return to the game is doubtful....
DALLAS -- The Dallas Mavericks continued their season-long torrid shooting at home, and they snapped a three-game losing streak with a 107-100 victory over the struggling Philadelphia 76ers on Tuesday night at American Airlines Center. The Mavericks shot 54.2 percent for the game (39-for-72). Dallas guard O.J. Mayo scored 16 of his 26 points in the second half, and he helped...
DALLAS (AP) -- LeBron James scored 24 points with some early baskets on nifty passes from Dwyane Wade, and the Miami Heat rolled to a 110-95 victory over the injury plagued Dallas Mavericks on Thursday night. James has scored at least 20 points in all 23 games, the longest streak to start an NBA season since Karl Malone's 24 in a row opening the 1989-90 season. Dallas, still...
O.J. Mayo scored 26 points, Chris Kaman added 20 and the Dallas Mavericks snapped a three-game losing streak by beating the Philadelphia 76ers 107-100 Tuesday night. Mayo and Kaman scored 17 of Dallas' last 19 points to help the Mavericks win their seventh straight at home against the 76ers. Dorell Wright scored 25 points and Spencer Hawes had 18 for the 76ers, who lost their...
The Mavericks should be dangerous come playoff time.
Dirk Nowitzki is getting closer to making his debut for the Dallas Mavericks, though they'll certainly need more than just his presence in the lineup to improve one of the NBA's worst defenses. A day after getting the good news that Nowitzki is on the mend, the Mavericks will have a serious challenge against one of the league's highest-scoring teams Thursday night as...
DALLAS -- This isn't the rivalry it once was. Less than two years removed from clash in the NBA Finals, the Miami Heat and the Dallas Mavericks have gone separate ways. The Heat's 110-95 runaway Thursday night victory at American Airlines Center was just the latest example. LeBron James had it going early as Miami coasted to its third consecutive regular-season win over...
Mavericks News

Delivered to your inbox

You'll also receive Yardbarker's daily Top 10, featuring the best sports stories from around the web. Customize your newsletter to get articles on your favorite sports and teams. And the best part? It's free!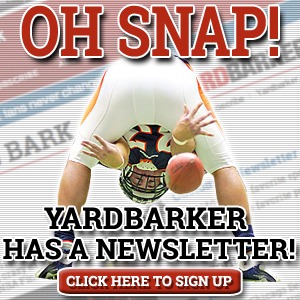 Latest Rumors
The Backyard

Today's Best Stuff

For Bloggers

Join the Yardbarker Network for more promotion, traffic, and money.

Company Info

Help

What is Yardbarker?

Yardbarker is the largest network of sports blogs and pro athlete blogs on the web. This site is the hub of the Yardbarker Network, where our editors and algorithms curate the best sports content from our network and beyond.