Found January 02, 2013 on isportsweb.com:
Finally, the Dallas Mavericks put together a mark in the win column by beating the Washington Wizards 103-94. This was a must for the Mavs, after all this is the worst start of a season since 1999 and they needed this spark to take them to Miami to face the Heat in another back to back scenario. I had mentioned in my last post asking if the Mavs were going to let the Spurs run the town in their last meeting and I guess they answered me by not pulling together a win. At one time they were down by 25 points, but I will have to admit that this was a bit of a better showing since just the week before they lost to the Spurs by 38 points and this was only by 25, so they cut out 13 points, but there is still something missing and they need to find it quick. We have slow starts to the games and once they get down, they have to scratch and claw to get back into the thick of things. This is not the same team that had done so many come from behind wins and it's hard for them, mentally, to get back into the game. Even one of the broadcasters made a comment about Darren Collison and the Derek Fisher situation that was going on at one time. He stated that once Collison kept the comments of the naysayers out of his head, the better he was, and that is true. Yes, Collison was brought here to run the offense since the Mavs had lost Jason Kidd and it worked for a while, but then something happened and he went off the radar on the court. Enters Fisher to try and save the day with his basketball IQ that was a lot like Kidd's and that made Collison feel inferior and he let it be known that he wasn't happy about coming off the bench and Fisher getting the start, but maybe that's just what he needed; a jolt, a prod so to speak. It worked for a while, that once he got onto the court, he had something to prove to Coach Rick Carlisle, Mark Cuban and the players as a whole. But now, we are back into that comfort zone again and it's just not working, again. Carlisle stated that he has had to get in the faces of a couple of players in practice and that's a shame. These guys are professionals and they know what they need to do to earn their paycheck. What is this, the Lamar Odom incident, version 2? Don't think so Tim; get your act together or sit the bench. He even made reference to suspending guys for not doing their job. Dirk thinks that this is too harsh; it might be, but they are not all committed as he is and Carlisle needs guys that are going to get out there and work whether they are starters or guys coming from the bench to help the team. If you ask me, Carlisle has it right. Reminds me of the scene in "Bull Durham" when the coach is talking to Kevin Costner in the locker room. They had just had a bad game, again, and Costner is shaving and the coach is talking to him and trying to figure out what he needs to do to get the players attention. Costner tells him, "scare them!"; the next thing you see is the coach going into the shower with a bunch of bats in his hand and screaming at the top of his lungs, the assistant coach is counting "one Mississippi, two Mississippi", etc. and he yells for everyone to get in the shower. Well they do, whether they were clothed or not and he called them a bunch of lallygaggers and told them the game was simple; you throw the ball, you hit the ball, you catch the ball.  This is the same thing Carlisle needs to do to get the attention of the Mavs players. The game is simple, you catch the ball, you shoot the ball, you block out; that's it, right? Oh yeah, and make your free throws. Dallas did do better against the Wizards, except they did have to come from behind by 14 points, which was not pretty. This is one of the worst teams in the league, only won 4 games before this one and you can't block them out. The Wizards had 14 offensive rebounds at one point that resulted in 17 second chance points. When you let a team do that, there is not much hope of winning, but something went in Dallas' favor and they were able to turn it around and eventually take a lead and kept it for the win. Vince Carter led the Mavericks with 23 points in their win against Washington, where OJ Mayo and Collison each had 15 points, Chris Kaman added 12 and Shawn Marion had 11 points and 14 rebounds. Dirk finally broke the double digit barrier and scored 11 points on 4 of 5 shooting for the which included his first three pointer since his return. Dirk has been trying so hard to get ready to come back full force, but it has been a slow process and he's not used to it and he feels that he's not helping his teammates out when he's on the court. But what he doesn't see is that when he's there, defenders are still having to cover him which opens the door for someone else, which is good. After shooting 40% against San Antonio, Dallas shot 50% against the Wizards and went from 6.2% on three pointers to 45.5%, but had a definite problem converting free throws into points. Guys this is your gravy to the bread, you have to make them. Dallas did a great turnaround, especially in the third which is where they have had a problem, but during the third quarter, they shot over 66% and outscored Washingt0n 35-19, which completed their spark that they needed. Now if they can just keep the spark going throughout the whole game, that would be a great thing. In order for Dallas to even think of having a shot at the post-season, they have to get it in gear now and maintain that throughout the rest of the season. We are now 32 games into the season and they are sitting with a 13-19 record in the West and that's not a good place to be since the Western Conference is more jam packed than the East is and there is no slowing down, at all. The ball so to speak is in the players court and it's up to them to make up their minds on what they want to do. Do they want to prove everyone right and shrivel up and roll over, or do they want to show people that they are still a force to be reckoned with? Get Dirk back into the swing of things and revamp up Mayo and give Collison a swift kick to jump start him again and keep him going and everyone else will fall into place. So where do we go from here? Well we now go to Miami and see what awaits us there and there is no reason that Dallas should not be able to compete with the Heat if they play together as a team, then we come home to face New Orleans before we go out on the road again. And with that, I will bid you a good day and say good luck and let's go Mavs!
Original Story:
http://feedproxy.google.com/~r/isport...
THE BACKYARD
BEST OF MAXIM
RELATED ARTICLES
The Dallas Mavericks are currently 12-19 and in the midst of a six game losing streak. Furthermore, they have dropped nine out of their last 10 games. That isn't sitting well with head coach Rick Carlisle. So, in an effort to help turn things around he has threatened to suspend players if the "unprecedented" stretch of losing continues."It's not what this organization...
Despite all the heroics we have come to expect from Dirk Nowitzki, the one-legged fade-away shot, the top of the key three pointers, the free throw shots we know will barely brush the net, all that combined could not prevent the Dallas Mavericks from going into an overtime game and eventually losing to the Miami Heat. I don't watch the games live anymore, it's kind of one of...
Vince Carter scored 23 points, O.J. Mayo and Darren Collison each added 15 to help the Dallas Mavericks break their six-game losing streak with a 103-94 win over the Washington Wizards on Tuesday night. When the Wizards, who are now 4-25, took a 14-point lead early in the second quarter, Dallas, which had arrived in Washington in the midst of its longest skid in nearly 14 years...
WASHINGTON (AP) -- Vince Carter scored 23 points, O.J. Mayo and Darren Collison each added 15 to help the Dallas Mavericks break their six-game losing streak with a 103-94 win over the Washington Wizards on Tuesday night. When the Wizards, who are now 4-25, took a 14-point lead early in the second quarter, Dallas, which had arrived in Washington in the midst of its longest skid...
Vince Carter one of the best all time dunkers in NBA history prove he still has something left in the tank with his highlight dunk the other night. The Mavericks got destroyed by the Spurs but the play of the night went to Carter, who dunked on Kawhi Leonard. I think Carter should do 1 more NBA dunk contest before he retires. Follow me on twitter @ScottBasketball  http://twitter...
Video: Can he save Princess Toadstool?
Happy New Year!!!!!!   AT   Tuesday, January 1st, 20136:00 PM ETTV: Comcast SportsNet HDSteve Buckhantz and Phil Chenier  Radio: 106.7 FM/1500 AMDave Johnson and Glenn Consor O . J .  MayoJordan Crawford Mavericks Projected Starting Lineup Wizards Projected Starting Lineup Paying HomageSteve Nash and Dirk Nowitzki Proud Moment in Mavericks HistoryDefeating...
Dirk Nowitzki went 5-for-7 from the floor to score a season-high 11 points in 17 minutes.
Someone in the Dallas Mavericks organization wondered what it would be like if Shawn Marion could play inside the original Nintendo Super Mario Bros. video game. Haven't we all wondered what that would be like? In this case, that someone in the Mavericks organization came up with the video to share their vision: Super "Marion" Bros., featuring Shawn wearing the...
As if battering the Dallas Mavericks for a 25-point blowout win wasn't enough, San Antonio Spurs guard Tony Parker rubbed salt in Dallas' wounds by finishing after being fouled deep into the Mavericks' defense. With just under four minutes remaining and the game put away for the night, Parker was fouled by Chris Kaman but hung on to bounce in the shot on his way down...
On the first day of 2013, it looks like that Dallas Mavericks forward Vince Carter might gotten in time machine and channeled some of his past Vinsanity.Check out this high-flying two handed jam that he throws down on Washington Wizards forward Martell Webster:
WASHINGTON -- Forget playing at their previous championship winning level: The scuffling Dallas Mavericks entered the New Year simply in need of a victory. Thanks to a dunking Vince Carter, a shot-making Dirk Nowitzki -- and playing the owners of the NBA's worst record -- the wish came true. Carter scored 23 points and Nowitzki's offense keyed a 22-6 third quarter run as...
Mavericks News

Delivered to your inbox

You'll also receive Yardbarker's daily Top 10, featuring the best sports stories from around the web. Customize your newsletter to get articles on your favorite sports and teams. And the best part? It's free!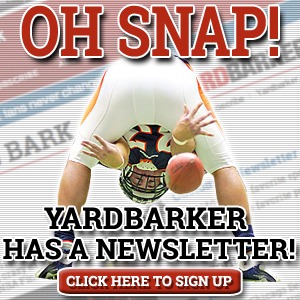 Latest Rumors
Best of Yardbarker

Today's Best Stuff

For Bloggers

Join the Yardbarker Network for more promotion, traffic, and money.

Company Info

Help

What is Yardbarker?

Yardbarker is the largest network of sports blogs and pro athlete blogs on the web. This site is the hub of the Yardbarker Network, where our editors and algorithms curate the best sports content from our network and beyond.