Found November 07, 2012 on isportsweb.com:
PLAYERS:
Darren Collison
,
Dwight Howard
,
Jason Kidd
,
Vince Carter
,
Jae Crowder
,
Dominique Jones
,
Elton Brand
,
Chris Kaman
,
Brandan Wright
,
LaMarcus Aldridge
,
Nicolas Batum
,
Damian Lillard
,
J.J. Hickson
,
Terry Stotts
,
Rick Carlisle
TEAMS:
Dallas Mavericks
,
Los Angeles Lakers
,
New York Knicks
,
Portland Trail Blazers
How 'bout them Dallas Mavericks? They started the season with a nice win over the Los Angeles Lakers, go the next night and lose in Utah, but then come home for some rest and take the next two games with significant wins over both Charlotte and Portland. The key to these last two victories, team play and the play of Darren Collison and O J Mayo in particular. Here are two newcomers to the roster this season and look at what they have done. Two guys out of the blue pretty much running the show in Dallas and to have never played together is remarkable. Collison came to us from Indiana, while Mayo came from Memphis, so how 'bout that! Dwight Howard…who needs him? Derron Williams…who needs him? Jason Kidd, well we thought we needed him, but it looks like we might not, Jason "Jet" Terry, well we wish you well in Boston, but we're ok! In the Charlotte game, it was Vince Carter who was leading the crowd in whoops and hollars and filling the 6th man role and looking pretty good at it too. I think a lot of the vim and vigor in the senior part of the team, is the youth and vitality of the youngsters on the team, that being the aforementioned Collison and Mayo as well as Jae Crowder and Dominique Jones. Yes, DoJo is coming alive this season. With Roddy out of the mix right now, Jones is filling the shoes of a lot of the back up point guard role and coming into his own and doing fairly well at it. With Dirk out, it is allowing not only Elton Brand to fill some minutes at the forward position, but also Crowder and he is not afraid to take the shots even when he doesn't need to. Dallas opened the game up and took control of it early and got out to an 11 points lead, but then got into that comfort zone early, but was able to regain the lead behind the shooting of Mayo. By the way, Happy Birthday OJ, and he played like it to. Mayo scored a game and season high 32 points and was 6 for 8 from 3-point range, following up his 30 point night in Saturday's win over Charlotte where he shot 7 of 10 3-pointers. Collison had his second straight double-double with 14 points, 13 assists and just one turnover and Chris Kaman added 16 points and six rebounds off the Dallas bench. So far this year, Mavericks centers Kaman and Brandan Wright are shooting a ridiculous 80.9 percent from the field (38-for-47). Kaman made his first six shots against the Trail Blazers on Monday after making his first eight in his season debut against Charlotte on Saturday night. Wright who had 10 points,  has scored in double figures for the fourth straight game, the longest streak of his career. When was the last time we could actually say that about the center position in Dallas? I don't ever recall that ever being mentioned in any conversation when referring to the centers of Dallas or any other team for that matter. The Mavericks as a team were completely on fire against the Blazers by shooting 61.5% from the field and 50%, yes I said 50% from behind the arc and only had 9 turnovers. Now we have to work drastically on our free throws, because they only connected on 61.5% and only had 37 rebounds, needless to say we were atrocious on the boards tonight and got the pants whipped off of us in that category, but the good thing of it was, Portland couldn't convert on all of the rebounds that they beat us to. Mayo led the Mavericks again tonight with 32 points on 12 of 18 from the field and 6 of 8 from the three-point line, where  Collison had  another double-double with 14 points and 13 assists, and then the combined 26 from the centers Kaman and Wright. Hometown grown, Lamarcus Aldridge led the Blazers with 20 points, but they also go 20 points from Wesley Matthews, 14 from Nicolas Batum, Damian Lillard added 13 and JJ Hickson had 7 points with 11 rebounds. Portland finished the night shooting 38.7% from the field and only connected on 22.7% from behind the arc, but did much better on the free throw line by converting 77.8% of their attempts into points and got the best of Dallas by grabbing 48 rebounds. We have to feel that it's always hard to face a team that you have helped to coach for several seasons and helped to win a championship with, and that's the way for Terry Stotts. For several seasons he was the assistant coach to Rick Carlisle, but that's the way it is for some coaches, you teach them so well and make them look so good that they get their own coaching gig and now here's another protege in Stotts, and then you have Dewayne Casey coaching in Toronto, which is who we face next. We do wish both of these coaches well and you can tell that Stotts has been working the same scenarios with the Blazers as he did with Dallas; almost a mirrored image. The Blazers gave the Mavericks a run for their money, after Dallas took the first quarter 31-27, Portland kept it interesting throughout the second quarter as well, but Dallas still maintained their lead, but now it was only by 2 points, 57-55. The third quarter was an interesting one and at one point in the 2nd half, Portland acutally took the lead, but  Dallas broke it open with a 10-0 run starting at the 10:06 mark of the fourth and it was all over from there. Portland lost the edge they had and Dallas was able to fend them off and expand their lead and finished by taking a 31-12 point difference in the fourth and finished with a 114-91 win. Not bad for a bunch of guys where there is no superstar on the court, not really and All-Star in the bunch, there are some that were All-Stars, but the thing this group of guys have, is heart, pure to the bone drive to win and they play like it. Now imagine what will happen when Dirk returns to play. With this team playing as it is now, you add someone  else out there who can spread the court, take those outside or inside shots, drive the basket and shoot the three pointer, this team will be dangerous.  But yet on all the team rankings that I have seen, they are around the 15 mark of the league; even behind teams that have only won 1 or 2 games, but that's the way Dallas likes it, flying under the radar. So where  do we go from here, next up is Toronto here at home on Wednesday night and hopefully we can continue on the path that they are on now and get some more wins and hold down the fort until Dirk is able to get back out there and add some fun to the mix. And with that I will bid you a good night and say good luck and let's go Mavs!
Original Story:
http://feedproxy.google.com/~r/isport...
THE BACKYARD
BEST OF MAXIM
RELATED ARTICLES
BIG HEADS ABOUT IT
The Whoop 'Em Mavericks Style video. **Follow us on Twitter. Subscribe, or Return to BobsBlitz.com.Follow us on Twitter. Subscribe or Return to Bob's Blitz. Full story at Bob's Blitz ~ http://www.bobsblitz.com
DALLAS The uniforms could have been switched Monday night at American Airlines Center for more than three quarters and folks might not have noticed. The Blazers do a pretty passable Mavericks' impression, and it's by design. The teams share a common ancestry. First-year Blazers coach Terry Stotts spent the last four years on Rick Carlisle's staff in Dallas. Stotts called...
DALLAS It's been more than four years since O.J. Mayo has scored 30 points in back-to-back NBA games. But he's now done it in two consecutive outings for his new Dallas Mavericks team, performances that allow the birthday boy in Monday's 114-91 victory over the visiting Trailblazers to stake his claim as the franchise's Robin. With 32 points on his 25th birthday...
Dallas forward Elton Brand is not with the team for the Mavericks' game Wednesday night against the Toronto Raptors so he can be with his wife for the birth of his second child. The short-handed Mavericks were also without forward Shawn Marion, who is expected to miss at least three games after leaving Monday night's game against Portland with a sprained left knee ligament...
This is not the first time we've heard of a NBA owner heckling a player from the crowd. And unlike Donald Sterling heckling his own players, this story is rather amusing. During Sunday's Mavericks-Bobcats game, former Mav Brendon Haywood was busy having a pretty decent game while dealing with hecklers in the crowd. Haywood was feeling so good about his game that he was even going...
It's Election time and Texas-lovin' Chris Kaman and I are discussing - half-jokingly, I guess – the idea of our state seceding from the Union. 'I might be disowned for this, or something,' Kaman tells me, 'but … ' We'll, this is Premium Mavs Stuff, and supremely funny stuff. C'mon inside, my fellow Americans, Texas and Mavs fans:
Ever since South Korean pop sensation Psy came out with  his hit single Gangnam Style people all over the world have been posting videos and making parodies of the song.The latest to make a parody are The Dallas Mavericks, who posted their version "Whoop em' Mavericks Style" yesterday. The star's motto for the song is [...]
The Dallas Mavericks suffered a big blow when they lost 11-time All-Star Dirk Nowitzki to knee surgery. O.J. Mayo's play of late has made Nowitzki's absence a little easier to withstand. Having scored 30 or more points in consecutive games, Mayo will try to keep that streak going Wednesday night against the visiting Toronto Raptors. The Mavericks (3-1) signed Mayo with...
Blazers demolished in Dallas The Headline:  The Blazers can't do anything to stop O.J. Mayo, as they fall to the Mavs 114-91. Portland Trail Blazers 91, Dallas Mavericks 114 When: 8:30 ET, Monday, November 5, 2012 Where: American Airlines Center (Dallas) Officials: Joe Crawford, Kane Fitzgerald, Marat Kogut Attendance: 19,521 Love 'em 1. L.A. and Wes keep it going The starters...
If you value your speakers and your eardrums, DO NOT turn up the volume. It's been an NBA kind of day around the old website here, so it seems only fitting we feature another NBA related post, albeit one that is quite a bit more fanciful and carefree than Dwight Howard's airball free throw and Kobe's terrifying death stare. Enter Mavs forward Dirk Nowitzki.  The big German...
DALLAS -- The Dallas Mavericks' streak of shooting at least 60 percent ended at two games, but they did extend their winning streak to three in a row, dumping the Toronto Raptors 109-104 Wednesday at the American Airlines Center. The Raptors trailed by double digits for most of the game but came back with a late charge, getting to within five points twice in the final minute...
His musical icon, David Hasselhoff, should beware.
NBA News

Delivered to your inbox

You'll also receive Yardbarker's daily Top 10, featuring the best sports stories from around the web. Customize your newsletter to get articles on your favorite sports and teams. And the best part? It's free!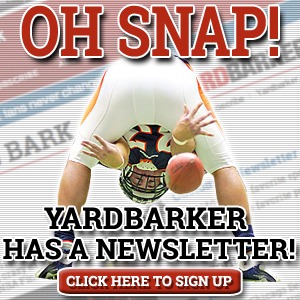 Latest Rumors
Best of Yardbarker

Today's Best Stuff

For Bloggers

Join the Yardbarker Network for more promotion, traffic, and money.

Company Info

Help

What is Yardbarker?

Yardbarker is the largest network of sports blogs and pro athlete blogs on the web. This site is the hub of the Yardbarker Network, where our editors and algorithms curate the best sports content from our network and beyond.