Found November 15, 2012 on Give Me The Rock:
PLAYERS:
Kevin Durant
,
Carlos Boozer
,
Greivis Vasquez
,
Jeremy Lin
,
Ryan Anderson
,
Anthony Davis
,
James Harden
,
Chris Paul
,
Blake Griffin
,
Andrei Kirilenko
,
Byron Mullens
,
Rudy Gay
,
Zach Randolph
,
Greg Monroe
,
Harrison Barnes
,
Beno Udrih
,
Brandon Jennings
,
Samuel Dalembert
,
Sebastian Telfair
,
Jordan Crawford
,
A.J. Price
,
Chris Kaman
,
Jannero Pargo
,
Marcus Morris
,
Patrick Patterson
,
Kyle Korver
,
Kevin Seraphin
,
John Wall
,
Eric Gordon
,
Rajon Rondo
,
George Hill
,
Andrew Bynum
,
Dwyane Wade
TEAMS:
Oklahoma City Thunder
,
Chicago Bulls
,
New Orleans Pelicans
,
Houston Rockets
,
Los Angeles Clippers
,
Minnesota Timberwolves
,
Charlotte Hornets
,
Memphis Grizzlies
,
Detroit Pistons
,
Golden State Warriors
,
Milwaukee Bucks
,
Phoenix Suns
,
Dallas Mavericks
,
Washington Wizards
,
Atlanta Hawks
,
Boston Celtics
,
Indiana Pacers
,
Philadelphia 76ers
,
Miami Heat
Line of the Night: It was only a matter of time before Kevin Durant (2.82 WARP) broke out in a big way; and that came last night against the Grizzlies, where Durant scored 34 points, adding 10 rebounds, 5 assists, 3 steals and a couple blocks. It came in a whopping 44 minutes, but if you're the Thunder you've got to do what you've got to do when you don't have the league's best sixth man to give your starters a breather. It's also Durant's first game over 30 points this season. He truly is a microbe y'all. Honorable Mentions: Carlos Boozer (2.00) took advantage of an overtime game to score 28 points, adding 14 rebounds in a win over Phoenix. This is Boozer's best game of the season by far this year, so expect a return to the more modest Booz in the Bulls next game. Greivis Vasquez (1.85) abused Jeremy Lin on his way to 24 points, 5 rebounds and 9 assists for the Hornets. While the points are an aberration for Vasquez, lost in his high assist numbers is the fact that he's also currently averaging over 4 rebounds a game so far this year. Ryan Anderson (1.49) also chipped in 20 points and 12 rebounds for the Hornets, while Anthony Davis (0.84) had a much less impressive 8 points and 4 rebounds, but buoyed up his fantasy value with 3 blocks and 2 steals in the game. Houston's best fantasy game came way of James Harden (1.32), who scored 30 points, which is his first 30 point game since he exploded for that 45 point game in his second game with the Rockets. The Clippers took down a three-legged version of the Heat, led by Chris Paul (1.84), who scored 16 points and added 10 assists, 4 steals. Blake Griffin (1.23) also had a big double-double with 20 and 14. A big game from Andrei Kirilenko (1.49), who is one of the only Minnesota starters not currently injured. All those injuries allowed Kirilenko to run wild and do his thing with 26 points, 3 threes, 12 rebounds and 2 blocks against the Bobcats. He'll be a very strong play until Love gets back on the court at least – or he gets injured himself. Charlotte was led by Byron Mullens' (1.87) 12 points, 15 rebounds and 4 blocks. He is a must own in all leagues at this point, although the three point shooting has calmed down lately (Mullens has 3 threes in his last 4 games) after everyone finally realized, hey, Byron Mullens is a horrible three point shooter. Rudy Gay (1.55) – with 28 points, 6 rebounds and 5 assists – and Zach Randolph (1.47) – with 20 points and 11 rebounds – out duoed the Thunder duo to get the 107-97 win. It's Gay's second best fantasy game of the season so far (his best came on Sunday against Miami) and is an indication that, yes, Gay is starting to heat up this year after a slower start. A huge 19 points and 18 rebounds for Greg Monroe (0.93) as Detroit completely embarrassed the Sixers 94-76. More on Philly's notable performances in a bit. Finally, Harrison Barnes (0.85) finally came alive for the Warriors, posting only his second positive WARP game all season with 19 points and 13 rebounds thanks to his nearly 40 minutes on the court. Expect inconsistency from Barnes all year long as the Warriors seem like they are going to throw out different lineups every game depending on their opponent. That means big minutes for Barnes one night, and half as much the next. *** Waiver Wire Line of the Night: We have not seen Beno Udrih (1.49) around these parts in a while. With the Bucks cruising to a win against the mess of the Pacers, Brandon Jennings got some extra rest and Udrih got some extra run to finish with 9 points, 6 rebounds, 10 assists and 3 steals in 27 minutes. Udrih is averaging only 19 minutes a game this season and this performance came in a blowout, so he's not worth picking up in all but the deepest leagues. Pick Up Lines: Samuel Dalembert's (1.39) ownership rates have (rightfully) slid below 50% based on his start to the season, but is he starting to turn things around? Last night's 14 points, 6 rebounds, 3 blocks represent his second pretty good game out of three (high praise, I know). He's still averaging less than 20 minutes a game though, so I'd simply keep an eye on him rather than pick him up at this time. Sebastian Telfair (1.34) scored 17 points (and hit 4 threes) in 25 minutes off the bench for the Suns thanks to an overtime game against the Bulls. The Suns have been running a pretty short rotation – they must be playing in a imaginary playoff series – which means that Telfair has been getting pretty good minutes for a backup PG, but come on, he's Sebastian Telfair, he's had two legitimately good games out of 9 so far this season. Jordan Crawford (1.33) exploded for 21 points after being held to single digits in his previous 4 games. He also hit 3 threes and added 7 assists for the Wizards. A.J. Price left the game last night after rolling his ankle on the giant clown feet of Chris Kaman, and it was Crawford who replaced him as PG (Worst. PG. Ever?). It remains to be seen how serious Price's injury is, but if he misses time expect Crawford to get some extra run and be worth a pickup if he's available in your league. Jannero Pargo could also see some additional playing time, but he's Jannero Pargo – 10 year NBA veteran and current third string PG for the Washington Wizards – and not worth picking up under any circumstances. After a solid game against the Pistons earlier in the week, Marcus Morris (1.20) had another strong game with 13 points, 3 threes and 3 blocks in 25 minutes off the bench for the Rockets. The minutes have not been ideal for Morris, but there is opportunity for him on that Rockets team since Patrick Patterson (6 points, 5 rebounds last night) has not exactly been setting the world on fire. Morris is more a guy I'd watch at the moment, but if he starts to get a consistent 25 minutes a game either as a starter or off the bench, I'd look to add him at that point. Kyle Korver (1.17) was not the trendy Atlanta Hawk fantasy pick going into the season (that was Lou Williams), but Korver certainly has outplayed Williams so far this year. You know exactly what your going to get from Korver – and in fact he hit a couple threes on his way to 14 points – unlike the crapshoot that Williams is going to give you at the moment. And yet, part of me still like Williams a bit more given the ceiling that he has. Oh, Kevin Seraphin (1.12), it's much too early in the season to be teasing fantasy owners like this. After three games in which he hit a total of 5 shots and played 15 minutes or less per game, Seraphin busted out and finished with a 16, 5, 5 in 22 minutes against Dallas. I am sure he's going to be a hot pickup today, the problem is that 22 minutes still isn't that great. The Wizards have been using a rotation that goes about 27 deep (and includes the ball boy I think) which has been limiting the amount of time that Seraphin has been seeing. He also went 8-10 from the floor in this game, so I'm going to call this a lucky one for Seraphin and say that he falls back to earth in the Wizards' next game. Injury Report: This update on John Wall has got to make you very nervous if you own him. I'm no doctor, but the injuries that require "rest" as the primary mode of healing – especially those in the knee – tend to go very badly in terms of timetables and getting back on the court when expected. Just ask Eric Gordon. Rajon Rondo left last night's Celtics game in the third quarter and did not return after injuring his ankle. He could miss tonight's game with the injury, but it does not appear to be serious. Biggest Loser: As mentioned above, the Pacers got their asses handed to them 99-85, although a 32 point 4th quarter from the Pacers made the score closer than it actually was. The biggest culprit for the Pacers in this one was George Hill (-1.01), who finished with 3 points, 4 rebounds, 4 assists and shot a miserable 1-10 from the field in 30 minutes of run. With the Andrew Bynum injury, Spencer Hawes (-0.72) has gotten every opportunity to succeed. Instead, he's failed in every way imaginable, including last night's 5 points, 2 rebounds, 1 assists on 1-5 shooting in only 15 minutes on the court. It was part of the Sixers' "well-balanced" attack that shot a brutal 29.8% from the floor as a team against the Pistons. Jrue Holiday (0.04) shot 4-13 on the night, Jason Richardson (0.37) was 3-12 and Thaddeus Young (-0.44) was 2-11. Oh, and in completely unrelated news, you can now buy Sixers tickets for 10 cents each. Injury watch! Dwyane Wade (-0.64) has a sprained left foot, but decided to play through it against the Clippers. That ended up being a bad decision, as Wade finished the game with 6 points (on 2-10 from the field) with 6 assists and 5 turnovers in 29 minutes. The injury is bad news either way for Wade owners – either he plays through it and gives you stat lines like this, or sits down until the injury is healed. But if this is what he's going to do playing through the pain, we'll take the rest please. *** Daily rankings and stats come from the GMTR H2H Player Rater (beta version). They are based on the stat Wins Above Replacement Player (WARP) an estimate of the number of wins a player produces per week in H2H leagues over a replacement (waiver wire) player. Do not miss a day of the Fantasy NBA. Subscribe to Give Me The Rock right now. You can also get bonus (and easily digestible) content by following GMTR on Twitter, or become a fan of GMTR on Facebook! We are so social! If you like what you read here, come back every day for new content! And if you come back every day, please consider donating… Want to see your ad in the GMTR RSS feed? Contact: givemetherock@gmail.com
Original Story:
http://feedproxy.google.com/~r/GiveMe...
THE BACKYARD
BEST OF MAXIM
RELATED ARTICLES
BIG WHIFFER
If this was late last year, I have a feeling that this shot would have gone in. However, the honeymoon is over for Jeremy Lin and he is forced to come back down to earth like the rest of us. With Houston down by three points in the fourth with just over 10 seconds left in the game Lin launched a WIDE OPEN and potential game-tying three pointer, but it failed to even hit the rim...
This past Friday I payed my first  visit to the Museum of Chinese in America (MOCA) here in NYC, where I sat in on a excellent panel featuring Rembert Browne(writer, Grantland), Devin Gordon (Articles Editor, GQ), Hua Hsu (writer, Grantland), Ursula Liang (sports journalist, documentary filmmaker) and Will Leitch(New York Magazine). The topic of the discussion was basketball's...
Tweet When the Houston Rockets signed Jeremy Lin away from the New York Knicks via an inflated three-year, $25 million offer sheet, many thought the signing was a mistake. But once the Rockets managed to trade for James Harden, the Lin signing took an immediate backseat. Lin had an opportunity to thrust himself back into [...]
The timetable for the Rockets is wider than it is for the Knicks, giving Jeremy Lin more room to develop his game.
The Houston Rockets faced off against the Miami Heat on Monday night. Jeremy Lin has taken a bit of a backseat with the arrival of James Harden in Houston but last night he had a shot at reclaiming his spot by hitting a last second three and sealing the win for the Rockets. It didn't [...]
And by really we mean TheJlin7 hit nothing but floor with :08 seconds left and the Rockets lost to the Heat, 113-110. **Follow us on Twitter. Subscribe, or Return to BobsBlitz.com.Follow us on... Full story at Bob's Blitz ~ http://www.bobsblitz.com
When the Thunder traded James Harden shortly before the season, the small-market contender did more than clear salary cap space. In dealing the heady two-guard, the Thunder also signaled that they believed Kevin Durant was ready to expand his game and to fill some of the roles Harden formerly occupied. Durant has come through so far this season, and then some. Not only has he assumed...
Thursday's edition of S.I.'s Hot Clicks contained a lot of gems ('sup, Ashley Sky?), but none more enjoyable and reassuring than this compilation video of NBA players airballing shots. The first day of my Houston Rockets fandom was met with Jeremy Lin throwing up a Brandon Stroud-esque airball from three-point range, so it's nice to see everyone doing it, and not just star...
NEW ORLEANS (AP) -- Kevin Durant and Kevin Martin each scored 27 points, and the Oklahoma City Thunder rolled to their sixth victory in seven games, 110-95 over the New Orleans Hornets on Friday night. Serge Ibaka added 15 for Oklahoma City, which shot 54 percent (40 of 74) and built leads as big as 30 points in the first half and 34 in the second, allowing the starters to rest...
Kevin Durant and Kevin Martin each scored 27 points, and the Oklahoma City Thunder rolled to their sixth victory in seven games, 110-95 over the New Orleans Hornets on Friday night. Serge Ibaka added 15 for Oklahoma City, which shot 54 percent (40 of 74) and built leads as big as 30 points in the first half and 34 in the second, allowing the starters to rest for the entire fourth...
NEW ORLEANS - Kevin Durant and Kevin Martin scored 27 points each and combined for 10 3-pointers to power the Oklahoma City Thunder to a 110-95 rout of the New Orleans Hornets Friday. The 110 points were a season high for the Thunder (7-3). Their offensive production was so good they made 14 of 29 shots from 3-point range (48.3 percent), which was better than the Hornets' overall...
Three weeks ago, Kevin Durant and Russell Westbrook were taking in Notre Dame's win at Oklahoma in nearby Norman, Oklahoma, when news began to travel across Twitter and across the wire that Oklahoma City traded James Harden to Houston. The news shocked the Thunder, especially so close to the beginning of the season, providing the organization very little time to acclimate and...
NBA News

Delivered to your inbox

You'll also receive Yardbarker's daily Top 10, featuring the best sports stories from around the web. Customize your newsletter to get articles on your favorite sports and teams. And the best part? It's free!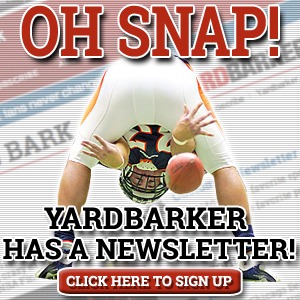 Latest Rumors
The Backyard

Today's Best Stuff

For Bloggers

Join the Yardbarker Network for more promotion, traffic, and money.

Company Info

Help

What is Yardbarker?

Yardbarker is the largest network of sports blogs and pro athlete blogs on the web. This site is the hub of the Yardbarker Network, where our editors and algorithms curate the best sports content from our network and beyond.