Found November 22, 2012 on Give Me The Rock:
PLAYERS:
Jason Kidd
,
Kevin Durant
,
Kobe Bryant
,
LeBron James
,
Brandon Jennings
,
Goran Dragic
,
Tim Duncan
,
Tiago Splitter
,
DeJuan Blair
,
Boris Diaw
,
Matt Barnes
,
Caron Butler
,
Vince Carter
,
Rasheed Wallace
,
Jeremy Lin
,
Kyle Korver
TEAMS:
New York Knicks
,
Oklahoma City Thunder
,
Los Angeles Lakers
,
Miami Heat
,
Milwaukee Bucks
,
Phoenix Suns
,
San Antonio Spurs
,
Los Angeles Clippers
,
Dallas Mavericks
,
Atlanta Hawks
But if you look at the lines below, a lot of other people have performances to be thankful for too. It's like these guys knew that they had a day off today or something… Comeback Line of the Night: Kevin Love (1.31) came back with only the 24th best performance of the night. Out of 289 players. You see why we said he was still worth a first round pick? Oh, you need to know his actual line? 34 points on 12 of 25 from the field (only 2-9 for three, but that's still 2 threes), 14 rebounds, 2 assists, 2 steals, and 1 block. He did have 3 turnovers, please forgive him, and he only shot 8-14 from the line. We'll chalk that one up to rust. Of course, Love's return wasn't enough for the Wolves to get the win in Denver, but I'm sure that the Nuggets, along with the Mavs, Jazz, Suns and Blazers are not very thankful for Love's impressive return. I don't think Dante Cunningham is too thankful either, as he went back to 20 minutes and irrelevance… Line of the Night: Paul George (2.96) bombed his way to the top using overtime to make 9 threes, going 13-21 from the field to end with 37 points and 4 assists. Honorable Mentions: Roy Hibbert (1.85) also took advantage of Indiana's overtime game to log a triple-double with 10 points, 11 rebounds, and 11 blocks! He also had 2 steals. He's up to #96 on the Player Rater and climbing fast. No more complaining about him, okay? On the other side of this first of 4 overtime games, Ryan Anderson (1.84) had 17 points (5 threes), 7 rebounds, and 2 blocks. Let's get serious for second. What does Jason Kidd (2.77) think he's doing? He was supposed to be all but dead. That's why the Mavericks let him go, and now he's scoring 17 points (5 threes, 5-8 from the field), with 6 rebounds, 5 assists, and 5 steals. That is some vintage-ass Jason Kidd right there. And the Knicks are tied for the second best record in the league. Amare who? (Of course, they lost the one last night to Dallas, so maybe vintage Jason Kidd just wanted to show off for the team that cast him off) Kevin Durant (2.09) and the Thunder went to Overtime to beat the Lakers, giving Durant some extra time to score 35 points (including an amazing 19-21 from the line), with 6 rebounds, 5 assists, and 5 steals. Kobe Bryant (1.67) scored 38 points with 5 threes and 2 steals. In case you missed it, Kyle Lowry (1.81) is back. He's dropped to #6 on the Player Rater, though, with only 21 points (4 threes), 8 assists, 2 steals, and 3 blocks last night. Sorry dude. That's what happens when Kevin Love comes back, Kobe is playing under D'Antoni, and LeBron James (1.71) and the Heat have to go to overtime to beat the Bucks. James had a near triple-double with 28 points, 10 rebounds, and 8 assists. And right behind Lowry, playing in overtime against James was Brandon Jennings (1.62) who had 19 points, 7 rebounds, 6 assists, and 5 steals to hang on to the #7 spot. It's a whole new world out there now Lowry. What a difference a few games makes. In the last overtime game of the night (probably not chronologically, just in this recap), Josh Smith (1.73) had 25 points, 12 rebounds, 2 steals, and 4 blocks. He even shot 58% from the field and was 3-3 from the line! Finally, Goran Dragic (1.73) deserves a mention for his 15 points, 8 assists, and 3 steals. *** Waiver Wire Line of the Night: Come on people! Alonzo Gee (1.60) should be picked up! He is #84 on the Player Rater after 14 points (4 threes), 6 rebounds, and 3 blocks, but he's only 24% owned! What are people in the other 76% of leagues doing???? Pick Up Lines: Robin Lopez (1.57) really wants to be another must add. Last night he went 3-17 from the field, but made it 21 points with 15-17 from the line. He added 13 rebounds, 2 steals, and 4 blocks to try to make a case as some sort of Bizzaro Small Ball Center. I'm not sure if anyone's going to buy that… but at #98 on the Player Rater, his ownership rate should be higher than 28%. The Spurs may be winning, but they're struggling to find a stable Center presence to go alongside Tim Duncan. Last night Tiago Splitter (1.41) got 25 minutes and scored 23 points (9-11 from the field, 5-5 from the line), with 2 steals (4% owned). Since DeJuan Blair is still starting and Boris Diaw has logged some significant minutes this season, I'd wait to see how this plays out. Matt Barnes (1.40) played 43 minutes for the Clippers (against the Thunder no less), starting for LAC and going into overtime to score 19 points, 9 rebounds, and 4 steals (3% owned). With Caron Butler out with a strained shoulder, it looks like Barnes is a must add WW player. Vince Carter (1.34) has been very up and down this year, but if you have a daily changes league, might be worth picking up to play while he's hot. Hopefully you can grab another game where he scores 25 points with 5 threes (37% owned). With Kyrie Irving out for 4 weeks, Jeremy Pargo (1.27) appears to be the another must-add player after he went for 28 points (4 threes) with 5 rebounds and 4 assists (2% owned). Of course, since he's only played 24 minutes this whole season before last night's 38 minute outing, who knows what kind of stats he'll actually put up for the next 4 weeks… Rasheed Wallace (1.27) is another New York Zombie, putting up 11 points (3 threes), 7 rebounds, and 2 steals (3% owned). He did that in only 17 minutes, though, after going 2-8 for 6 and 7 in the previous game. Not a must-add… Biggest Loser: I am glad that I benched Jeremy Lin (-1.03) for Kyle Korver this week, because while Korver has only shot 40%, Lin followed up a 33% shooting night with 22% last night, ending with 4 points, 4 rebounds, 3 assists, and 5 turnovers (2-9 from the field). The shooting and turnovers would be acceptable if there were the assists there with them… He's still averaging 6.8 in the last week, but he's shooting 29% with 3.5 turnovers to go along with that… *** Daily rankings and stats come from the GMTR H2H Player Rater (beta version). They are based on the stat Wins Above Replacement Player (WARP) an estimate of the number of wins a player produces per week in H2H leagues over a replacement (waiver wire) player. Do not miss a day of the Fantasy NBA. Subscribe to Give Me The Rock right now. You can also get bonus (and easily digestible) content by following GMTR on Twitter, or become a fan of GMTR on Facebook! We are so social! If you like what you read here, come back every day for new content! And if you come back every day, please consider donating… Want to see your ad in the GMTR RSS feed? Contact: givemetherock@gmail.com
Original Story:
http://feedproxy.google.com/~r/GiveMe...
THE BACKYARD
BEST OF MAXIM
RELATED ARTICLES
WHY ME?
New Knicks point guard Raymond Felton doesn't understand why he's compared to former New York point guard Jeremy Lin.
DALLAS-- When the New York Knicks signed Jason Kidd to a free agent contract over the summer, not only did Knicks coaches and brass know they were getting one of the greatest floor generals in the history of the NBA, but they also knew they were receiving a player who would also have a very positive impact off the court, namely in the locker room. Besides coming to a brand new...
DALLAS When the New York Knicks signed Jason Kidd to a free-agent contract over the summer, not only did Knicks coaches and brass know they were getting one of the greatest floor generals in the history of the NBA, but they knew they were receiving a player who would have a very positive impact off the court, namely in the locker room. Joining the Knicks after spending the past...
KNICK OF TIME
Tweet New York Knicks reserve wing James White has been known for his highlight-reel dunks since his high school days. It was once rumored that he had a 44-inch vertical. White put his hops on display Tuesday night against the New Orleans Hornets with this high-flying slam after a steal: That was impressive, but honestly [...]
This Thanksgiving, when you sit down with your family and loved ones and think about everything you're thankful for, don't forget to include Rasheed Wallace. It's been over two years since we've been graced with one of Wallace's "BALL DON'T LIE!" exclamations, leaving a basketball sized hole in our soul. And now, with Sheed's return to the NBA and Austin Rivers...
DALLAS - It is impossible to have pulled up a chair for Wednesday's Thanksgiving Eve meeting between the Mavs and the visiting Knicks and not experience some melancholia. But in the end - a Mavs 114-111 thriller of a victory - it was also impossible to not experience some mirth. With Tyson Chandler and Jason Kidd flanking a superstar forward, the New York Knicks represent for...
As the New York Knicks ride a wave that for the time being has them registered as the best team in the NBA, more than a few people have verbally exposed the idea that at some point Amare Stoudemire could return from injury and spoil the entire affair.  Please Click Here To Read This Story
Had the Lakers lost during Mike D'Antoni's debut as the team's Commander-In-Chief there may have been some slow singing and flower bringing out in Los Angeles. After the team passed on arguably the best suited coach for the job in Phil "The Zen Master" Jackson, the Lakers just had to win against the Brooklyn Nets on Tuesday. Please Click Here To Read This Story
Apparently Rasheed Wallace decided to come out of retirement to join the New York Knicks for two reasons — to win a championship and to scream at people who miss free throws. The 2012-2013 season is only a few weeks old, but we can already say heckling opponents after missed free throws is Wallace's thing. As you can see from the video above that @Jose3030 shared with us on Tuesday...
Before tonight, I would have believed that Wilt Chamberlain's 100 point game against the New York Knicks was an untouchable record. That was until Grinnell's Jack Taylor demolished the record by dropping 138 points in a division three game against Faith Baptist Bible College. The final score of 179-104 and here's the breakdown of his night by the folks over at USA...
Carmelo Anthony scored 29 points and the New York Knicks extended the undermanned New Orleans Hornets' losing streak to four games with a 102-80 victory Tuesday night. Raymond Felton and J.R. Smith each added 15 points. Felton scored all of his points on five 3-pointers as New York hit 14 3s as a team. Tyson Chandler grabbed 12 rebounds for the Knicks, who've won two straight...
Check out the Special Christmas Day jerseys the Lakers, Knicks, Nets, Thunder and Heat will be wearing on December 25th as you listen to the original version of Jingle Bells. The NBA has revealed some bold new designs for Christmas Day this year. The BIG Color uniforms are a single, solid colorway with an alternate color stencil design that give these uniforms a very distinct look...
NBA News

Delivered to your inbox

You'll also receive Yardbarker's daily Top 10, featuring the best sports stories from around the web. Customize your newsletter to get articles on your favorite sports and teams. And the best part? It's free!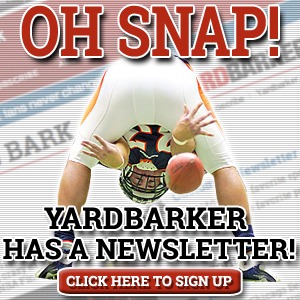 Latest Rumors
The Backyard

Today's Best Stuff

For Bloggers

Join the Yardbarker Network for more promotion, traffic, and money.

Company Info

Help

What is Yardbarker?

Yardbarker is the largest network of sports blogs and pro athlete blogs on the web. This site is the hub of the Yardbarker Network, where our editors and algorithms curate the best sports content from our network and beyond.