Found January 19, 2012 on Give Me The Rock:
PLAYERS:
Monta Ellis
,
Deron Williams
,
Kris Humphries
,
Marshon Brooks
,
Joe Johnson
,
Al Horford
,
LaMarcus Aldridge
,
Andre Miller
,
Rudy Fernandez
,
DeAndre Jordan
,
Steve Nash
,
Amare Stoudemire
,
Baron Davis
,
Dwight Howard
,
DeMarcus Cousins
,
Tayshaun Prince
,
Chris Paul
,
Maurice Williams
,
Gary Forbes
,
James Johnson
,
Rasual Butler
,
Markieff Morris
,
Channing Frye
,
Trevor Ariza
,
Mickael Pietrus
,
Francisco Garcia
,
Gustavo Ayon
,
Jason Smith
,
Marcus Camby
,
Kurt Thomas
,
Nicolas Batum
,
Tracy McGrady
,
Rajon Rondo
,
Linas Kleiza
,
Derrick Rose
,
C.J. Watson
,
Dwyane Wade
,
Mike Miller
,
Randy Foye
,
DeMar DeRozan
,
Jimmer Fredette
,
Jared Dudley
,
Ronnie Price
,
Vinny Del Negro
TEAMS:
Golden State Warriors
,
Brooklyn Nets
,
Atlanta Hawks
,
Portland Trail Blazers
,
Denver Nuggets
,
Los Angeles Clippers
,
Phoenix Suns
,
New York Knicks
,
Orlando Magic
,
Sacramento Kings
,
Detroit Pistons
,
Toronto Raptors
,
New Orleans Pelicans
,
Boston Celtics
,
Chicago Bulls
,
Miami Heat
Line of the Night: Monta Ellis (2.72) scored 30 points in a loss to the Nets, adding 5 assists and a category-winning 6 steals in 37 minutes on the court. If you were presented with a decision between drafting Monta Ellis and Stephen Curry before the start of the season, who would have thought that Ellis would have been the correct answer?
Honorable Mentions: Here is something you're won't hear often – the New Jersey Nets were the best team for fantasy purposes last night. Deron Williams (2.21) nearly triple-doubled with 24 points, 8 rebounds and 10 assists. Kris Humphries (2.33) added 18 points, 15 rebounds and 4 blocked shots. And MarShon Brooks (1.62) scored a career-high 22 points and added 8 boards and 6 assists in the game. Brooks has now scored in double-digits in the Nets last 7 games and is an obvious must own in all leagues. I am so glad I dropped him in one of the GMTR Readers' leagues a couple weeks ago…
// sarcasm //
Joe Johnson (2.57) continues to perform like the old (and by old I mean young) Joe Johnson since the Al Horford injury. Last night's line against the Blazers included 24 points, 4 threes, 7 rebounds, 5 assists and a couple steals. There are no red flags in his recent lines that would suggest he's a sell high candidate. He's simply taking more shots since Horford went down. LaMarcus Aldridge (1.39) fantasy-led the Blazers with 20 and 11 in the game.
***
Andre Miller (2.51) had by far his best game of the season with an overtime-assisted 28 points, 8 rebounds and 10 assists in 39 minutes on the court for the Nuggets. Miller also got a little extra run because Rudy Fernandez missed the game with injury. We have seen Miller explode a few times already this season only to settle back down in the Nuggets' next game.
DeAndre Jordan (2.43) had 19 points, 9 rebounds and 5 blocked shots in a win over the Mavs. He's now back to winning the battle of the blocks against JaVale McGee at 3.1 a game to McGee's 3.0.
And in the battle of point guards who were off to slow starts but are now heating up, Russell Westbrook's (1.76) 36 points and 7 assists was slightly more impressive than John Wall's (1.31) 25 points, 7 boards and 8 assists. That is now 3 straight good-to-great games from Wall, who looks to be turning a corner on the season. OKC lost the game, but Kevin Durant (2.19) out dueled everyone in terms of fantasy lines with 33 points, 8 boards, 3 steals and 2 blocks.
Steve Nash (2.31) scored a season-high 26 points against the Knicks on 9-12 shooting, adding 5 rebounds and 11 assists in 38 minutes. And Amare Stoudemire (0.11) had his best game in a week with 23 points and 7 rebounds in the loss. Baron Davis can't come soon enough for Amare.
And, of course, there is the beast Dwight Howard (2.26). In a night where there were some ridiculous rebounding numbers put up (including 19 by DeMarcus Cousins and 17 each by Love, Griffin and Chandler), Howard's 25 rebounds were the most ridiculous of all. He also scored 24 points and blocked 3 shots in an overtime loss to the Spurs. Howard is now averaging 15.6 rebounds a game this season. Take that Kevin Love!
Waiver Wire Line of the Night: As long as we're partying like it's 2006, Tayshaun Prince (2.00) is swinging by that party with a 30-pack. Prince scored a season-high 29 points and hit 3 threes in a loss to the Wolves. That's three straight 20+ scoring games for Prince, who seems to have broken out of his early season funk. Prince has never been an elite scorer – so I doubt he'll keep this up – but is still worth a look in shallow leagues (he's already 27% owned) as long as he's rolling like this.
Pick Up Lines: Thanks to the Chris Paul injury, Mo Williams (1.89) returned from his own injury to play 35 minutes and score 26 points on 11-15 shooting. I have two thoughts on this. First, he got lucky that his shot was falling so well in this game, and second, he'll continue to get some big run off the bench as long as Paul is out (see more on that below) so consider him a short-term add in most daily leagues.
It's been a while since Anthony Tolliver (1.66) grace GMTR with his presence. But Tolliver came off the Wolves' bench to go 3-5 from three and finished with 11 points, 5 rebounds and 2 steals. Meanwhile, Derrick Williams saw a measly 15 minutes off the bench and didn't do much in the game. While we like Tolliver's game as an incredibly poor man's version of Ryan Anderson, he's not seeing consistent enough minutes to warrant picking up.
Gary Forbes (1.37) got a season high 19 minutes and scored 18 points for the Raptors in a blowout loss to the Celtics 18 points. It was a blowout, so don't read too much into it. On the other hand, fantasy-favorite James Johnson (-0.95) was given the start over Rasual Butler in this game. Unfortunately, he also played like Rasual Butler by shooting 1-7 from the floor and not doing much of anything else. Still, if you are a James Johnson junkie, I'd add him now as long as he keeps the starting job.
Speaking of new starters, Markieff Morris (-0.33) got the start for the Suns over Channing Frye. Morris lasted all of 5 minutes before leaving the game with a stomach virus, but he's still worth a look in most leagues provided he keeps the starting job.
Trevor Ariza (1.16) is back after missing 8 games for the Hornets, scoring 18 points and adding 5 rebounds, 7 assists and 4 steals. That line is the ceiling of what you'll get from Ariza, who can just as easily go 2-10 from the floor on any given night. If you can live with his horrible percentages, Ariza just might be hanging out on your wire after being dropped by an impatient owner.
Quick Hits: Mickael Pietrus (1.10) isn't getting a ton of minutes for the Celtics, but 11 of the 14 shots he's made so far this year have been threes and his role is slowly growing on a Celtics team that could use a little energy. Ok, a lot of energy. Last night's 12 points and 4 threes is a line that plays in deep leagues.
Francisco Garcia's (1.08) minutes have also been creeping up for the Kings. Last night's 16 points, 5 boards, 2 steals and a block is a good representation of what you can expect from him at his best.
As much as we all love Gustavo Ayon (GUSTAVO!), the reality is that Jason Smith (0.76) is the new starting PF for the Hornets. He had 14 and 6 in 29 minutes on the court and is available in nearly all leagues provided your ok with his low upside.
And with Marcus Camby out for Portland, old man Kurt Thomas (0.55) has entered the Blazers' starting lineup. He had 8 points, 9 rebounds and a block and makes an ok short-term play while Camby is out if you are really hurting for big men.
Injuries of the Night: Nicolas Batum left last night game against the Hawks after being poked in the eye by Tracy McGrady during the second quarter. According to Blazers Edge, x-rays came back negative for an orbital fracture and that the injury "isn't serious". Chris Haynes of CSNNW.com reported that Batum said he will play in Portland's next game on Friday.
Rajon Rondo also left the Celtics game after falling on his wrist on a hard foul by Linas Kleiza when he was driving to the basket. The good news is that Rondo stayed in the game briefly to take his foul shots and is day-to-day with a wrist injury that could have been a lot worse.
In other injury updates, Derrick Rose's injury is now being described as tuff toe. He's described the pain as a 6 or 7 out of 10 and is questionable for the Bulls' game on Friday. If he can't go C.J. Watson becomes a great short-term play.
And Dwyane Wade owners have to be troubled by the fact that he's dealing with both a sore left foot and a calf strain which kept him out of Tuesday's game against the Spurs. He's been day-to-day for what seems like the entire year and is officially questionable for tonight's Heat game. It's tough for find any more updates on Wade's injury than that, but it's easy to find a few dozen stories about his $230,000 birthday present. If Wade doesn't play, look to see if Mike Miller can have a repeat performance of his game on Tuesday.
Chris Paul has missed the Clippers' last 3 games with a strained left hamstring. According to Vinny Del Negro, Paul is currently day-to-day with no timetable for return. Randy Foye is starting in his absence, but has shot 29% from the floor in three starts. Mo Williams makes a much better pickup in Paul's absence.
Biggest Loser: I feel like I'm picking on DeMar DeRozan (-1.43) at this point. It's just that he's owned in 88% of Yahoo leagues at the moment and his 11 points on 4-16 from the field with 5 turnovers was the single worst fantasy line out of 224 players last night. You would have been better off playing Jimmer Fredette (-1.17) and getting his 0-4 shooting in 6 minutes than DeRozan.
Bust Town; Population: Jared Dudley (-1.01). Dudley was mercifully removed from the Suns starting lineup last night in place of Ronnie Price. He played a total of 17 minutes and didn't score, finishing with 1 board and 1 assist. Time to drop Dudley if you've been holding on to him in hopes that his shooting would improve.
***
Daily rankings and stats come from the GMTR H2H Player Rater (beta version). They are based on the stat Wins Above Replacement Player (WARP) an estimate of the number of wins a player produces per week in H2H leagues over a replacement (waiver wire) player.
Do not miss a day of the Fantasy NBA. Subscribe to Give Me The Rock
right now. You can also get bonus (and easily digestible) content by following GMTR on Twitter, or become a fan of GMTR on Facebook! We are so social!
Want to see your ad in the GMTR RSS feed? Contact: givemetherock@gmail.com
Other Stuff Like This:
Original Story:
http://feedproxy.google.com/~r/GiveMe...
THE BACKYARD
BEST OF MAXIM
RELATED ARTICLES
The Warriors 105-95 road victory over an upstart Cleveland team was a nice continuation of an adjustment that began in the win against Detroit.  The Warriors won this game without Monta Ellis making a meaningful offensive contribution — let alone dominating the ball.  They didn't stand around waiting for Ellis to produce and Ellis, to [...]
As Monta Ellis goes, so go his Golden State Warriors (4-8). He's their best player, maybe the most underrated offensive player in the Association overall, and he will need to be contained by the Cavaliers tonight. He's averaging 24 points and almost 8 assists per game through these first twelve on forty percent shooting from the floor, and staying in front of Ellis to make...
Golden State Warriors shooting guard Monta Ellis had to leave Tuesday night's win over Cleveland after taking a nasty elbow to his face from Cavaliers forward Anderson Varejao. Ellis' nose was cut but not broken after taking the blow.That's good news for the Warriors, who are already missing point guard Stephen Curry. He's been out of the lineup with an ankle injury...
Before the game I thought that if Monta Ellis could be contained the Cavaliers would have a chance to win. He kinda was, the Cavs did have that chance in the 4th quarter, but in the end they still lost. Monta had a rough night shooting, scored only half of what he averages per game (12 pts) on 2 of 12 shooting, but the Warriors won anyways. The reasons they did so could be attributed...
Summary for this story goes here and here's some morej summary to gow with this story
Beast of the Night: Monta Ellis put up 30 points, one rebound, five assists, six steals and a block, and hit two three-pointers last night against the Nets. He shot 55 percent (11-20) from the field, 86 percent (6-7) from the free-throw line and had three turnovers. Ellis is having a solid season for the [...]
It might be time to try something different. Even the officials are tired of watching Monta Ellis in isolation sets at the end of quarters and games. Video replays clearly showed that George Hill's right foot kicked the...
The Warriors are nearly a quarter of the way through this lockout-shortened season.  It's time for Mark Jackson and company to come up with an end-of-the-game play that doesn't reduce the game of basketball — a game typically played with five men on each side — to a not-so-epic battle of Monta Ellis vs. the [...]
Just about everything George Hill tried to do to stop Golden State's Monta Ellis failed -- until it counted most for Indiana's backup guard. With Ellis positioning himself for the potential game-winning shot and the clock winding down, Hill literally stepped in the way and saved his team from again getting burned by the Warriors' star guard.
George Hill kicked the ball away from Monta Ellis in the final seconds and recorded a three-point play at the other end, lifting the Indiana Pacers over the Golden State Warriors, 94-91.
OAKLAND, Calif. -- Indiana Pacers forward Danny Granger couldn't help but to have a flashback to a year ago when Golden State Warriors guard Monta Ellis dribbled the ball out front and was isolated one-on-one with George Hill guarding him.
NBA News

Delivered to your inbox

You'll also receive Yardbarker's daily Top 10, featuring the best sports stories from around the web. Customize your newsletter to get articles on your favorite sports and teams. And the best part? It's free!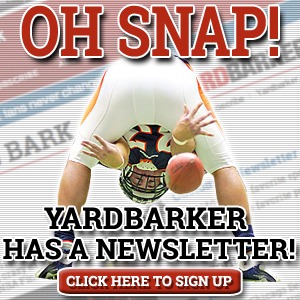 Latest Rumors
The Backyard

Today's Best Stuff

For Bloggers

Join the Yardbarker Network for more promotion, traffic, and money.

Company Info

Help

What is Yardbarker?

Yardbarker is the largest network of sports blogs and pro athlete blogs on the web. This site is the hub of the Yardbarker Network, where our editors and algorithms curate the best sports content from our network and beyond.