Found November 24, 2012 on Give Me The Rock:
PLAYERS:
Chandler Parsons
,
Dwight Howard
,
Russell Westbrook
,
Dwyane Wade
,
Jeremy Lin
,
James Harden
,
Kevin Love
,
Andrea Bargnani
,
Andre Iguodala
,
Kyle Korver
,
Jeff Taylor
,
Tyrus Thomas
,
Antawn Jamison
,
Marvin Williams
,
Aaron Brooks
,
Maurice Williams
,
Jamaal Tinsley
,
Kevin Martin
,
Jamal Crawford
,
DeMar DeRozan
,
Pau Gasol
TEAMS:
Los Angeles Lakers
,
Oklahoma City Thunder
,
Miami Heat
,
Houston Rockets
,
Minnesota Timberwolves
,
Toronto Raptors
,
Denver Nuggets
,
Golden State Warriors
,
Atlanta Hawks
,
Charlotte Hornets
,
Utah Jazz
,
Sacramento Kings
,
Los Angeles Clippers
First, let's just get this video out the way since it was on the national news this morning… your Mom might be asking you about, so you'll need to know. I think YouTube works in all countries, but just in case: It's Dwight Howard (in an ugly ass all white uniform) with Carmelo (in what appears to be an all orange uniform), Joe Johnson in all black (which actually works for that one), Russell Westbrook, and Dwyane Wade, all dribbling basketballs in time to the Carol of the Bells to promote their special (and generally awful) Christmas Day uniforms. If the Celtics have an all green version, I can see that working, and the Heat's all red seems okay, but man, they really put some weird looking ones up there with the Lakers and Knicks. But, whose ever said that the NBA is tasteful when it comes to uniforms and other apparel… Line of the Night: Chandler Parsons (3.15) led the Rockets to a huge victory over the Knicks with 31 points (4 threes, 13-17 from the field), 5 rebounds, 4 assists, and 4 steals, and a 1-0 record against Jeremy Lin's former team. Obviously we'll have to see what happens when Lin returns to New York (they played in Houston last night), but if anyone boos Lin in NYC, they should really be booing the Knicks management since it wasn't really Lin's fault for taking more money to go somewhere else. If someone offered those (presumed) Knicks fans (or you or I) more money to do exactly what they (or you or I) do now, would any of them (or you or I) not take it? I know I certainly would. Parsons is up to 65% owned now, hence the subject of this post. Meanwhile, James Harden (2.88) helped the cause with his 33 points (3 threes, amazing 16-16 from the line), 9 assists, and 2 steals. Troy Taormina-US PRESSWIRE Honorable Mentions: I feel like I have to keep apologizing for every doubting Ryan Anderson (3.03). The guy put up a ridiculous 34 points on 8 threes with 11 rebounds and 2 steals. I assumed his talent was as by-product of Dwight Howard, and now he is making an ass of just me. Wesley Matthews (2.23) put up 30 points (5 threes, 12-17 from the field), and 4 steals while Damian Lillard (2.09) had 28 points (4 threes, 11-17 from the field), and 8 assists to keep the Timberwolves winless since Kevin Love's return. I guess they still need Rubio back to make that playoff run… Andrea Bargnani (2.23) did his best in a losing effort for the Raptors with 34 points (3 threes, 13-20 from the field), 5 rebounds, and 4 assists. The Raptors lost by 1. Al Horford (1.83) put up 26 points (13-17 from the field), 13 rebounds, and 3 blocks against Charlotte's front line. I know we made fun of them a lot last season, but it looks like they're just as bad up front again this year. Andre Iguodala (1.81) led Denver over Golden State with 29 points (3 threes), 6 rebounds, and 2 blocks. Dion Waiters (1.78) is 69% owned which just shows you the power the "rookie" mystique has on fantasy owners. Even after his 25 points (4 threes), 5 assists, and 2 steals, Waiters is at #107 on the Player Rater while Chandler Parsons is at #29 (reminder: only 65% owned). If this were the stock market, somebody would be making money hand-over-fist with that kind of irrationality in the marketplace. *** Waiver Wire Line of the Night: Kyle Korver (1.68) put up only 16 points, but had 4 threes and went 6-10 from the field with 6 rebounds and 2 blocks (40% owned). He is ranked #50 right now, and (once again) is a must add for just about any team. He's only shooting 40% so far this week (I know because I'm starting him) but he's at 45% for the season, so he should be an okay add even for Big Ball teams since he gives you some decent rebounding from the guard spot (assuming he's eligible at SG in your league). Pick Up Lines: Markieff Morris (1.42) is now a must-add after his 3rd good game in a row: 23 points (2 threes, 9-12 from the field), 3 rebounds, 3 assists (2% owned). Over the past 3 games, he has a 0.91 WARP, good for #20 in the last week according to the Player Rater. Jeff Taylor (1.04) (fun fact: born in Sweden) had 16 points (4 threes), and 3 steals (0% owned). This was his 3rd pretty good game in a row, and he's been playing pretty big minutes too. He's a rookie, and definitely part of the reason why Charlotte tastes like a special edition Christmas peppermint marshmallow to opposing big men, but with Tyrus Thomas out for 2 months, I don't think the Bobcats really have anyone else more qualified to put in there. Antawn Jamison (0.97) had a good game, FYI, with 16 points (7-11 from the field), and 7 rebounds (25% owned). Let's see if that happens again, say, in the next 20 games… Marvin Williams (0.94) has been better than Jamison, up to #102 in the last week and #126 for the year. He's not really particularly great at anything, as the highlights of his game last night will attest: 20 points and 7-7 from the line with 4 rebounds. But he does give you a little bit of everything across the board… and he should be more than 20% owned. Definitely worth a look in Roto leagues since he won't really hurt you anywhere and will give you a little boost in quite a few categories. It's probably going to change because we're talking about Sacremento now, but Aaron Brooks (0.90) has taken over the starting PG spot for the Kings and put up 17 points on 3 threes and 7-9 from the field (3% owned). He's in violation of the 70% rule, but since he's the starter and played 31 minutes, I'm going to say he's definitely worth a once over. Mo Williams rolled his ankle and gave Jamaal Tinsley (0.90) 30 minutes of playing time, in which he only managed 4 points, but grabbed 6 rebounds, passed for 12 assists, and had 2 steals (1% owned). If Williams is out for an extended period of time, Tinsley will probably get the minutes at PG for the Jazz and would be worth a short term add (especially in deep leagues). Biggest Loser: After scoring 20+ points in 3 straight games, Kevin Martin (-1.41) went 1-7 from the field to end with 3 points, 0 rebounds, and 0 assists. The Thunder lost to the Celtics and showed what might be a strategy to beat them… Westbrook and Durant both shot well and scored a bunch, and Ibaka even contributed 17 points, but without Martin filling in for James Harden, the Thunder look to be vulnerable. Also, much as I try never to say I Told You So, I already did it with Jamal Crawford and now feel justified in saying it about DeMar DeRozan (-1.27). After a hot start, DeRozan seems to have remembered that he's DeMar DeRozan and put up a much needed 2-9 shots for 5 points, 1 rebounds, and 1 assist. Much more unexepected was Pau Gasol's (-0.88) performance. Memphis jumped out to an early lead, I can only assume due in some part to Gasol's 3-8 from the field and 3 turnovers. He finished with only 6 points, 4 rebounds, and 1 assists, and furthered my suspicions that he is going to be the Odd Man Out when it comes to the Lakers playing in Mike D'Antoni's system. Of course, the Lakers eventually lost to the Grizz, so maybe getting Pau involved is going to be as key to them as Martin scoring for the Thunder will be. *** Daily rankings and stats come from the GMTR H2H Player Rater (beta version). They are based on the stat Wins Above Replacement Player (WARP) an estimate of the number of wins a player produces per week in H2H leagues over a replacement (waiver wire) player. Do not miss a day of the Fantasy NBA. Subscribe to GMTR right now. You can also get bonus (and easily digestible) content by following GMTR on Twitter, or become a fan of GMTR on Facebook! We are so social! If you like what you read here, come back every day for new content! And if you come back every day, please consider donating… Want to see your ad in the GMTR RSS feed? Contact: givemetherock@gmail.com
Original Story:
http://feedproxy.google.com/~r/GiveMe...
THE BACKYARD
BEST OF MAXIM
RELATED ARTICLES
Players View would like to offer Houston Rockets coach Kevin McHale and his family our thoughts and prayers. McHale lost his daughter Alexandra "Sasha" McHale on Saturday afternoon. Please Click Here To Read This Story
The daughter of Houston Rockets coach Kevin McHale has died at 22. The death of Alexandra ''Sasha'' McHale was announced by the team Sunday. No other details were released. Kevin McHale has been on leave since Nov. 10 to deal with what the team called a personal family matter. Team owner Leslie Alexander said in a statement that he extends his ''deepest...
HOUSTON If something can be remarkable specifically because it was unremarkable, then Jeremy Lin was remarkable Friday night. Because he wasn't. Make sense? Lin had a nice game in his first game against the New York Knicks, a 131-103 Rockets win at Toyota Center in Houston. He scored 13 points, had three assists, four turnovers and one steal. "His swag was good,&quot...
James Harden scored 33 points and Chandler Parsons added a career-high 31 Friday night to help the Houston Rockets coast to a 131-103 victory over the New York Knicks. Jeremy Lin added 13 points, seven rebounds and three assists for Houston in his first game against his former team. The Rockets entered the third quarter up by 12, and scored 10 straight points later in the quarter...
Houston Rockets head coach Kevin McHale's daughter Alexandra "Sasha" McHale passed away on Saturday at the young age of 23. McHale has been on a leave of absence since Nov. 10. His daughter "Sasha" had been battling Lupus, a collection of autoimmune diseases, in which the human immune system becomes hyperactive and attacks normal, healthy tissues. Rockets [...]
HOUSTON -- Even for a team ranked second in the NBA in pace, the Houston Rockets exceeded all expectations against the New York Knicks on Friday night. Keyed by the unconscious shooting of Chandler Parsons in the first quarter, the free-throw marksmanship of James Harden in the second, and another knockout rally in the third period, the Rockets shot the lights out at Toyota Center...
HOUSTON -- Even for a team ranked second in the NBA in pace, the Houston Rockets exceeded all expectations against the New York Knicks on Friday night. Keyed by the unconscious shooting of Chandler Parsons in the first quarter, the free-throw marksmanship of James Harden in the second, and another knockout rally in the third period, the Rockets shot the lights out at Toyota Center...
Jeremy Lin finally faced his former team the New York Knicks Friday night, and came out on the winning end of a high octane offensive game for the Houston Rockets. While the "Linsanity" reunion was the headlining act, Rockets forward Chandler Parsons stole the spotlight early. Parsons ended the night with a career-high 31 points, while adding [...]
Sasha McHale, 22, dies after long battle with lupus   The Houston Chronicle has reported this morning that the daughter of former Boston Celtics Hall of Famer, and current Houston Rockets head coach, Kevin McHale, has passed away. Alexander "Sasha" McHale was 22 years old, and had long been battling lupus.  She was hospitalized this [...]
Jeremy Lin became a global phenomenon with the New York Knicks last season. Now, "Linsanity" has faded, and his struggles with the Houston Rockets is partly why. Lin will try to bounce back from one of his worst performances of the season in order to help the Rockets continue their dominance of the Knicks in his first meeting with his former team Friday night. Lin was...
The Knicks will be taking on Jeremy Lin who is now on the Rockets for the first time this season later on tonight at 8:00 pm in Houston. But if Jeremy Lin was a Knick today, he thinks himself and Melo would've worked out well which nobody is buying into it. Last season, Carmelo Anthony and Jeremy Lin both struggled working together as they tried to make it work, but it didn...
The Houston Rockets (6-7) beat the New York Knicks (8-3) 131-103, last night at the Toyota Center in Houston, TX. This was an unwatchable if you were a Knicks fan. No defense, no sense of urgency and no shot for the Knicks winning this game. The defense got exposed by giving up easy layups, easy three pointers and getting beat in the paint. This was Mike Woodson's worse loss...
NBA News

Delivered to your inbox

You'll also receive Yardbarker's daily Top 10, featuring the best sports stories from around the web. Customize your newsletter to get articles on your favorite sports and teams. And the best part? It's free!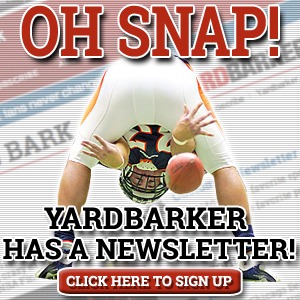 Latest Rumors
The Backyard

Today's Best Stuff

For Bloggers

Join the Yardbarker Network for more promotion, traffic, and money.

Company Info

Help

What is Yardbarker?

Yardbarker is the largest network of sports blogs and pro athlete blogs on the web. This site is the hub of the Yardbarker Network, where our editors and algorithms curate the best sports content from our network and beyond.