Found March 09, 2012 on Give Me The Rock:
PLAYERS:
Dwight Howard
,
Ian Mahinmi
,
Joakim Noah
,
Carlos Boozer
,
Jason Kidd
,
Jared Dudley
,
Steve Nash
,
Derrick Rose
,
Dirk Nowitzki
,
Ryan Anderson
,
Vince Carter
,
Grant Hill
,
Jason Terry
,
Luol Deng
TEAMS:
Phoenix Suns
,
Orlando Magic
,
Dallas Mavericks
,
Chicago Bulls
If you're a Bulls fan

(AP Photo/Charles Rex Arbogast)
The Suns pulled off a win against the Mavericks and not quite as surprisingly, the Magic beat the Bulls. Given Dwight Howard's performance, and those from the Bulls, it's pretty obvious why the Bulls couldn't pull it out. It's not quite as intuitive when looking at the Mavericks box score, but they did start Ian Mahinmi at Center, so that's a bad sign right there… and they only lost by 2 even then.
Line of the Night: Despite 7-10 free throws from Dwight Howard, Joakim Noah (1.58) gets LotN in a "by decision" rather than Knock Out kind of victory… Noah had 9 points, 10 rebounds, 3 steals, and 3 blocks with 0 turnovers. He was 3-7 from the field and 3-4 from the line which was just enough to be out Howard, as well as teammate Carlos Boozer. Keep in mind, the two upsets mentioned above were the only games last night, and as I always (or at least usually) say, less games means it's a lot easier to impress the Player Rater.
Honorable Mentions: Carlos Boozer (1.56) had one of his better games this season with 26 points (12-20 from the field), 7 rebounds, and 4 steals with only 2 turnovers while Dwight Howard (1.44) had what I felt like was really the line of the night with 29 points (11-19, 7-10), 18 rebounds, and 3 blocks, but he had 4 turnovers. There were only 42 turnovers between the 2 games last night, so when you've got nearly 10% of any statistical category available, it's going to have a significant impact. Howard would have had to get up to 38 points to have the same amount of positive impact in that category.
Jason Kidd (1.31) makes a rare appearance thanks to 12 points (3 threes), and 3 steals, and is followed by, again, something that looks like a more impressive line: Jared Dudley (1.20) with 18 points, 8 rebounds, and 3 blocks. I'm not going to do the math, but I'm guessing steals were quite valuable last night.
Hedo Turkoglu (1.02) sort of showed up for the Magic with 13 points (5-5 from the line), 6 rebounds, and 6 assists. Steve Nash (0.99) had his 19th double0double (if I counted right) with 11 points, and 11 assists. Derrick Rose (0.86) almost had a double-double with 17 points (2 threes), and 9 assists, but shot a cringe-worthy 6-22 from the field. Not like I planned on winning FT% in the league where I drafted him first, but still…
The big small guys: Dirk Nowitzki (0.73) had 18 points, and 7 rebounds while Ryan Anderson (0.63) scored 11 points (3 threes) with 10 rebounds.
***
Waiver Wire Line of the Night: At 42% owned, Vince Carter (0.64) gets WWLotN again with a pretty decent 18 points, 5 rebounds, and 4 assists (42% owned). Carter is still very up and down, though, and after looking at his game log, 42% might even be a little high… Too bad he can't have that kind of line every night.
Pick Up Lines: Grant Hill (0.27) makes another appearance with 15 points, and 5 rebounds (28% owned). Unlike the Bad Girlfriends who keep tempting you to pick them up with flashy new boobs double-doubles, Grant Hill is more like the Bad Party Guest who stays way too late even when the host is yawning and everyone but the Bad Party Guests have left. He's nice enough that you can't just kick him out and you've been friends lone enough that you can't just stop inviting him to your parties… but man you really wish he'd just kind of stop.
I'm going to stop there since the rest of the Waiver Wire is crap and instead give you something that will be a little more useful: FakeTeams give you 120 waiver wire picks. They're available in at least 25% of leagues, which is bit of a lower standard for me (and probably for most of you), but still, it's better than what the GMTR Fantasy Basketball Player Rater was going to try to talk you into.
Biggest Loser: Technically, it's Jason Terry (-0.68) who is owned in 91% of leagues and only had 6 points, 2 rebounds, and 1 assist. But really, I'm going to give it to Luol Deng (-0.30) since he was 1-9 from the field to end with only 5 points, 4 rebounds, 4 assists, and 2 turnovers. Five of his shot attempts were three-pointers… what was he doing out there? I'm ashamed to find myself thinking: Thank Goodness for Carlos Boozer.
***
Daily rankings and stats come from the GMTR H2H Player Rater (beta version). They are based on the stat Wins Above Replacement Player (WARP) an estimate of the number of wins a player produces per week in H2H leagues over a replacement (waiver wire) player.
Do not miss a day of the Fantasy NBA. Subscribe to Give Me The Rock
right now. You can also get bonus (and easily digestible) content by following GMTR on Twitter, or become a fan of GMTR on Facebook! We are so social!
If you like what you read here, come back every day for new content! And if you come back every day, please consider donating…
Want to see your ad in the GMTR RSS feed? Contact: givemetherock@gmail.com
Other Stuff Like This:
Original Story:
http://feedproxy.google.com/~r/GiveMe...
THE BACKYARD
BEST OF MAXIM
RELATED ARTICLES
For the first quarter, Bulls fans had to be salivating, and then dreaming. Dwight Howard and Derrick Rose. Same team. Imagine. Howard was scoring all the points and getting all the rebounds. And Orlando was blowing out the Bulls. Then Howard sat down for a rest, and who knows where his mind went. His dominance. His force. He produced massive numbers in the Magic's 99-94 win...
Dwight Howard may not be averse to playing with another star, but he wants to remain the team's focal point.
I don't know if Ray William Johnson invented that YouTube "edit 3 times in the same sentence so I jump around the screen" thing, but I'm blaming it for him anyway. This video would've benefitted from a little "Everybody's Free (To Wear Sunscreen)". [via Sportress] - Follow us on Twitter @withleather - Follow me personally @MrBrandonStroud and Burnsy @MayorBurnsy...
CHICAGO (AP) -- Dwight Howard had 29 points and 18 rebounds to lead the Orlando Magic to a 99-94 win over the Bulls on Thursday, snapping Chicago's eight-game winning streak. Chicago twice overcame double-digit deficits and led 91-89 with 2:56 to play after Derrick Rose passed to Carlos Boozer for a jumper. Orlando responded with an 8-1 run started by Jameer Nelson's lob...
Dwight Howard had 29 points and 18 rebounds to lead the Orlando Magic to a 99-94 win over the Bulls on Thursday, snapping Chicago's eight-game winning streak. Chicago twice overcame double-digit deficits and led 91-89 with 2:56 to play after Derrick Rose passed to Carlos Boozer for a jumper. Orlando responded with an 8-1 run started by Jameer Nelson's lob to Howard for...
Could this be the last time Dwight Howard plays on TNT Thursday wearing an Orlando Magic jersey? I'll be covering the game for Score Mobile. If you're stuck somewhere without a television or just want more stats and a chance to add your own thoughts on the game, you can join me as I provide play-by-play coverage of the game. You can follow my game coverage on your cell phone...
Previously on That NBA Lottery Pick, we have shown you the impressionistic styles of one Dwight Howard.In the below clip, Dwight decides to bust out his best impressions of Charles Barkley/Shaquille when talking about Bulls guard Derrick Rose with the media: Dwight Howard Does Charles Barkley, Shaq Impression as He Talks Derrick Rose: MyFoxCHICAGO.comTo give credit to Dwight, those...
A short season and the magnitude of the Dwight Howard season will likely result in a quiet trade deadline.
For the last five seasons, the Orlando Magic have been one of the best teams in the Eastern Conference, and at the same time one of the poorest free throw shooting teams in the NBA. This season, however, the Magic have taken this trend to a new high (or new low, you could say). They're having one of the worst statistical years at the foul line in NBA history. The good news, though...
Did you hear about the Blazers latest trade proposal? They're going to send Luke Babbitt and Chris Johnson to Orlando for Dwight Howard. I know because I heard it from a very reliable source. Another source told me the Blazers were going to send assistant coach Bernie Bickerstaff to Boston for Rajon Rondo. That source is a trustworthy one too. But neither of them wanted me...
Will the Boston Celtic trade Rajon Rondo before the 2012 NBA trade deadline? Yes 3/1 No 1/5 Will the Orlando Magic trade Dwight Howard before the 2012 NBA trade deadline? Yes 1/1 No 5/7 Will the Los Angeles Lakers trade Pau Gasol before the 2012 NBA trade deadline? Yes 1/1 No 5/7 How many trades will happen on March 15th in...
NBA News

Delivered to your inbox

You'll also receive Yardbarker's daily Top 10, featuring the best sports stories from around the web. Customize your newsletter to get articles on your favorite sports and teams. And the best part? It's free!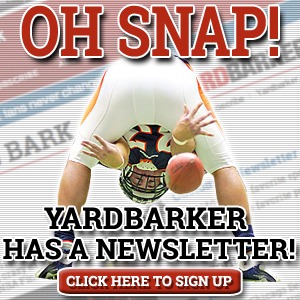 Latest Rumors
The Backyard

Today's Best Stuff

For Bloggers

Join the Yardbarker Network for more promotion, traffic, and money.

Company Info

Help

What is Yardbarker?

Yardbarker is the largest network of sports blogs and pro athlete blogs on the web. This site is the hub of the Yardbarker Network, where our editors and algorithms curate the best sports content from our network and beyond.