Found March 06, 2013 on Gamedayr:
Dennis Rodman will reportedly return to North Korea in order to broker peace between Barrack Obama and Kim Jong-un, seriously.
Original Story:
http://gamedayr.com/gamedayr/dennis-r...
THE BACKYARD
BEST OF MAXIM
RELATED ARTICLES
Dennis Rodman, just back from his bizarre trip visiting Kim Jong Un, was escorted out of the Time Hotel in Midtown Manhattan on Sunday after spending hours at the restaurant bar loudly telling anyone who would listen what a great guy the North Korean dictator is, reports The New York Post. "He was at the bar at Serafina for three hours," a spy told The Post.  "He...
  Dennis Rodman is quite serious in his goal to bring peace between North Korea and the US, and intends to accomplish it. According to TMZ Rodman's rep says that the former NBA star plans to use his new friendship with Kim Jong-Un to set up a peace deal. Rodman hopes to convince the North Korean leader to speak with President Obama until there is a peaceful resolution. Rodman...
The folks at Official Comedy took it upon themselves to toss besties Dennis Rodman and Kim Jong Un together in the N64 version of NBA JAM. If you haven't been keeping up to speed on Rodman's latest travels to North Korea, you are really missing out. You can read about how Dennis is the new sports ambassador to North Korea, or how he gets drunk at basketball games with Jong Un...
Dennis Rodman is back from his visit to North Korea where he made a friend for life in Kim Jong Un. And if you thought that you had heard the last of Rodman and his love of the North Korean leader, well you were mistaken. Rodman decided to visit the hotel bar at the Time Hotel on Sunday where he did more than have a drink or two. Rodman spent most of his time telling anyone who would...
Dennis Rodman didn't take long to unwind after his two-day visit with North Korean dictator Kim Jong Un last week. The tattooed and pierced quasi-diplomat was spotted at Manhattan's Sapphire Gentleman's Club on Sunday night — although his reps denied it to The New York Post.  But leave it to TMZ to provide picture proof that The Worm has dumped the DPRK manifesto...
Kim Jong-un has picked up right where his father left off, and may be even a bit more out there. The North Korean dictator has boldy claimed that the communist nation is willing to launch a preemptive nuclear strike against the United States, just a week after the the country onducted underground nuclear tests which caused a massive earthquake. The less than clairvoyent man-in-charge...
Cue the baker Filed under the heading of glass houses, stones, and the general efficacy of both..."The White House says North Korea's government should be focused on the well-being of its citizens, not on "celebrity sporting events" to entertain the country's elite."Um, Mr. President?I voted for you. Twice. I've donated money to your campaigns. Twice...
The Worm is going to mess around a get deported if he keeps saying Kim Jong Un is his BFF. "He was at the bar at Serafina for three hours," says a spy. "He kept saying what a nice guy Kim is, and how Kim just wants to talk to President Obama about basketball. He was waving around a signed copy of the dictator's huge manifesto, telling everyone they should read it." Added...
Former NBA player Dennis Rodman has been the talk of the town lately.  His recent trip to North Korea has been looked down upon by the United States government.  From [...]
Long before NBA Hall of Famer Dennis Rodman showed up in North Korea to hang out with Kim Jong Un...recently deceased Venezuelan dictator, er, president Hugo Chávez was a guest of the New York Mets.  On June 9, 1999, the team invited the polarizing president to throw out the first pitch.  And dude seemed pretty pleased about it. The 58-year-old Chávez, who died Tuesday...
NBA News

Delivered to your inbox

You'll also receive Yardbarker's daily Top 10, featuring the best sports stories from around the web. Customize your newsletter to get articles on your favorite sports and teams. And the best part? It's free!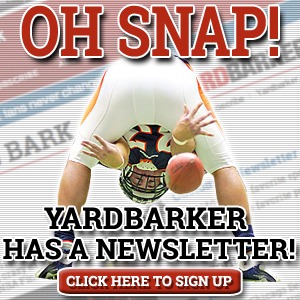 Latest Rumors
Best of Yardbarker

Today's Best Stuff

For Bloggers

Join the Yardbarker Network for more promotion, traffic, and money.

Company Info

Help

What is Yardbarker?

Yardbarker is the largest network of sports blogs and pro athlete blogs on the web. This site is the hub of the Yardbarker Network, where our editors and algorithms curate the best sports content from our network and beyond.