Found February 23, 2012 on The NBA Passionista:
Denver looked so fantastic coming out on the Staples Center floor, they were active on the offense, defensive intensity was there, the three-ball was working for Denver, but when the going got tough, Coach Karl went back to his good ole standby:Al Harrington. Which may have worked in the game against Minnesota. However, the Clippers aren't Minnesota. For this simple fact, Denver lost to the Clippers, 95-103.  Let me get this out of the way: George Karl will NOT be fired. BOOK IT. It's not going to happen, at least not now. So why have the same, redundant theatrics after every Nuggets loss?? It's stale and boring. Instead of the "OFF WITH HIS HEAD", commit to constructive criticism of Coach Karl. Am I defending him? NO. That would be foolish. Do I want him fired? I counter with this: Does Michael Beasley want to get a piss test??? If you are unclear about the answer, it's this: NO.However, it would be a travesty if I wasn't questioning Coach Karl. I understand why he put in Al Harrington in the end. He's a "By The Book" coach. Typically, a coach puts in their veteran player. The guy that's proven. The guy that gets his fat paycheck, is usually the guy in at the end, not a rookie.  I get it.  I do.  However. George, sometimes it's nice to throw that book out the window and do something a little crazy.... a little willy nilly ...... a little outrageous. Play the guy that has the HOT HAND! It's an insane idea, I know, but by George, it just may work. Harrington, bless him, but he was NOTICEABLY exhausted last night especially in the stretch. He missed field goal after field goal. He was selfish with the ball and this is what is so mind boggling about this game; it was WINNABLE. If Coach Karl had adjusted, properly, through the "hot hands" in, it *could* have went another way. However, hindsight is 20/20. There's always the possibility that Jordan would have went cold too, however it would, at least, have been nice to see Coach try.  One other 'Debbie Downer' comment: Dear lord, Coach, PLAY the MANIMAL!! IN 22 minutes Faried had 9 rebounds, 12 points on 5-for-8 shooting and was more productive than Kosta, 22 minutes, 9 points, 4 rebounds, and Mozzy, 23 minutes, 5 points and 7 rebounds. It is clear, to me, that he should have received at least 30 minutes. This player is SPECIAL ..... so play him, please. The fact he guarded the Ginger Mamba pretty damn well was telling to.    
My Game Ball
goes to JORDAN HAMILTON!!! This was a VERY SMALL sample size, but, OH MY, Jordan has a nice, smooth release, that made me yearn for more. In 24 minutes he had 18 points on 6-for-11 shooting and 7 rebounds. I love me some Rudy Fernandez, but if I was placing a rotation based on this game, Hamilton would get in before Rudy. His shot selection was insanely beautiful, His 3-ball, in this small sample size, was world's better than Rudy's rickety downtown selection. It wasn't as if Jordan was a ball hog, he wasn't, he passed and had ball movement. Things that tell me that Jordan should be in the regular rotation.
WHAT ABOUT THAT DUNK OVER REGGIE!!!
Play these rooks, Karl.
 Another player that played well was Arron Afflalo, who's offense is similar to what many remember from last year. He tallied 20 points on 7-for-10 shooting and 6 rebounds. It's nice to see him contribute, offensively, to this team again. Andre, Andre Andre..... I appreciate the lobs last night, I truly do, but, seriously bro, pass the ball.  Am I irritated Denver lost? Of course.  However, they had this ignited offense from the first quarter.... It's just sad they failed....  to finish..... Until next time, Mrs. NBA
Original Story:
http://feedproxy.google.com/~r/Measur...
THE BACKYARD
BEST OF MAXIM
RELATED ARTICLES
JAM SESSION
Blake Griffin did it again on Wednesday night. In the above video all the Griffin did was dunk on no fewer than three members of the Denver Nuggets. Included in that group was Timofey Mozgov, who is no stranger to being posterized by Griffin. In fact, we'd bet heavily that Mozgov is probably still having nightmares about Griffin on a nightly basis. The best part about this...
Just in case you though that Blake Griffin couldn't put together "oh my god" dunk this season, he pulls off this incredible one against the Denver Nuggets. Watch as Griffin leaps near the free throw line and throws it down on Timothy Mozgov/Kenneth Faried:
Nuggets rookie Jordan Hamilton, who just yesterday we told you is one of the NBA's top five players who need more playing time, didn't disappoint our prediction Wednesday night. Playing against the Clippers in his hometown of Los Angeles, Hamilton went from the left baseline to Reggie Evans' mug in two dribbles before closing with [...]
Read in Doug Smith's blog today that the Toronto Raptors are making a case for Wilson Chandler, who just finished a season playing in China. Chandler always impressed me when he was with the Knicks and I did not really get to see him play much when he was with the Nuggets (who have also met with Chandler). The guy can score and for the Raptors, that is much needed these days....
Nene might not get back to being Nene until next season. Nuggets coach George Karl suggested as much Wednesday when discussing the big man.
Corey Brewer scored 15 of his 23 points in the fourth quarter, but it wasn't enough as the Nuggets lost 114-99 to San Antonio on Thursday night at Pepsi Center. Andre Miller added 20 points and seven assists, while Arron Afflalo finished with 19 points for the Nuggets.
It was a weird sight, Kenyon Martin playing his famously fierce defense against Denver.
Most coaches and players around the NBA do their best to avoid making pointed critisms of opposing teams, but George Karl isn't like most people (which tends to occassionaly get him in trouble.) He tells ESPN Radio that the Knicks aren't really built for postseason success. From Larry Brown Sports: "The thing I don't like about the situation is all this stuff is happening...
DENVER (AP) DeJuan Blair tied a career high with 28 points and grabbed 12 rebounds, helping the San Antonio Spurs beat the Denver Nuggets 114-99 on Thursday night to wrap up a nine-game road swing.
The Knicks have been the most exciting team in the NBA to watch since Jeremy Lin exploded onto the scene, but how far can they ride the momentum train? The biggest concern at this point is the return of Carmelo Anthony. If Anthony and Lin can coexist, the Knicks could be in for a successful run this season. After Monday night's loss to the Nets, New York is 0-for-1 since Carmelo's...
Nuggets News

Delivered to your inbox

You'll also receive Yardbarker's daily Top 10, featuring the best sports stories from around the web. Customize your newsletter to get articles on your favorite sports and teams. And the best part? It's free!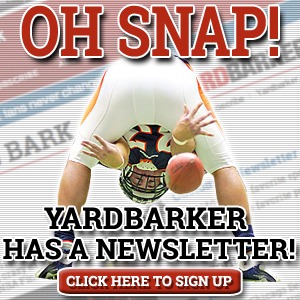 Latest Rumors
The Backyard

Today's Best Stuff

For Bloggers

Join the Yardbarker Network for more promotion, traffic, and money.

Company Info

Help

What is Yardbarker?

Yardbarker is the largest network of sports blogs and pro athlete blogs on the web. This site is the hub of the Yardbarker Network, where our editors and algorithms curate the best sports content from our network and beyond.