Found February 26, 2013 on NorthWest Sports Beat:
Another big-picture game The Portland Trail Blazers got a much-needed win against the Boston Celtics Sunday night, but they'll need to keep momentum going with the Denver Nuggets coming to town Wednesday night. Matchup: Portland (26-30) vs. Denver Nuggets (36-22) Venue: Rose Garden Arena Time: 7:30 PM PT Date: Wednesday, Feb. 26, 2013 The team is in the midst of a four-game home stand, and starting off 2-0 would be a huge accomplishment against two perennial playoff teams. The Denver Nuggets scored 74 points in the paint on their last trip to Portland. (Photo: Sam Forencich/NBAE/Getty Images) Game Notes/How They Match Up The good news for Portland is that its been the better defensive team this season. Denver is allowing the fifth-most points per game in the entire NBA, and it has trouble keeping opponents in double digits on a regular basis. The downside for Portland is that the offensive edge goes to Denver, and it's not even close. The Nuggets are putting up an impressive 105.2 points per game. That number is good enough for third in the league, and it's the reason they win despite their awful defense. Denver will allow the Blazers to score, but the problem for Portland will be containing the opposing offense. The Blazers have given up a lot of points as of late, and although that trend was broken against the Celtics, Denver is a completely different offensive beast. Expect lots of points Wednesday night when the two face off on ESPN. What to Watch: Portland As alluded to above, Denver is going to let the Blazers get their points; therefore, one of two things needs to happen for Portland to win this game. Option No. 1 is that the Blazers need to lock down defensively. If they can keep the Nuggets below 100 points, that's a huge start when it comes to outscoring them. The other option, as risky as it may be, is to simply try and run them out of the building. If you concede to the idea that Denver is going to score 105 points no matter what you do, focusing on transition points and easy buckets becomes the simplest way to execute the offense. Which route the Blazers go has yet to be determined, but either way, the national T.V. audience should be in for some great entertainment. What to Watch: Denver The last time Denver visited the Rose Garden, it scored a ridiculous 74 points in the paint. That's a concern for the Blazers, but the truth is, you can live with that number if the road team shoots poorly from long distance. On Dec. 20, 2013, the Nuggets came into Portland and set a record for the most three-pointers missed without a make. They missed all 22 of their attempts, and the Blazers took full advantage winning 101-93. The problem for Portland is that it was giving the Nuggets open looks—Denver just wasn't hitting them. Don't expect the Nuggets to go 0-for-22 from deep range ever again. If they had hit just three of those shots the first time around, they win the game by one point. Portland has to defend the three-point line, even if the Nuggets are misfiring. Key Matchup LaMarcus Aldridge doesn't play like a typical power forward, but he's far more traditional than second-year player Kenneth Faried. Kenneth Faried has a chip on his shoulder every time he plays Portland. (Photo: Don Ryan) Faried, a 23-year-old, who's yet to define his own position, has become one of the most exciting young rebounders in the league. He plays above the rim, he plays in transition and he's going to give LaMarcus Aldridge a challenge from start to finish. The worst part about watching Faried come to town is the idea that the Blazers could have drafted him. According to Jason Quick of The Oregonian, Portland told Faried that it would draft him with the No. 21 pick in the 2011 draft. It went on to take Nolan Smith—we all know how well that one's working out—which is exactly why the big man says, "I ain't going to lie to you: I don't like them." Faried mentions how he has extra motivation when he plays the Blazers, which doesn't bode well for a team that struggles stopping big men in the lane. For the point guard purist, you can't ignore the battle between two up-and-coming floor generals. Damian Lillard and Ty Lawson will put on a show, but if the Blazers opt to slow the game down, Aldridge should be the one in charge of the offense. Injury Report Portland: N/A Denver: DAY-TO-DAY—Danilo Gallinari Prediction The current home stretch is an important one for this team's confidence. A win against Denver won't be easy, but it will be big when it comes to making a late-season push. Blazers 103 – Denver 100 CLICK HERE TO CHECK OUT THE BLAZERS BLOG IN OUR CLUBHOUSE TODAY AT NWSB!
Original Story:
http://www.nwsportsbeat.com/trailblaz...
THE BACKYARD
BEST OF MAXIM
RELATED ARTICLES
Silent but deadly The Portland Trail Blazers have been known to make a splash at the NBA trade deadline. In 2010, they acquired Marcus Camby, in 2011, they complete a lopsided trade for Gerald Wallace and in 2012, they started from scratch, ridding themselves of Wallace, Camby, Greg Oden and then-head coach Nate McMillan. This time around, the team stayed relatively quiet, yet...
  The Portland Trailblazers brought local hero and former Gonzaga star, Adam Morrison to training camp, but he was cut before the season. Morrison stated that if he did not make the team he would retire, but the Trailblazers would be smart to sign him to a ten day contract. Not only would bringing him in bring interest and intrigue to the team, but he could actually help the team...
Williams should be counting his lucky stars. In December, Shawne Williams was arrested after a cop caught him smoking a marijuana blunt in his car. He also informed the officer he had codeine in the car on that famous day. "Officer I ain't gonna lie to you, there's a blunt in the car and some syrup." Williams pled guilty to possession of a controlled substance (marijuana...
Kenneth Faired and the Nuggets dominated the Lakers from the beginning of the game in Denver, but The Manimal personally embarrassed Dwight Howard by catching an alley-oop dunk over him late in the 4th quarter. Check Below for the video of Faried's dunk over Dwight:
Former Nets forward, Shawne Williams, was arrested in December for possession of weed and codeine (cough syrup). The former NBA star was charged with possession of a controlled substance (weed) and possession with intent to sell (codeine) following the arrest, and Monday pled guilty to possession of a controlled substance, Luckily for Williams, a passenger in the car took the...
CLEVELAND -- Former NBA center Greg Oden will not decide on his next team until July, sources close to the situation told FOX Sports Ohio. The No. 1 overall draft pick in 2007 is making a comeback after three microfracture knee surgeries. Oden last played in the NBA in December 2009 with Portland. Odens agent, Mike Conley Sr., has said Oden is 100 percent and could become a future...
Denver Nuggets forward Kenneth "The Manimal" Faried finished an alley-oop from teammate Andre Iguodala with a powerful slam dunk over Los Angeles Lakers center Dwight Howard to punctuate their 119-108 victory Monday night. Faried scored 10 points and grabbed 12 rebounds in the win. Video via NBA. Visit us at holdoutsports.com and follow us on Twitter @HoldoutSports.
Last December, Shawne Williams was arrested after a police officer caught him smoking a marijuana blunt in his car, at a Memphis mall. Williams, being the honest man that he is [...]
Nuggets forward Kenneth Faried aka The Manimal baptizes Lakers Center DUHwight Howard. That's all you need to know. Just watch the videoThe post VIDEO: Kenneth Faried With The Monster Jam Over Dwight Howard appeared first on No Coast Bias.
The Manimal, Kenneth Faried, finishes off the Lakers by throwing down a vicious alley-oop right on Dwight Howard's head. The Nuggets went on to win 119-108:   video via SBNation
With only four games going on in the National Basketball Association on Monday night, there wasn't exactly many highlights to take scour.The top highlight of the night came from Denver Nuggets forward Kenneth Faries who soared over Lakers center Dwight Howard for a fourth quarter alley-oop dunk attempt:
Wrestling fans that dragged themselves through their teenage years during the late-1990s and early-2000s (somewhat like myself) have to consider themselves fortunate to have been at the appropriate WWE-watching age during the unbelievably entertaining "Attitude Era." Stone Cold Steve Austin was opening up cans of whoop-ass, D-Generation X were telling anyone who happened...
NBA News

Delivered to your inbox

You'll also receive Yardbarker's daily Top 10, featuring the best sports stories from around the web. Customize your newsletter to get articles on your favorite sports and teams. And the best part? It's free!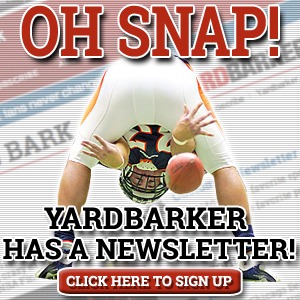 Latest Rumors
Best of Yardbarker

Today's Best Stuff

For Bloggers

Join the Yardbarker Network for more promotion, traffic, and money.

Company Info

Help

What is Yardbarker?

Yardbarker is the largest network of sports blogs and pro athlete blogs on the web. This site is the hub of the Yardbarker Network, where our editors and algorithms curate the best sports content from our network and beyond.