Found August 15, 2012 on The Windy Apple:
Though Derrick Rose gave fans a reassuring shout out and thank you for support video through his Facebook page in addition to the freshly released return video by adidas, the superstar point guard has yet to open up 1-on-1 about his ACL injury that cut the Bulls' title hopes short in Game 1 of the 2012 playoffs and sent him on a 8-12 month recovery mission – until now.  Derrick Rose opened up to Aggrey Sam on CSN Chicago this summer while training out in Los Angeles.  The interview is highlighted below, with video:
On tearing his ACL:
"I remember it. I remember everything. I remember jumping in the air and coming back down, and just that popping sound. I felt it actually tear when I laid all the way out and it just let go…When that happened, all I could think about was people just talking. You could hear the whole arena, people just whispering all around — one of the things, like 'Not again. Come on, man. First game back. We had the win' — and I was just hoping [it was] nothing serious…
Dr. Cole, the Bulls doctor, came up to me and told me it was torn. I couldn't believe it. That's the closest thing to death, the closest to death I've got to right there, where it just seemed like the wind and everything was taken out [of me].
It hurt, of course. It seemed like I wasted a year. I remember when I was having all those injuries, I was just thinking, 'All right, I'll be ready for the playoffs.' First game of the playoffs, tear my ACL; can't stay mad or irritated for months. I can't do that. It'll bring me down."
On his summer rehab:
"I'm good, man. I definitely haven't been out like that, but I'm doing fine, just trying to stay positive, keep everything normal…Just doing therapy out here, five days out of the week. Weekends, I'm not doing anything. It's been hard, definitely been hard. But I've been all right. I know I'm going to be all right. I believe in God, my spirits are up and I believe in myself, and I know I'm going to be back even stronger.
"[I'm just] taking my time. I'm definitely two or three weeks ahead of where I'm supposed to be, but that still [doesn't] help the part healing-wise. I've still got to take that time off for my leg to heal. Of course, strength-wise it's getting better every day, but scar tissue still has to heal, getting used to me just laying on my knees. Knee's still numb in some areas. Hopefully I'll get over that, but the doctor says I'll forget about it when the season goes on, so I should be all right."
What he wants the fans to know:
"That I'm good, man. My biggest thing is just them feeling sorry for me. I'm walking, I'm able to play this sport again, so I hope they continue to come out, cheer for the team next year, we're definitely going to need them , and stay patient."
Part 1:

Original Story:
http://feedproxy.google.com/~r/TheWin...
THE BACKYARD
BEST OF MAXIM
RELATED ARTICLES
Derrick Rose is back in the gym for the first time since tearing his ACL in April. The former MVP opened up to CSN Chicago for an interview last month in Los Angeles. In the interview, Rose discusses all his thoughts about the play where he got hurt, and he says learning of the news was like death. "I remember it," he recalled. "I remember everything. I remember jumping in...
AIN'T NO BULL
The hearts of Chicago Bulls fans collectively were broken when all-star point guard Derrick Rose went down in the first game of the 2011-2012 playoffs with a torn ACL. Not only were their playoff hopes for the season dashed, but Rose was also slated to miss most of the 2012-2013 campaign while rehabbing his injury. [...]
There have been many flicks involving the return of the hero. Movies such as "The Return of the Kind" from the Lord of the Rings trilogy to the best, "The Return of the Jedi" of the Star Wars saga but it seems there is a new entry in this genre - the return of Chicago Bulls' Derrick Rose. The last time we saw Rose on the court was him crashing on the court...
Derrick Rose says finding out he had a torn ACL was the "closest thing to death" he's experienced. The Chicago Bulls' superstar told CSNChicago.com he spent ''the whole time praying'' during the MRI that he wasn't seriously injured even though he heard a pop as he crashed to the court in the playoff opener against the Philadelphia 76ers. &...
NBA MVP Derek Rose went down during the first round of the playoffs last year with a torn ACL, dashing the hopes of all Chicago Bulls fans. Chicago instantly went from a potential title contender to a first round playoff exit against the number eight seed Philadelphia 76ers.  To say that was disappointing would be a gigantic understatement.  Rose's potential return date...
  Derrick Rose isn't expected to return to the Chicago Bulls until March or perhaps he may miss the whole season all together, but Adidas got into the marketing action and released a commercial chronicling his return back to the NBA. Smart.
My personal feeling is that Rose should sit out the entire season. Hopefully, the Bulls would get a lottery pick and then they can start fresh with the 2013-14 season. There is no reason to rush Rose back onto the floor, it wouldn't be prudent on their part. "I'm not going to let him back [...] [[ This is a content summary only. Visit my website for full links, other content, and more! ]]
              Chicago Bulls point guard and former MVP Derrick Rose opened a twitter account 2 days ago, and made head ways today after tweeting the following: Feels good to be back in the gym… twitter.com/drose/status/2… — Derrick Rose (@drose) August 15, 2012 The following image was attached:                       Now it's unclear if this image was indeed...
Bulls star Derrick Rose suffered a horrific knee injury during the playoffs. Adidas has decided to chronicle Rose's rehab through a webseries entitled, #TheReturn.   I think this is a great move on Adidas part. It keeps the focus on what DRose is great at, the game of basketball. It also shapes a narrative that [...]
Chicago Bulls fans can't wait for Derrick Rose to return to the court.  This video above from adidas Basketball will get anyone pumped up for next season.  
CSNChicago.com's Aggrey Sam interviewed All-Star Chicago Bulls point guard Derrick Rose last month. The rehabbing Bull is quite taken with hyperbole when it comes to his ACL tear: "I remember it,"... Full story at Bob's Blitz ~ http://www.bobsblitz.com
  I mean, he has to, right? Having Wade and Bosh leading him into the playoffs wouldn't have been enough to takedown a Chicago Bulls powerhouse, with a healthy Derrick Rose of course. Impossible. But like most things dealing with the reality of LeBron James, this is sadly overlooked. Rose tore his ACL last season in their first game of the playoffs. Such has been the luck of...
Bulls News

Delivered to your inbox

You'll also receive Yardbarker's daily Top 10, featuring the best sports stories from around the web. Customize your newsletter to get articles on your favorite sports and teams. And the best part? It's free!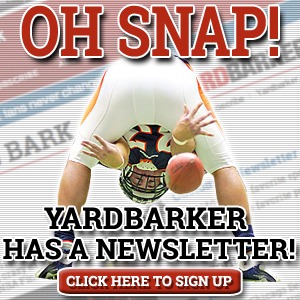 Latest Rumors
The Backyard

Today's Best Stuff

For Bloggers

Join the Yardbarker Network for more promotion, traffic, and money.

Company Info

Help

What is Yardbarker?

Yardbarker is the largest network of sports blogs and pro athlete blogs on the web. This site is the hub of the Yardbarker Network, where our editors and algorithms curate the best sports content from our network and beyond.