A promotional tweet from the Knicks featuring Derrick Rose couldn't have been more poorly timed.
Adam Hunger-USA TODAY Sports
Things seem to be getting back on track — relatively speaking — after New York Knicks star Derrick Rose went AWOL with the news he returned to the team on Tuesday. The Knicks announced via a tweet from the team's PR department that Rose has been fined for his antics but is expected to be in uniform for Wednesday's game against the Philadelphia 76ers.
The fallout from Rose's perplexing AWOL — he said Tuesday he needed to be with his mother in Chicago — undoubtedly will continue in the days and weeks to come. But perhaps in a moment of levity amid the astounding events comes word that Rose was featured in a tweet from the Knicks official Twitter account promoting Amtrak.
The tweet, published Tuesday afternoon but subsequently — and not surprisingly — deleted, touts how Amtrak is a viable means to travel to D.C. for a reasonable price for a Jan. 31 game against the Washington Wizards.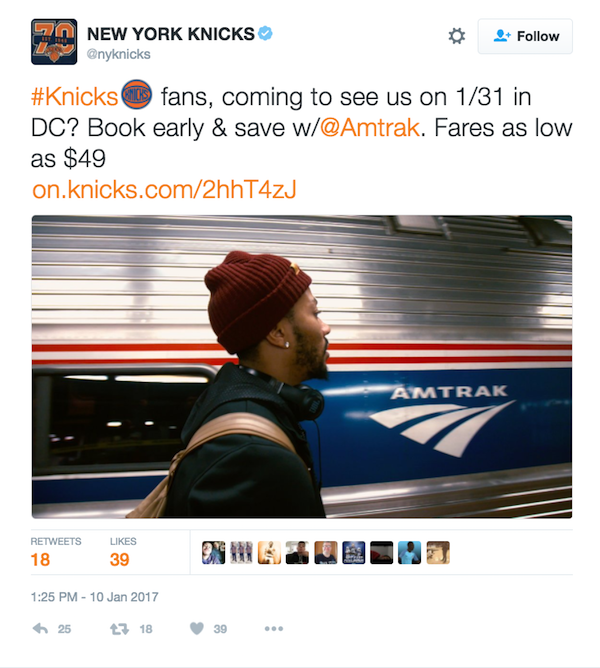 Given how Rose essentially disappeared without a trace, the notion that the Knicks would post a promotional tweet that features Rose hopping a train is comical at best, tone-deaf at worst.
Then again, oftentimes these promotional tweets are scheduled well ahead of time so there's a good chance this is simply a case of horribly poor timing. But it's reasonable to assume there was someone in the Knicks social media and/or promotions departments who could have prevented the tweet from going live.
Instead, the Knicks once again have made a bad situation look even worse, albeit in an amusing way.
MORE FROM YARDBARKER:
Best athlete by state all time
MORE FROM YARDBARKER
Knicks News

Delivered to your inbox

You'll also receive Yardbarker's daily Top 10, featuring the best sports stories from around the web. Customize your newsletter to get articles on your favorite sports and teams. And the best part? It's free!