Found April 05, 2013 on isportsweb.com:
With six games remaining in the 2012-2013 regular season, Detroit fans will be watching their fourth straight NBA playoffs without their Metro Detroit Pistons. This season will mark the first time that the Pistons have missed the playoffs for four consecutive years since the 1980-1981 season (Detroit actually missed the playoffs six consecutive years during that span as they didn't find their way into the postseason until the 1983-1984 season), and based on the current pieces in place, I'm not so sure that they won't make it five years straight. The Pistons have a record of 25-51 — a winning percentage of .329 — and last year they finished with a winning percentage of .379 with a 25-41 record (lockout season). While Detroit has a chance to exceed their wins from last year, for whatever that's worth, they still underachieved slightly this season, and even if they win their remaining games I don't see how fans don't call this season a disappointment. Second-year point guard/shooting guard Brandon Knight took a step back this year. Knight is shooting worse from the field, beyond the arc, and from the free throw line compared to last year, and while his assists per game and points per game have barely increased from his rookie to sophomore campaign, his turnovers per game increased slightly as well. When the Pistons drafted the guard out of Kentucky they thought they were getting a player that could play two positions and facilitate effectively, and I haven't seen that consistently thus far in his career. Andre Drummond (left) and Greg Monroe (right) are the future of the Pistons going forward. (AP Photo) Sixth-year guard Rodney Stuckey has had his worst season since his rookie year, and with his salary I don't see the Pistons getting rid of him anytime soon. The former first-round pick back in 2007 was sent to the bench earlier this year, and that's not something that you want from somebody that was one pick removed from being a lottery selection and averaging over 15 points per game combined in his last three seasons. When the Pistons shipped their only remaining NBA champion Tayshaun Prince (who is giving the Grizzlies solid minutes) to Memphis at the trade deadline, they also shipped 2009 first-round pick Austin Daye. The 6-11 "power" forward wasn't fitting in to the scheme of things while in Detroit, but why give up on him so fast? He has more potential going forward than Corey Maggette and Charlie Villanueva, and if you're trying to gather young pieces why not keep him around for a little longer? Management has made some head-scratching decisions in recent years and some of the pieces that they've added don't seem to be part of the grand scheme of things if their goal is multiple NBA titles. Kim English and Khris Middleton aren't more than career bench players, and if you tell me that big man Viacheslav Kravtsov will become a solid option off the bench in years to come I can't take you seriously. Outside of 2012 first-round pick Andre Drummond the Pistons didn't make any beneficial additions for this season, and for a team that is looking to improve that's a huge problem. One thing for sure is that the Pistons interior is set for years to come in 2010 first-round pick Greg Monroe and Drummond. Monroe has come along nicely in his third year as he average 16 points and 9.6 rebounds per game and Drummond has surprised many across the league as his energy and ability to rebound and finish near the rim has exceeded what many thought would come from him this early in his career. These two are the foundation of the Pistons, but I'm not sure these two alone can make the Pistons a serious contender again. Yeah, yeah, yeah, surely optimistic fans will bring up the argument that they are "rebuilding" and that they're one of the "youngest" teams in the NBA (ranked seventh), however, how much longer can that be an excuse? Maybe if the Pistons fail to produce next season with all of the money that they have to play with this summer that will constitute as a disappointing season. This team has a lot of work to do, and after watching them play all season I'm not  convinced that all of the pieces that they think they have to build a team going forward are actually there.    
Original Story:
http://feedproxy.google.com/~r/isport...
THE BACKYARD
BEST OF MAXIM
RELATED ARTICLES
Detroit Pistons coach Lawrence Frank says he knows his future with the team is up in the air after a second straight tough season. The Pistons started the day with a 25-51 record, good for 12th in the Eastern Conference. Frank says rumors about job security ''come with the territory.'' He is in his second season with the Pistons and went 25-41 last year. With a...
Detroit Pistons guard Brandon Knight has been straight up owning the lowlight reels this year. When the 2012-2013 NBA season comes to a close, the 21-year-old could very well see himself as a repeat offender on lists of the most humiliating plays of the season. As you can see, Knight had himself a wide open layup late in the fourth quarter of his team's loss to the Boston Celtics...
Brandon Knight is having himself a rough second half-stretch. He got crossed by Kyrie Irving at the Risings Stars game and absolutely posterized by DeAndre Jordan in the beginning of March. Knight missed a crucial uncontested layup down three points against the Celtics on Wednesday. Although his Pistons aren't at the bottom of the NBA standings (they lost by five to Boston),...
This play by Brandon Knight of the epitomizes the Detroit Pistons. This is a team that has jumped out ahead in some many games, only to falter in the end. Just as Knight did here off this steal against the Celtics. Way ahead, and then… Trey Burke or Victor Oladipo can't come soon enough H/T LBS
Tweet Detroit Pistons guard Brandon Knight has had it rough over the last month or so. Remember in the rookie-sophomore game Kyrie Irving did this to him? Or when DeAndre Jordan immortalized Knight with this dunk? To top it off, Knight suffered a severely sprained ankle the very next game. Tough break, kid. Wednesday evening, [...]
No, Brandon Knight, this is not your year. After being the face on the receiving end of the most epic dunk of the NBA season, thanks to DeAndre Jordan, then blowing an uncontested layup this week in a game, Knight now finds himself the butt of a funny Brittney Griner Instagram photo. After the world this week debated if Griner could play in the NBA after Dallas Mavericks owner...
MINNEAPOLIS (AP) -- The final seconds ticked down on Rick Adelman's 1,000th career victory, and a season's worth of hardship and heartache quickly evaporated. As his players surrounded him to celebrate, the 66-year-old basketball lifer quickly disengaged from the crowd, and everyone in the arena knew where he was headed. His wife Mary Kay, his partner of four decades, the...
There's been a lot of talk over the past week as to whether Baylor's Brittney Griner could make it in the NBA. Dallas Mavericks owner Mark Cuban even went so far as to say if she were on the board he'd draft her or at the very least extend a summer camp invite to her. Brittney even responded on Twitter saying, "Let's do it." Some believe because of her slight frame, standing...
There were two teams that the Celtics just couldn't beat before last night: New Orleans and Detroit. Luckily, the Celtics managed to get a much needed win against their supposed-to-be-tanking opponents last night, and the Pistons fans who had already had their fair share of disappointments added another one to the list... or did they? Well, frankly, it looks like they didn'...
Back on Wednesday night, Detroit Pistons guard Brandon Knight (who hasn't had the greatest of months) appeared to have an easy breakaway lay-up against the Boston Celtics in the fourth quarter.The bucket would have cut Boston's lead to only one but Brandon somehow lost control of the ball on the way up and caused him to miss it with no one even close to him:(Courtesy of Larry Brown Sports)
BOSTON, Massachusetts– The Detroit Pistons matched up with the Boston Celtics one last time this season. The Pistons won the first two games of the series and were looking for the series sweep. The Celtics were looking to clinch a playoff spot. The Pistons came out from firing. Greg Monroe and Andre Drummond relentlessly attacked [...]
Pistons News

Delivered to your inbox

You'll also receive Yardbarker's daily Top 10, featuring the best sports stories from around the web. Customize your newsletter to get articles on your favorite sports and teams. And the best part? It's free!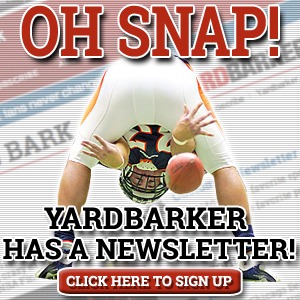 Latest Rumors
Best of Yardbarker

Today's Best Stuff

For Bloggers

Join the Yardbarker Network for more promotion, traffic, and money.

Company Info

Help

What is Yardbarker?

Yardbarker is the largest network of sports blogs and pro athlete blogs on the web. This site is the hub of the Yardbarker Network, where our editors and algorithms curate the best sports content from our network and beyond.