Found April 25, 2013 on Project Spurs:
PLAYERS:
Marc Gasol
,
Tim Duncan
,
LeBron James
,
Kawhi Leonard
,
Tiago Splitter
,
Boris Diaw
,
Matt Bonner
,
DeJuan Blair
,
Stephen Jackson
,
Metta World Peace
,
Bruce Bowen
,
Manu Ginobili
TEAMS:
Memphis Grizzlies
,
San Antonio Spurs
,
Miami Heat
San Antonio Spurs fans haven't been too happy since hearing the news that Marc Gasol and not Tim Duncan won Defensive Player of the Year for the regular season. Gasol received 212 points and 30 first-place votes to edge Miami's LeBron James, who had 149 points and 18 first-place votes, the NBA announced Wednesday. The 7-foot-1 Spaniard averaged 1.7 blocks and 1.0 steals for a Memphis defense that allowed a league-best 88.7 points per game. The five-year veteran ranked 12th in the league in blocks. Memphis became the first team to hold opponents below 90 points per game in a season since 2005-06 when both the Grizzlies (88.5) and San Antonio (88.8) accomplished the feat. (NBA.com) This was a tremendous accomplishment for Gasol and the Grizzlies' team as a whole. He became the first European player to win the award and the Grizzlies became the first team to allow less than 90ppg in the league during a time when a fast paced offense is the norm. Gasol's statistics weren't that impressive and that's where the Tim Duncan debate comes in. Spurs fans are disappointed (maybe best to describe them as angry) that Duncan didn't come close in the voting for Defensive Player of the Year. While personally I do think he should've been Top 2 or 3 in the voting, there's can be a case made for Gasol winning the this award. Duncan did have better defensive statistics with 9.9rpg and 2.7bpg and there's many who throw in he did all this at 36 years old. Age shouldn't matter anyway, but there's stats that make Gasol a more reasonable pick for the award. The team defensive average has to be the most important. Gasol's anchoring of that defense mirrors the argument for Duncan, but with one huge difference. The Spurs have Kawhi Leonard who can guard multiple positions next to Duncan and also a good defensive big man next to him in Tiago Splitter. Duncan averaged less minutes on the floor than Gasol and played 718 minutes less than Gasol this regular season. The Big Fundamental was hampered by injuries late in the season, but the majority came from rest for the playoffs. One of the Spurs' biggest strengths was depth this past season, something the Grizzlies lacked. After Duncan, the Spurs could plug in Boris Diaw, Matt Bonner, DeJuan Blair, or Stephen Jackson (when he was on the team). The Grizzlies didn't have that luxury with Gasol, who was forced to play extended minutes to keep his team in games. The statistic argument shouldn't be relied on too much in this instant either. With San Antonio's overall depth, Duncan did more with more while Gasol did more overall with less. Spurs fans will remember Ron Artest (now Metta World Peace) winning the Defensive Player of the Year award that year with 5.3rpg and 2.1spg. This was another year the San Antonio fans voiced their frustration because they thought Bruce Bowen was a more deserving recipient. Bowen's stat line was less than impressive with 3.1rpg and 1.0spg that season. Their reasoning was the box score didn't do Bowen's game justice, who depended more on contesting shots and being a pest to his opponents. The same can be said of Gasol, who's a good man defender and is one of the top big men in the league who can defend the pick and roll, something that Duncan doesn't do well at this point of his career. There's more to both men's games than the box score and they're proving it in their own ways. Tim Duncan is having the better season and is arguably having the better overall season of the two, but Marc Gasol is definitely the anchor to Memphis' stingy defense this season. While stats may play in favor for Duncan, there's also other stats and factors (like depth, minutes, etc.) that play against him. Gasol playing more than 700 minutes over Duncan hurt the San Antonio Spurs' cornerstone, but that's by design. The majority of those lost minutes was due to rest for the playoffs and isn't that what matters in the end? The Spurs have had their share of regular season awards such as the Sixth Man of the Year for Manu Ginobili, but there wasn't a championship followed by it and it's considered a lost year. The same can be said for Duncan. After all, isn't Duncan's fifth ring all that matters in the end for him?
Original Story:
http://www.projectspurs.com/2013-arti...
THE BACKYARD
BEST OF MAXIM
RELATED ARTICLES
Tim Duncan had 26 points and nine rebounds, and the San Antonio Spurs pushed the Los Angeles Lakers to the brink of first-round playoff elimination with a 120-89 victory in Game 3 on Friday night, the worst home playoff loss in franchise history.
LeBron is a true competitor to the very end. Dude doesn't want to lose anything, ever. Kinda like another current famous NBA player (hint,hint: Kobe)   One knock on LeBron James earlier in his career was that he focused more on individual goals like winning MVP and proving his worth to the media as opposed to winning a championship for the Cleveland Cavaliers and...
Grizzlies center Marc Gasol has won his first NBA Defensive Player of the Year award after anchoring the league's stingiest defense. The NBA announced Wednesday that Gasol received 212 points and 30 first-place votes to edge Miami's LeBron James, who had 149 points and 18 first-place votes. The 7-foot-1 Spaniard averaged 1.7 blocks and 1.0 steals for a Memphis defense that...
I was watching Sportscenter tonight and, during the recap of the abysmal Game Three between the Lakers and Spurs, I realized that Tim Duncan and Tiger Woods share a voice. Don't believe me? Listen to Duncan's presser highlight: Now listen to Tiger during one of his many interviews: AMIRITE???   Article found on: Next Impulse Sports
The NBA MVP does not necessarily have to go to the best player on the best team, but it makes rational sense to make that argument. So when voting for the Defensive Player of the Year Award, why not go with the best defensive player on the league's best defense? This year, it looks like that is what happened and Memphis Grizzlies big man Marc Gasol will be taking home his first...
I'm not sure if he's even the best defender on his own team.
The San Antonio Spurs' 102-91 win Wednesday night over the Los Angeles Lakers was the expected outcome, gave them a 2-0 lead in their opening-round playoff series and inched the Lakers closer to being put out of their misery. It was also the latest showdown between two franchises competing for the right to be called the greatest of modern times and, if the Spurs gain steam,...
LeBron James was not too happy about coming in second to Marc Gasol in this season's Defensive Player of the Year voting, and he shouldn't be."It sucks," James stated simply. Gasol had a solid season, and served as the anchor on a very good defensive unit. However his season stats of 7.8 rebounds and 1.7 blocks per game were underwhelming, and considering his defensive prowess...
  Dwight Howard is the gift that keeps on giving. According to a story courtesy Pro Basketball Talk, Howard, who finished 14th in Defensive Player of the Year voting, said that he found it amusing that Memphis Grizzlies center and brother of his teammate, Marc Gasol, won the award. The news caused Dwight Howard to say "it's funny," but he wasn't offering his signature smile...
Top 5 Players 1. Tony Parker (Spurs) 2. Dwight Howard (Lakers) 3. Tim Duncan (Spurs) 4. Pau Gasol (Lakers) 5. Manu Ginobili (Spurs)   3 X-Factors 1. Steve Nash (Lakers) 2. Kawhi Leonard (Spurs) 3. Danny Green (Spurs)   Best scorer : Tony Parker (Spurs) Best passer: Steve Nash (Lakers) Best shooter: Danny Green (Spurs) Best low-post scorer: Tim Duncan (Spurs) Best rebounder: Dwight...
Marc Gasol is reportedly set to win the NBA's Defensive Player of the Year award – something OKC's Kendrick Perkins doesn't agree with. While he meant no disrespect to the Grizzlies center, Perkins thinks his teammate and the league's leading shot blocker for the second straight season, Serge Ibaka, was more deserving of the honor, citing politics as the reason the 2012...
NBA News

Delivered to your inbox

You'll also receive Yardbarker's daily Top 10, featuring the best sports stories from around the web. Customize your newsletter to get articles on your favorite sports and teams. And the best part? It's free!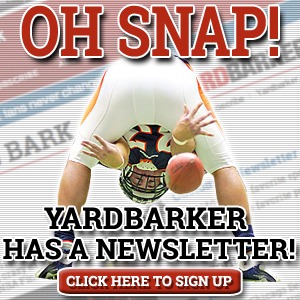 Latest Rumors
Best of Yardbarker

Today's Best Stuff

For Bloggers

Join the Yardbarker Network for more promotion, traffic, and money.

Company Info

Help

What is Yardbarker?

Yardbarker is the largest network of sports blogs and pro athlete blogs on the web. This site is the hub of the Yardbarker Network, where our editors and algorithms curate the best sports content from our network and beyond.