Dirk Nowitzki's unique career led him to 30,000 points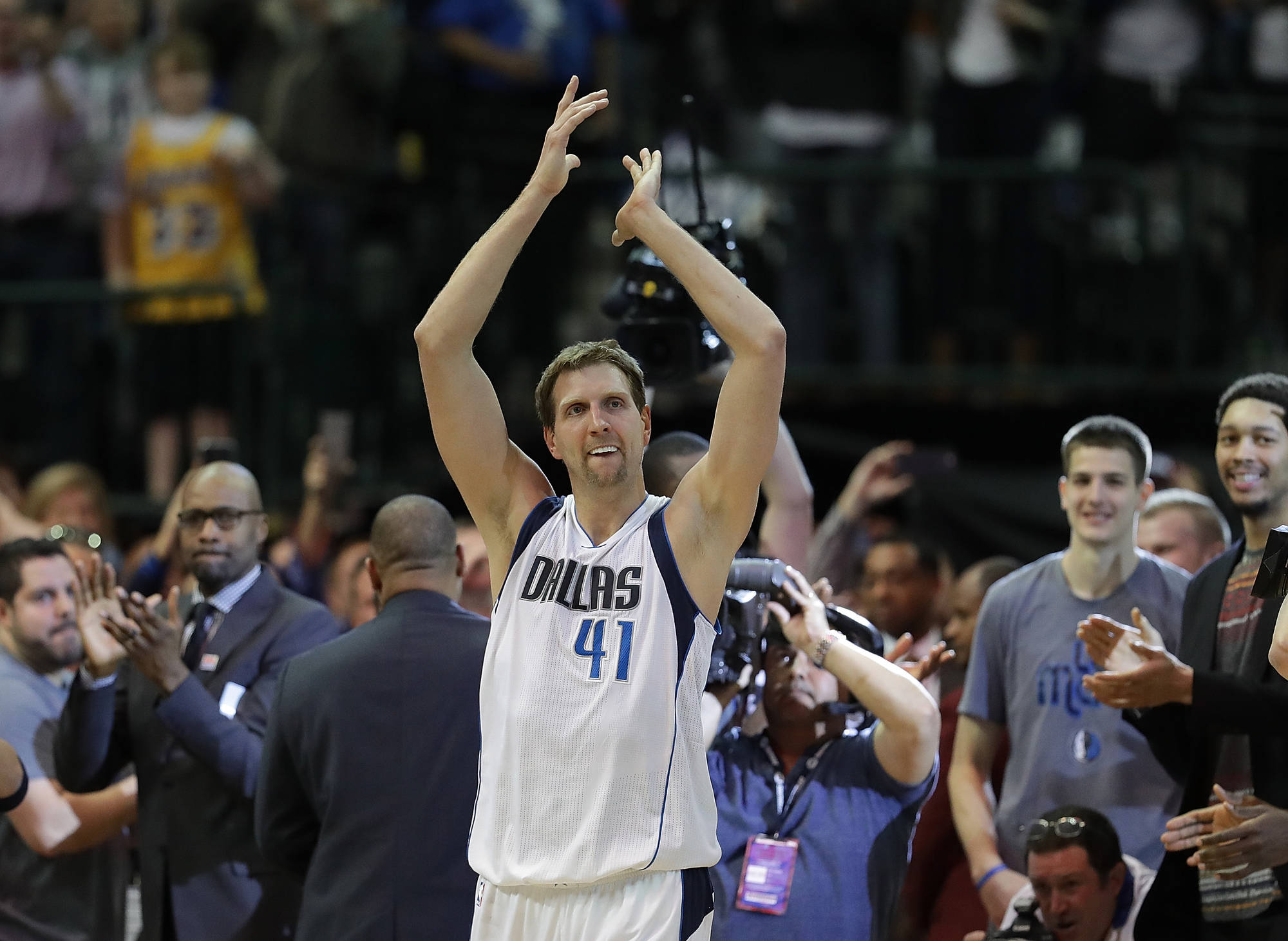 Dirk Nowitzki of the Dallas Mavericks celebrates after scoring his 30,000 career point in the second quarter against the Los Angeles Lakers at American Airlines Center on March 7, 2017 in Dallas, Texas. 
Ronald Martinez/Getty Images
The summer after the 2002 NBA Playoffs, Holger Geschwindner found a tailor to create a fencing suit for a 7-foot German basketball player. The Sacramento Kings had just run the Mavericks off the floor, scoring more than half of their 207 field goals at the rim with dunks or layups, and Dallas said they would commit their off-season to improving the team's defense. Geschwindner, Dirk Nowitzki's personal coach since he was a 16-year-old kid playing second-division basketball in Germany, took it upon himself to improve that 7-foot German on the defensive end by having him participate in fencing exhibitions with a German champion.

"Fencers always have to be 100 percent on the defensive before they can go on the offensive," said Geschwindner, an unorthodox ideologue whose unique training methods helped set the tone for Nowitzki's unique career. Unique in the sense that he's become the first foreign-born player to score 30,000 points in the NBA. Unique in the sense that he changed the way we evaluate 7-footers. Unique in the sense that our interpretation of European-born athletes has dramatically changed over the course of his career because of his growth as a player and leader.

Nowitzki became the NBA's litmus test for what big men could do in an unconventional offense, and Don Nelson was the unorthodox coach who would continue to experiment with the big man much like Geschwindner did in Germany. Under nearly any other coach playing in nearly any other system, Nowitzki could have been thrown on the block and wallowed away in the annals of NBA history as just another European trying to keep pace with the Americans. Instead, Nelson allowed Nowitzki to play where he felt most comfortable or where the matchups worked in his favor. At 7-foot tall, Nowitzki could have easily played center, but Nelson allowed him to become a natural small forward who transformed into a power forward that could also fill in at the two. All the limitations placed on big men regarding space were removed, and a new kind of ball player was born.

Nowitzki became an explorer, a pioneer, and his findings on the perimeter are akin to Eadweard Muybridge taking photos of a galloping horse for the first time in the world's history. What was once unseen became the crux for how NBA offenses are run today. In her book River of Shadows: Eadweard Muybridge and the Technological Wild West, Rebecca Solnit talks about what Muybridge's photography meant for the world:
"[Muybridge] had captured aspects of motion whose speed had made them as invisible as the moons of Jupiter before the telescope, and he had found a way to set them back in motion. It was as though he had grasped time itself, made it stand still, and then made it run again, over and over. Time was at his command as it had never been at anyone's before. A new world had opened up for science, for art, for entertainment, for consciousness, and an old world had retreated farther."
In the same way that Muybridge opened up a new world for science and art, Nowitzki opened up a new world for an NBA struggling with the isolation-heavy post-Jordan era. This new space Nowitzki created by bringing larger defenders out of the paint created driving and cutting lanes guards and wings hadn't had in half-court sets before without the help of high pick and rolls. Getting to these new spots, in turn, created new passing lanes for kick out threes or back door lobs. The pace quickened, and the new speed has created a new era of basketball that is both more fun and more aesthetically appealing. While Nowitzki isn't the sole reason for these changes, he's one of the biggest why these changes happened so quickly and why there are so many 7-footers whose offensive skill sets move beyond the footwork needed to create looks with your back to the basket.
With Nowitzki's career, we're left with one of the few stand-alone NBA moves that capture the essence of an imaginative ethos. Finding ways to get a talented 7-footer the ball in positions that lend to the most success wasn't a new challenge in 1996, but Nowitzki was different, and through his development, a new big-man paradigm was born. Nowitzki didn't end the back-to-the-basket epoch of big man greats, he helped move a once lumbering cohort to plot-points on the 94x50 foot plane that was once only reserved for guards and swingmen. Dirk wasn't the first to stretch the floor, but he was the first to stretch the floor beyond the 3-point arch with enough consistency to show the league the worth of a new geometry.
Imminence is funny because there's usually no time stamp to coincide with the end game. 30,000 points is an incredible milestone, yet one that hints at the end of one's career. While Nowitzki has already said that he'll return next season, we know the number of games he has left for us is limited. From the day athletes are drafted, we know that whatever it is they'll become won't last forever. We have a general understanding of this concept, but it's often hard to contextualize as our heroes approach the finish line because it's not something we think or talk about regularly.
We spend nearly two decades following the league's greats only to have them removed from our watching experience. It's always tough with the greats, but it's a bit more bizarre with Nowitzki as he's become the face of an ostensible player archetype that didn't exactly exist before his trek from Germany to Dallas, but it's a legacy that will continue long after he leaves the game – whenever that may be.
His influence is everywhere today. The cumulative PER of every starter officially listed as a power forward or center is higher than those from the alleged heyday of centers from the mid-90s. Classical bigs still continue to exist, but those who can stretch the floor have led to a more beautiful brand of basketball than we saw two decades ago. Influence is hard to measure with any empirical data, but Nowitzki's signature has spread outside of Dallas. His fadeaway should undoubtedly have a patent on it. We saw other players using it in spots before 2012, but after the Mavericks captured the Larry O'Brien over LeBron James' Miami Heat, the move became ubiquitous – most notably in Los Angeles, where Kobe Bryant used his summer to learn the move and experiment for the better part of the first half of the following season. You can spend hours watching others emulate Nowitzki's signature shot, but the gap between Nowitzki's fallaway and his emulators is the same gap between praxis and theory – and it's proof that his game has transcended his humble beginnings.
From those early beginnings, Nowitzki is now a member of the 30,000 point club after hitting his signature fadeaway over Larry Nance Jr. from 18-feet on the right baseline in the second quarter against the Lakers. His Hall of Fame candidacy is already cemented, what's left is to determine where he ranks among the all-time greats. Through a string of purposeful adjustments and a training regimen unique only to himself, his ability to score only became a single element on the periodic table of Nowitzki's career chemistry. In turn, the myriad compounds helped him became one of the most transformative NBA stars on multiple levels. It's been a fun ride, and the future of the league is so bright because of Nowitzki's unique career.
MORE FROM YARDBARKER:
QUIZ: Every NBA player to average 25+ points per game in a season since 2001-02
NBA players have averaged over 25 points per game a total of 104 times since the 2001-02 season. How many of them can you name?
Clue: Year/Points per game
MORE FROM YARDBARKER
NBA News

Delivered to your inbox

You'll also receive Yardbarker's daily Top 10, featuring the best sports stories from around the web. Customize your newsletter to get articles on your favorite sports and teams. And the best part? It's free!