Found January 16, 2013 on Wizards Extreme:
As has been the case for quite some time now, the Washington Wizards have long been considered the league clowns of the NBA. There's really no need for clarification as the factors for the team's prolonged suckassness has been on full display and well documented: slow starts, slow finishes, offensive ineptitude, defensive struggles, lack of talent, poor coaching, managerial mishaps, injuries, Jan Vesely. It's fairly evident that the Wizards have been the cause of several unfavorable headlines, covering almost every negative facet of the game. It's a tolling, testing and trying experience for every Wizards fan and to be quite frank on behalf of all of us: it BLOWS. But let's actually fast forward past all the regurgitated rhetoric about how bad the team sucks, or has sucked until this past week. Let's actually talk about this past week. The Wizards didn't start fully shaping into the team they initially constructed until after the OKC game two Mondays ago, but it's probably fair to say the dramatic ending of that particular game, courtesy of the league's top teenager, is what set the tone for where the Wizards stand now: a team on a mean 3-game win streak, set to take on a five-game west coast trip with the most confidence and swag they've attained in the Wittman era. It was the perfect segway for John Wall's Welcome Back Party against Atlanta the following game, and that same momentum helped these reformed Wizards truck over the Orlando Magic on Monday night. Heh, the Orlando Magic. Someone generate a Facebook meme along with a fat-ass LOL as the caption for the way they got dismantled on the Verizon Center floor. But I can't be too harsh on them considering their second unit looks about as good as that fearsome pick-up squad you face at the Y on a Wednesday night. You know, Josh McRoberts, the bearded white family man who happens to ball; that decent former college player in E'Twan Moore; some dude named Ish. And so after the Wizards made the Magic seem more competent as Disney World staff members rather than professional basketball players, they now seem light years from where they started in November. Watching the game on replay late last night, I could've predicted during pregame warm-ups that it would be in the books early, just based on the demeanor and approach of the players amongst one another. They were energized and hyped, genuinely high-fiving one another and exchanging words of motivation. Not to mention smiling and enjoying their jobs for once. Overall, it was simply apparent that they had realized they were finally molding together as the squad we were so optimistic about in the offseason. And it all starts and ends with John Wall. Players in the locker room admit there is a sense of refreshment on and off the court with a healthy Wall part of the mix. Fans are pleasantly overwhelmed by the sudden change of pace and the surge the Wizards have displayed all this past week, courtesy of their beloved leader. Now, suddenly, the Wizards are actually watchable. Damn all that, they're actually entertaining!! I mean, as basketball fans, what more can we enjoy than seeing a player zip up and down the court along with his teammates, keeping the defense on their heels and creating easy buckets (John Wall). Or a player that can maneuver around the defense and create a beautifully executed jump shot (Brad Beal). Or how about a front court that can be oh so dominant when they create good spacing and provide strong aggression at the rim, both on offense and on defense (Nene, Okafor, Seraphin). Throw in some energy and hustle with Martell Webster and a greatly improved AJ Price. Jan Vesely being more productive than raising a guilty arm after committing a foul? I'll take some of that too. Point is, the Wizards are clicking on every cylinder and it couldn't have come at a better time. Well, technically it could have. I'm sure all of us wish they clicked 32 games ago, but as the Wizards prepare for unrelenting five-game road trip, they do it with the utmost momentum and confidence.  They no longer feel like just a void in the opposing team's schedule. They've finally tasted relevance and, hence, feel like they belong.
Original Story:
http://www.wizardsextreme.com/2013-ar...
THE BACKYARD
BEST OF MAXIM
RELATED ARTICLES
KILLER CROSS
He's baaack...
This is a two part highlight post. First up is Ish Smith jumping completely over John Wall when he stops and pump fakes on a layup:     Apparently, Wall was none to please that Ish jumped over him, and decided he would get a little payback on the court. In this video, he puts Smith on ice skates and crosses the Ish out of Ish:     I bet players may think a little harder next...
The Washington Wizards hosted the Orlando Magic Monday night and the game featured one very nasty crossover from Wizards all-star point guard John Wall. Wall did a behind-the-back crossover at the top of the key that left Magic guard Ish Smith on the floor in embarrassment. The Wizards won the game convincingly and Wall finished with twelve points and six assists. Article found on: Cosby Sweaters
Tweet   Thankfully for the Washington Wizards (and their fans) John Wall is back after an extended absence due to a left knee injury. Wall scored 14 points and handed out 4 assists in 21 minutes on Saturday as Washington defeated the Atlanta Hawks 93-83 in his season debut. Monday the Orlando Magic were in [...]
I can confidently say that this is the first Ish Smith post that we've attempted on That NBA Lottery Pick and he had to do something pretty impressive to earn it.Earlier tonight, the Orlando Magic guard was playing some solid defense on Wizards guard John Wall.As he went up to attempt a block, Ish cleared Wall and leapt over him: 
Yesterday, we posted a video of Orlando Magic guard Ish Smith leaping over Wizards guard John Wall and blocking his shot.Well, later in that game...Mr. Wall got revenge by dropping Ish with a pretty solid crossover that sent him to the ground and gave John the opportunity to find Kevin Seraphin for the easy bucket:
When you hear the Wizards and Magic are facing off against each other, you wouldn't expect the highlights of the night to cone from that came. But that's exactly what happened. First watch Ish Smith leap over John Wall and then recover and block his shot. But John Wall wasn't going to go out like [...]
Wizards PG John Wall's second game resulted in the another win. The team's third straight win at home and second consecutive win over the Orlando Magic, a 120-91 win vs Magic. The Wizards are now 2-1 against the Magic this year but more importantly, they feel as though they're beginning to gel. Wall's return has given these [...]
The return of John Wall even in limited minutes has seemed to ignite the Washington Wizards, who are on the verge of a four-game winning streak that would double their previous win total. Accomplishing that feat requires beating the Sacramento Kings on Wednesday night to begin their five-game, eight-day western road trip. One game after rookie Bradley Beal hit a jumper with 0.3...
   AT          Monday, January 14th, 20137:00 PM ETTV: Comcast SportsNet HDSteve Buckhantz and Phil Chenier  Radio: 106.7 FM/1500 AMDave Johnson and Glenn Consor Arron AfflaloJohn Wall Magic Projected Starting Lineup Wizards Projected Starting Lineup Paying HomageShaquille O'Neal Proud Moment in Magic HistorySelecting Shaquille O'Neal with...
Your browser does not support iframes. Wizards play their best basketball, beating Orlando 120-91 in D.C. [WaPo] Ish Smith got John Wall with a block, Wall got Ish with a dribble. [TAI] Secret to the Wiz' three-game streak is they're running. [Bullets Forever] Michal Neuvirth's new goalie mask has Olie the Goalie on it. [Bog] Neuvy and Braden Holtby should both see time in...
NBA News

Delivered to your inbox

You'll also receive Yardbarker's daily Top 10, featuring the best sports stories from around the web. Customize your newsletter to get articles on your favorite sports and teams. And the best part? It's free!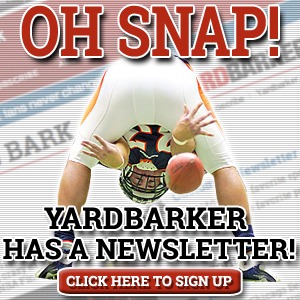 Latest Rumors
Best of Yardbarker

Today's Best Stuff

For Bloggers

Join the Yardbarker Network for more promotion, traffic, and money.

Company Info

Help

What is Yardbarker?

Yardbarker is the largest network of sports blogs and pro athlete blogs on the web. This site is the hub of the Yardbarker Network, where our editors and algorithms curate the best sports content from our network and beyond.