Found April 22, 2013 on Fox Sports South:
PLAYERS:
Larry Drew
,
Josh Smith
,
Paul George
,
David West
,
Roy Hibbert
,
Al Horford
,
Reggie Miller
,
Zaza Pachulia
,
Kevin Garnett
,
DeShawn Stevenson
TEAMS:
Atlanta Hawks
,
Indiana Pacers
,
Boston Celtics
ATLANTA Hawks coach Larry Drew is a generally dispassionate man. He seems to operate by the philosophy of, "Let the cooler heads prevail." On Monday following his team's 107-90 road loss to the Pacers in Game 1 of their playoff series, Drew did not mince words in addressing the Hawks' performance. Words like "mind-boggling" or "physically manhandled" came out of his mouth. With two days off before Game 2 on Wednesday, the Hawks elected to return home for practice on Monday and Tuesday. But it won't mean much, if Atlanta doesn't step up its physical play against Indiana, the East's 3-seed. Further complicating the Hawks' efforts: Josh Smith did not practice on Monday because of what Drew called a "slightly sprained" ankle. Drew said Smith was "day-to-day" but seemed hopeful his star would be ready for Game 2. Drew, who is in the final year of his contract, was at a loss to explain how his team did not match Indiana's physical style in the series opener. This is Atlanta's sixth straight playoff appearance. Atlanta's core players should have a prior understanding of postseason intensity. "Im riding back on the plane (Sunday) night and looking at (game film), Drew said. "Actually, I couldnt believe my eyes, to be perfectly honest. ... That team clearly physically manhandled us and this is playoff basketball and that cannot happen. That absolutely cannot happen. ... They manhandled us and we have to be better in that area come Game 2." Drew said effort had nothing to do with strategy. He emphasized over and over that he was not talking about playing dirty. He said it had to do with blocking out, getting to loose balls, screening harder, cutting harder and playing more physical on defense. The Pacers outrebounded the Hawks, 48-32. Paul George recorded a game-high 11 boards, with David West adding eight. It was not as if Indiana exploited its height advantage: 7-foot-2 center Roy Hibbert had no rebounds at halftime and finished with eight, matching Josh Smith's production for the Hawks. Al Horford did not agree with all of his coach's analysis. "I thought they were more physical, but I wouldnt go as far as saying (mind-boggling)," he said of Drew's assessment. However, Horford would concede one Drew point. "Fifty50 balls were more glaring because they seemed to get all of them," Horford said. "I know I've learned a lot. We have to do a better job boxing out. Even if its one missed block I missed, thats one too many, especially in the playoffs." Drew made his points to the team while reviewing videotape on Monday. He made the additional point to play a clip of what Hall of Fame player and now broadcaster Reggie Miller had to say during Game 1 of Bucks-Heat. "You're going to come up with schemes and the way you're going to be defending things," Drew said. "Youre going to come up with all of that. The last thing you think you have to come up with is any type of motivation to guys to compete and play at a high level (Miller) was talking about playing for 48 minutes, where you have to play high-energy, high-intensity. You have to be amped up for 48 minutes and I let my guys hear that (Monday). I say that all that time, but I wanted them to hear it from someone else. "That is the mindset you have to come into the playoffs with. You cant play with the same energy that you play in the regular season. Playoff time means being amped up, playing high energized and being able to sustain that for 48 minutes and that's where we have to get to and they were in total agreement. They listened to it and they were in just total, total agreement and after we watched film, they could clearly see, 'Hey, we werent amped up.' We played like we played during the regular season and you cant do that during playoff basketball." If Miller's words helped the message get through, Horford might not have been enamored of Drew's decision to play them for the Hawks. Horford (14 points, six rebounds) played only 28 minutes, sitting on the bench for a while during the second half. "We know what we have to do, Horford said in response to a question about the effect Miller's comments had on the team. "We know what we have to do. We have to come out here and establish ourselves and play with a sense of urgency. That's all that needs to be said." In a series against a big, physical team like Indiana, the Hawks are at a particular disadvantage from a personnel standpoint. In years past, center Zaza Pachulia has proved his mettle in the playoffs with physical play while standing up against some of the leagues most intimidating players. Notably, he went toe-to-toe with Bostons Kevin Garnett back in 2008 when the Hawks were the No. 8 seed and the Celtics eventually won the NBA championship but the Hawks pushed their foe to seven games. However, Pachulia had season-ending surgery on his Achilles tendon and is not available for the series. Drew said he received a text from Pachulia while he was at the team hotel over the weekend. "He texted me, wished me luck and I just said, 'Hey, big fella, this is one of them series where Im really going to miss you,'" Drew said. "Because hes been a guy, when we talk about physical play, thats who he is and thats what he brings, so, yeah, its my job to remind these guys who we have to be and the team were playing against, knowing thats who they are. Thats their makeup. We have to get in the frame of mind of playing more of a physical style of game." Last week, Drew didn't think the contract statuses of the coach or his players many of whom are approaching free agency would have any affect on how the team performed in the playoffs. One of the players, DeShawn Stevenson, hinted that could be a distraction but said it was no excuse for not playing the way the Hawks need to. "Its something youve got to have," he said. "I dont know if guys are thinking about different things but when you step on that court, especially on their court, youve got to play hard. Youve got to play solid." Wednesday will indicate if that message has gotten through.
Original Story:
http://www.foxsportssouth.com/nba/atl...
THE BACKYARD
BEST OF MAXIM
RELATED ARTICLES
Atlanta Hawks coach Larry Drew says ''it's a little bit mind-boggling'' that his team didn't come out with more intensity in Game 1 of the playoff series against Indiana. The Pacers romped to a 107-90 victory, and Drew said Monday that it's clear why: ''They physically manhandled us.'' Drew says the Hawks looked as though they were playing...
Atlanta Hawks coach Larry Drew says ''it's a little bit mind-boggling'' that his team didn't come out with more intensity in Game 1 of the playoff series against Indiana. The Pacers romped to a 107-90 victory, and Drew said Monday that it's clear why: ''They physically manhandled us.'' Drew says the Hawks looked as though they were playing...
Sunday is the day for brethren,  In the Church of NBA Playoffs.  Atlanta didn't get the memo until eleven,  Hawks offense was laid off.    Paul George accumulated a triple-double,  Larry Drew made a coaching foul.  Kyle Korver guarding George? Atlanta basically threw in the towel.    Lakers were so adorable, Trying to offensively matter.  But [...]The post NBA Playoffs...
Atlanta Hawks forward Josh Smith missed Monday's team practice due to a sprained right ankle, reports Chris Vivlamore of The Atlanta Journal-Constitution.Josh Smith did not participate in practice with ankle injury. Day-to-day. #ATLHawks— Chris Vivlamore (@ajchawks) April 22, 2013 Smith received treatment on his ankle yesterday, and the Hawks are hopeful that he'll be able...
Josh Smith and his Atlanta teammates spent much of Sunday's game and the postgame complaining about the calls. Hawks coach Larry Drew had enough. After getting dominated on the glass, being forced into a half-court game and allowing Paul George to get his first career postseason triple double, Atlanta headed home with a 107-90 loss and plenty of things to correct before this...
ATLANTA Last year the Atlanta Hawks went into the NBA playoffs minus All-Star center Al Horford for the first few games. The Hawks are ahead of the game in that respect, as they travel to take on Indiana in Game 1 on Sunday, but their situation in terms of injuries remains less than ideal. Were not as healthy as I want to be, coach Larry Drew said. We got some guys nicked up,...
NBA News

Delivered to your inbox

You'll also receive Yardbarker's daily Top 10, featuring the best sports stories from around the web. Customize your newsletter to get articles on your favorite sports and teams. And the best part? It's free!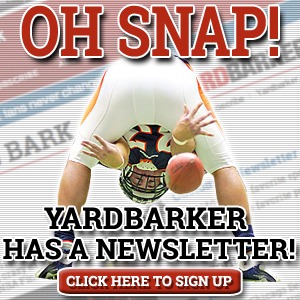 Latest Rumors
The Backyard

Today's Best Stuff

For Bloggers

Join the Yardbarker Network for more promotion, traffic, and money.

Company Info

Help

What is Yardbarker?

Yardbarker is the largest network of sports blogs and pro athlete blogs on the web. This site is the hub of the Yardbarker Network, where our editors and algorithms curate the best sports content from our network and beyond.