Found September 02, 2012 on Celtics Town:
Dwight Howard recently came out with a message of public appreciation for the city of Orlando taking out a full page ad in the Orlando sentinel saying: "words cannot express the love that I have for Orlando. With your support we have done great things in this city from hanging banners to impacting our youth".  This has been the latest in a string of public displays of appreciation for NBA players' former cities.  It beckons the question—Does this really have any impact on the people of Orlando and fans of the NBA?Some liken a player demanding a trade to a breakup.  The relationship no longer works for the player, and thus he is requesting to leave the team.  The team and its supporters feel a sense of betrayal, as one of their own feels as though the city and team no longer suit the players' interests.  If they truly 'love' the team, then why would they leave?  Is love not enough or is the person lying?  These are questions both young people of our generation and NBA fans must grapple with, bouncing from team to team (or relationship to relationship) in a quest to find answers.If Dwight Howard really did love his fans and the city of Orlando, then does this public acknowledgement help anything?  The very public 'but I still love you' can only mean so much when his actions say the exact opposite.  I still root for James Posey, Eddie House, or even Ray-Ray because of the time and energy they put in with the Celtics organization.  While they were here they gave the Celtics faithful everything, which for me is the ultimate sign of respect.  Did Dwight Howard give his all during his final years in the Orlando uniform?  Hard to say, but my magic (pun intended) 8 ball keeps on giving me a 'no' response.  If I am an Orlando fan, I am done with Dwight Howard.  Not only did he break up with Orlando, he toyed with their emotions.  He gave them the 'maybe we should take a break' when he refused to sign an extension.  He then proceeded to lead them on with a 'I think  we can make this work' by agreeing to a one year extension.  Lastly, a 'we need to see other people' with his trade demand and eventual change of scenery to the Los Angeles Lakers.  Much like real breakups, it would have been better for both sides if D12 was decisive.Howard obviously takes the emotions of his fans back in Orlando very seriously and for that he deserves credit.  It's a nice gesture but for fans of the Magic, it seems like too little too late.  He should have shown his appreciation for the team and the fans by giving it his all when he was playing in Orlando.  Taking out an advertisement thanking the Orlando faithful is a nice gesture, but I'm sure they would have appreciated it more if he gave his final seasons in a Magic uniform his all.  The biggest show of respect to the people who support you is working your hardest and reaching your full potential, and this is where Dwight Howard fell short.
Original Story:
http://www.celticstown.com/2012/09/02...
THE BACKYARD
BEST OF MAXIM
RELATED ARTICLES
HERO WORSHIP
New Lakers center Dwight Howard tweeted that he "was in tears" upon meeting the legendary Kareem Abdul-Jabbar.
UN-BURNING BRIDGES
Dwight Howard made a mess on his way out of Orlando, but seems to want to mend his relationship with Magic fans with this gesture.
Dwight Howard just tweeted a picture of him and legendary Lakers center Kareem Abdul-Jabbar.  In Dwight's tweet, he said, Me and @kaj33 together. For many years to come. Shortly after, Kareem Abdul-Jabbar tweeted a response to the picture and said, #DwightHoward Great meeting you today – Laker Nation is in great hands for years to come. Now lets WIN a championship. Dwight Howard...
Dwight Howard and the city of Orlando had some great years together, but this past year was quite the nightmare.  The Orlando Magic wanted Superman to stay and Howard seemed interested in staying, but not really.  Dwight Howard is now a member of the Los Angeles Lakers and has moved on.  He bought an ad for a newspaper in Orlando and thanked the city for making him who he is today...
Dwight Howard need to just chill out on the beach somewhere, and run anytime someone with a camera or recorder comes near him. He took ou an ad in the Orlando Sentinal thanking the city of Orlando and its fans. "To play the game of basketball in the NBA is a blessing and to have had the opportunity to play before the Orlando fans for eight years was truly a privilege and an honor...
Dwight Howard finally did something to repair his reputation over the weekend. Howard's rep has taken a hit this off season because of all his antics with the Orlando Magic. One day Howard wanted traded another he didn't. Howard only wanted traded to a certain team. It seemed like there was a new Howard rumor every day. After a while people just got tired of it...
Back on Monday, Lakers center Dwight Howard got the chance to meet Lakers legendary center/assistant coach Kareem Abdul-Jabbar and he had to tweet about it.Check out the below tweet which mentions Howard's emotions after meeting one of his idols:
L.A. Lakers star Dwight Howard is making peace with the residents of Orlando, FL, as it's being reported that Howard took out a newspaper ad, which Howard thanks the people of Orlando for supporting him during his time with the Orlando Magic.Howard took out a full-page ad in the Orlando Sentinel, which will be seen by all in Sunday's newspaper, thanking those who supported...
Dwight Howard took out a full-page ad in Sunday's edition of the Orlando Sentinel three after being traded by the Magic to the Lakers.
I don't think there's anything that Dwight Howard's PR firm could have written that would of come off as sincere.
Let the countdown to NBA training camps begin in fact, they get started in about a month, on Oct. 2. With the excitement of the offseason long past and the biggest headlines now revolving around bench role players lobbying for something more than a veteran's minimum contract, the season can't come soon enough. The Dwight Howard deal is three weeks in the past, and it'...
NBA News

Delivered to your inbox

You'll also receive Yardbarker's daily Top 10, featuring the best sports stories from around the web. Customize your newsletter to get articles on your favorite sports and teams. And the best part? It's free!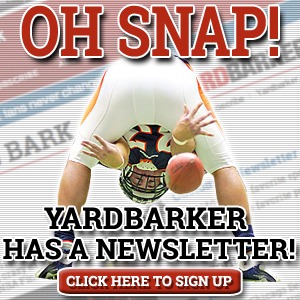 Latest Rumors
Best of Yardbarker

Today's Best Stuff

For Bloggers

Join the Yardbarker Network for more promotion, traffic, and money.

Company Info

Help

What is Yardbarker?

Yardbarker is the largest network of sports blogs and pro athlete blogs on the web. This site is the hub of the Yardbarker Network, where our editors and algorithms curate the best sports content from our network and beyond.