Found April 20, 2013 on Laker Nation:
Photo: Doug Pensinger | Getty Images According to Mark Medina of the Los Angeles Daily News, Dwight Howard is focused on making the San Antonio Spurs pay for the 'Hack-a-Howard' strategy. In the most recent Spurs-Lakers matchup on April 14th, Spurs' coach Gregg Popovich implemented the 'Hack-a-Howard' scheme late to take advantage of Howard's poor free-throw shooting. Prior to the start of this upcoming playoff series, Howard issued a stern warning to Popovich and the rest of the Spurs: "If they're going to do that the whole series, God bless them," Howard said. "There's nothing I can do about it but go up there and shoot the free throws. Even if I make them, they're still going to do it. So, that's not my concern. My concern is what I can control on the defensive end and then on the offensive end, just dominate. If they foul me, they foul me. We're going to make them pay." During the regular season, Howard shot a miserable 49.2% from the free-throw line. The Lakers certainly hope his efficiency from the charity stripe increases in the playoffs. The 'Hack-a-Howard' strategy was somewhat effective in the last meeting between the Spurs and Lakers, in which Howard shot just 8 of 17 (47.1%) from the line. Despite the strategy's past success, coach Mike D'Antoni expressed similar confidence in Howard: "I'm sure they'll try it," D'Antoni said. "We worked on Dwight being evasive out there today so they couldn't catch him. But we'll just deal with it. He's going to make shots and he'll make his foul shots." Like many around the NBA these days, D'Antoni despises the rule and hopes for a change in the future: "I know when they vote, I guarantee I'll vote yes," D'Antoni said. "But the league will look at it. They look at everything, always. They just want to get it better. If it's better for the game, then great. But, it's not me to say when you have guys that they're doing it to [ban it]. I'm sure it will happen [this series], and Dwight will step up and knock them down." Whether the 'Hack-a-Howard' strategy will be implemented and actually work in this year's playoffs remains to be seen. But, if Howard can capitalize on the extra opportunities at the line, it may give the underdog Lakers an added advantage as they look to upset the #2 seeded San Antonio Spurs. The post Dwight Howard: "Spurs will pay for 'Hack-a-Howard' strategy" appeared first on Laker Nation.
Original Story:
http://lakernation.com/dwight-howard-...
THE BACKYARD
BEST OF MAXIM
RELATED ARTICLES
THEY'RE DOOMED
If the Lakers were looking for bulletin board material against the Spurs, Rockets GM Daryl Morey has provided it. See what he said.
If there's one thing we know about San Antonio Spurs head coach Gregg Popovich, it's that all he cares about is winning, no matter how pretty or ugly he has to do it. And that includes implementing "Hack-a-Howard." Popovich will find himself in several spots to utilize this tactic when the Spurs open their first round playoff match-up Sunday against Dwight Howard...
"I'm sure they'll try it." Those are the words from Los Angeles Lakers head coach Mike D'Antoni when asked his thoughts on the San Antonio Spurs intentionally fouling Dwight Howard (aka Hack-A-Howard) during their opening playoff series against the Spurs which begins tomorrow. After yesterday's Lakers practice session, D'Antoni spoke on the...
The better question is, who isn't expecting Howard to live at the free throw line this post season? Per ESPN LA, Howard has one piece of advice to anyone fouling him, "God Bless Them". The LA Lakers are finally in the finals, something NBA fans and even analysts thought wasn't going to happen but to our surprise, the Lakers finished 7th in the west. With Kobe Bryant out for...
Lakers center Dwight Howard knows that with the way he resides in the paint for the majority of games, fouls will come his way. And with Kobe Bryant out for the remainder of the season, he has become the focal point of the Lakers offense. So when asked what he thinks about the Spurs adopting [...]
The Los Angeles Lakers dropped the first game of their Western Conference playoff series to the San Antonio Spurs in a humbling fashion 91-79.   That did not stop them from making a few big plays along the way.  Dwight Howard came through with 20 points and 15 rebounds. Pau Gasol managed to also double-double with 16 and 16 with six assists. Check out this connection between...
Dwight Howard's first season with the Los Angeles Lakers has been filled with more twists, setbacks and disappointments than he ever imagined when he was traded last summer. He's still hoping the Lakers can come up with a few more surprises for the playoffs. Los Angeles reached the postseason as the Western Conference's seventh seed with an overtime victory over Houston...
The Los Angeles Lakers, a team that was written off and easily ridiculed, are in the playoffs, which was no small feat. "Everybody counted us out, but one thing that I told the guys tonight was that we've been through so much as a
Los Angeles Lakers center Dwight Howard expects San Antonio Spurs coach Gregg Popovich to send him to the foul line often when the two teams open their playoff series with Game 1 on Sunday. "If they want to do that the whole series, God bless them," Howard said when asked about the Spurs using a "Hack-a-Howard" strategy on Friday. "There's nothing I can do about it but...
PhotoCredit:Jae C. Hong:Associated Press After such a tumultuous season, the 2012-13 Los Angeles Lakers with a starting lineup consisting of Steve Nash, Kobe Bryant, Metta World Peace, Pau Gasol, and Dwight Howard have managed to will their way into the playoffs having secured the 7th seed and a first round matchup with the San Antonio Spurs.  This season was likely the most difficult...
Project Spurs kicks off its 2013 Spurs Playoff preview as the Spurs face the Lakers in the first round. Check out the key matchups in the opening series brought to you by Kyle Boenitz. A lot of San Antonio Spurs fans have been saying, "Bring on the Lakers!" all year. Well, if that was you, you got your wish, congratulations. While I'll admit that this matchup was a...
It's common knowledge: Stars win in the playoffs. LeBron. Melo. Durant. Chris Paul. Tim Duncan. Dwight Howard. These big names bring ticket sales and (usually) wins where ever they go. Casual fans know them all on sight. But every team has a lesser known player who the fans gravitate to, who's every now and then busts out a move or two that electrifies the crowd, brings ...
NBA News

Delivered to your inbox

You'll also receive Yardbarker's daily Top 10, featuring the best sports stories from around the web. Customize your newsletter to get articles on your favorite sports and teams. And the best part? It's free!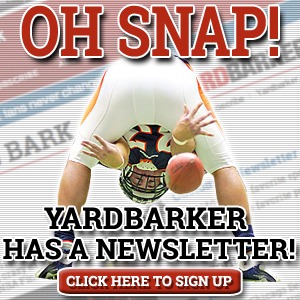 Latest Rumors
Best of Yardbarker

Today's Best Stuff

For Bloggers

Join the Yardbarker Network for more promotion, traffic, and money.

Company Info

Help

What is Yardbarker?

Yardbarker is the largest network of sports blogs and pro athlete blogs on the web. This site is the hub of the Yardbarker Network, where our editors and algorithms curate the best sports content from our network and beyond.