Found July 08, 2013 on Fox Sports:
Now that Dwight Howard is a Houston Rocket, an ex-Los Angeles Laker and a massively talented enigma whom NBA executives seem unable to agree upon, there's only one place for the center to look for guidance on how to reboot his career. LeBron James. Two years ago, LeBron's Decision - and all the hoopla, mistakes and problems that followed - ushered in a new level of criticism and mockery for The King. But those painful months also eventually brought with them a life-changing level of self-awareness and change. LeBron may have become a villain of his own making his first season in Miami, but he also began a process of making himself into a more likeable person and more formidable player that culminated in the following two championship seasons with the Heat. Now it's Dwight's time to try and balance the scales of ridiculous upside and infuriating distractions that make him a player smart NBA men are in stark disagreement over. Across the NBA, those I talked to this weekend - front-office executives, former general managers, scouts - disagreed on just how to assess Dwight Howard at this point in his career. Some questioned his desire to win. One front-office official said, "He's more interested in being an entertainer than a basketball player, so winning isn't really that important to him. I don't think it ever will be." Another NBA source, told of that sentiment, countered: "Anyone with a team who says he wouldn't want Dwight Howard on his team is as full of (crap) as they're claiming Dwight is." And another, a Western Conference general manager, told me both are true - that Dwight is the most talented center in the game and that he's absolutely a problem in most places because he doesn't care much about winning. "But Houston," the GM told me, "will be a good place for him. Kevin (McHale) knows how to manage people and James (Harden) will be the actual leader of that team, which is good, because Dwight is incapable of leadership." It's the 2010 LeBron Conundrum: So much talent. So many warning signs that all that talent is bogged down by other issues. And while LeBron's nadir happened on live television, complete with a snapshot moment perfect to capture that time in his career, Dwight's difficulties have been more spread out. And have lasted longer. And impacted more teams. But without a catch phrase like "taking my talents to South Beach" it's sometimes easy to miss just how dysfunctional his career has turned. There is a strong argument to be made that the two-year "Dwightmare" passes the Decision for sheer inexcusability. Howard held the Orlando Magic captive for two years. LeBron broke Cavaliers fans' hearts over the course of one day (though, unless he returns in 2014, that heartache will go on for years). LeBron may have been unlikable, but Dwight has alienated both groups of former teammates, both guys who coached him, and many of the NBA's front-office folks who have watched it all go down. LeBron's model for redemption and a return to popularity followed a clear path. It's one Dwight should follow. First, LeBron figured himself out. He became likeable again, important for a guy who like Dwight is at his best when others see and believe in the best parts of him. Likability is an asset for both men, and LeBron harnessed that by a brilliant run of ads, moving on from Nike's "What Should I Do" spot (answer: start by not making that commercial) to the Samsung bits that show him joyous, happy and not wildly self-obsessed. Just watching those two commericals today is a case study in a wholly different guy and persona, and an evolution Dwight Howard should spend some time studying. That was the start. LeBron also started making nice with Cleveland. He went on Letterman and took Dave's barbs and managed to come across as human, and he seemed to both accept his mistakes and stop caring about those who wouldn't let them go. At the same time, he started playing as well in the playoffs as he did in the regular season. But all of this stems from the fact LeBron James took some ownership of the mistakes he made. How much, only he knows. But he is more likeable, more interesting and more nuanced to my eyes than he was when he left for Miami. It's no coincidence that as he worked on himself he worked on his game, something Dwight also needs to do. LeBron always cared about winning, but then he did something about it by working so obsessively on his craft. He went to train with Hakeem Olajuwon on his low-post game, he became a better 3-point shooter, he was hungry and desperate to work on being better at basketball. Whatever you thought about LeBron, he worked to be great despite his massive talent. The issue with Dwight, many say, is that he simply doesn't care about winning. Not really. Not truly. Not like LeBron. Still, Dwight has some advantages LeBron did not. With LeBron, redemption was championship or bust. Dwight has the advantage of a smaller threshold for success. A Western Conference finals appearance, say, and a season - and this is big - in which he's never the distraction or the bad guy would go a long way toward getting him on the road to his own fixed reputation. Dwight has the disadvantage that, unlike LeBron, he's not the most talented player on earth, he doesn't have a natural hunger to be truly great (or so several NBA sources told me this week), and he does not seem to possess the same introspection that made LeBron both his own worst enemy in 2010 and a guy capable of changing after that. Dwight had every right to leave the Lakers. He had every right to bolt Orlando. He has every right to be in Houston, and I for one hope he has great success there. But that's only going to happen if he figures out what he did wrong in those first two places and grasps, sooner rather than later, that he needs to be different in his new town for all of this to work. He needs to pull a LeBron James. You can follow Bill Reiter on Twitter or email him at foxsportsreiter@gmail.com .
Original Story:
http://msn.foxsports.com/nba/story/dw...
THE BACKYARD
BEST OF MAXIM
RELATED ARTICLES
If you haven't heard yet Dwight Howard is no longer a Los Angeles Laker, and ton of people have bashed Howard for leaving Los Angeles. The latest to do so is NBA great Kareem Abdul-Jabbar. Kareem won 5 titles with the Lakers and is regarded as the best center to play in the NBA by many. The Following from ESPNLosAngeles.com, as Kareem gives his thoughts about Howard: On Monday...
  It seems the Dwight Howard free agency drama is over. I was going to sit at home last night and wait for Dwight&#821…
During a recent concert for the Kings of the Mic Tour, Ice Cube went off about Dwight Howard turning down the Los Angeles Lakers in favor of the Houston Rockets.  Ice Cube said "F*** Dwight Howard.  We don't need no punk ass mother f***ers on the team.  I could give a f*** about a Dwight Coward.  We don't need no ******* on this team.  He don't deserve to be on the wall...
The Los Angeles Lakers felt that Dwight Howard had already "made up his mind" before even meeting with them on Tuesday, according to a source. The source also described him as "emotionless." "He would barely look us in the eye," the source said. A second source from the Lakers said "we felt like we were wasting our time" in the meeting. Howard...
Dwight Howard has landed in Houston – spotted Tuesday at the Breakfast Klub, his first sighting in Rockets gear. He even got off to a great start with fans, as he treated the entire restaurant to lunch.   Dwight Howard bought the whole restaurant lunch at the Breakfast Klub. Amazing welcome to Houston. @… http://t.co/EdK8qq9usM — David Elster (@delster2) July 9, 2013  ...
I am sure they don't mind the fine. GM Daryl Morey and coach Kevin McHale both publicly spoke about the signing before they technically could.
PLAN B?
After missing out on Dwight Howard, the Dallas Mavericks are reportedly exploring ways to make a trade for Sixers center Andrew Bynum.
We are joined by Moke Hamilton from Sheridan Hoops to break down the free agency period so far.  We also got news during the Podcast that Dwight Howard will sign in Houston.  We discussed the new look Pelicans, Dwightmare, Mike Dunleavy, Andray Blatche and the Free Agents who have yet to sign. This will aired at 7:00 PM EST on Thursday! Tune in at www.blogtalkradio.com/probasketballtalk ...
After Dwight Howard ditched the Los Angeles Lakers to join the Houston Rockets, the Lakers have been feverishly looking for free agents to bolster their roster, despite the fact that the Lakers have very limited financial flexibility. There has been talk about the possible return of forward Lamar Odom to the Lakers recently, and it has picked up steam over the past 24 hours. One...
The Dallas Mavericks have quickly moved on after being eliminated from the Dwight Howard sweepstakes, and now are carefully and seriously setting their sights on Andrew Bynum according to an ESPN.com report.  The Mavs will proceed with caution due to the knee condition that caused the 7-foot, 285-pound Bynum to miss all of his lone season with the Philadelphia 76ers, the sources...
FOX Sports NEXT caught up with Ohio State commit Jae'Sean Tate at the LeBron James Skills Academy to get his thoughts on the Buckeyes, who he's recruiting and more.
LAS VEGAS --- Rob Harrington is filing daily reports on UNC recruits at the LeBron James Skills Academy. Check out his on-location insight and analysis ...
NBA News

Delivered to your inbox

You'll also receive Yardbarker's daily Top 10, featuring the best sports stories from around the web. Customize your newsletter to get articles on your favorite sports and teams. And the best part? It's free!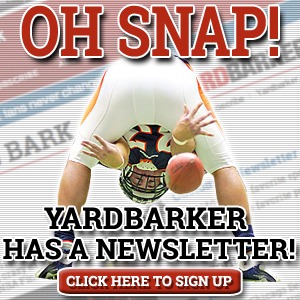 Latest Rumors
The Backyard

Today's Best Stuff

For Bloggers

Join the Yardbarker Network for more promotion, traffic, and money.

Company Info

Help

What is Yardbarker?

Yardbarker is the largest network of sports blogs and pro athlete blogs on the web. This site is the hub of the Yardbarker Network, where our editors and algorithms curate the best sports content from our network and beyond.