Found July 17, 2012 on Blog On Draft:
The writing appears to be on the wall -- literally, on the wall.
Orlando Magic Daily is the premier online destination to get your daily fill of all things Magic. Now overshadowed by our Florida foe the Heat , we think we're not too shabby ourselves and that the future is bright for the Magic.
Visit Orlando Magic Daily
Dwight Howard may never wear an Orlando Magic jersey again, even if he is still on the roster when training camp opens in October. Howard may not get to that day, but the disconnect between Howard and the Orlando franchise appears to be that deep -- and, perhaps growing.
Jordan Schultz of Huffington Post Sports reported that Howard is contemplating sitting out the entire 2012-13 season in Orlando.
Twitter / 206Child: A source close to Dwight H via kwout
That would be something different and would surely cause more people to detest Howard more than they do now.
It is not clear yet whether Howard has contemplated sitting out because of a distaste for dealing with the Magic or because his injury is more serious than everyone initially believed. It might be a combination of the two.
The bickering and posturing for positive press is certainly going to take place once the divorce is final. The Magic and Howard are sure to split if this report is true.
It seems that last gasp from new Magic general manager Rob Hennigan reportedly made last week to persuade Howard to stay on and give the new regime a chance was truly that, a last gasp. Howard, if you believe certain reports, is tired of the way the Magic have treated him since he suffered his injury.
That seemed to be confirmed by a series of DMs sent to Magic fan Markee Randolph (@MagicMarkee) from Dwight Howard's twitter account. In these tweets Howard seems to confirm a lot of the frustration that has only been whispered in Magic circles about the way Orlando treated him after he opted in and particularly after his injury.
Whether or not you believe everything written there -- and certainly some of it is posturing as everything is, even if it is genuine -- the feeling appears to be one that has some legs, especially considering Schultz's report alongside with it.
Of course, Howard himself has still not said a word to the public since a TMZ interview on a Los Angeles street during the Playoffs. Until he clears the public record everything will be public speculation. While the silence appears to haverekindled hopes that Howard and Orlando can have some kind of reconciliation, it appears from these reports that the ship has sailed and it was nothing but a hopeful dream.
The Magic and Howard are destined for a divorce. There is no getting around it now.
Read more great Orlando Magic content at Orlando Magic Daily
Original Story:
http://www.bloguin.com/articles/baske...
THE BACKYARD
BEST OF MAXIM
RELATED ARTICLES
  This isn't a news breaking story — well, kinda — but in light of Dwight Howard, reportedly, saying he will sit out of all of next season if he is not traded, I thought these DM's a Orlando fan going by the handle @MagicMarkee released interesting. These DM's could be fake, but then again — similar [...]
Screen capping is becoming a danger zone for unsuspecting professional athletes. First we had Amar'e Stoudemire calling a fan a derrogatory slur in a Twitter direct message that the fan revealed to the masses. Now we have a similar case, with Magic fan Markee Randolph (@MagicMarkee)  "leaking" a rant Dwight Howard sent him going off on the [...]
Ballertainment Apparently, Dwight Howard is cool enough with one of his Twitter followers that he sent a series of direct messages to the guy via his account. The information he shared offers us enough information to know that Howard is the misguided piece of work many have been thinking he is. Catch the tweets after you advance the ball. Who does this? Ok, more so, who STILL...
When the Brooklyn Nets pulled out of the Dwight Howard trade talks the rumors about the Magic traded him stop for a couple of days. Now, there is another new trade rumor involving Howard. The talks are between three teams the Orlando Magic, Los Angeles Lakers, and Cleveland Cavaliers. In the deal the Lakers would receive Howard. The Cavs would receive Lakers center Andrew...
According to NBA sources, the Cleveland Cavaliers are once again thought to be involved in a potential Dwight Howard trade. This time, the Cavaliers would theoretically be landing Lakers big man Andrew Bynum. According to ESPN.com's Ric Bucher: The Cavaliers would land Lakers center Andrew Bynum for a package of draft picks and veteran power forward Anderson Varejao, according...
Jason Richardson apparently has a "personal issue" with Steve Nash that will keep him out of a Dwight Howard deal to the LakersPhoto Credit: Keith Allison/flickr.com Jason Richardson and Steve Nash are former teammates from their days with the Phoenix Suns, and there have been rumors that they didn't end on the best terms. Steve Nash has a "personal issue" with Richardson...
With the Orlando Magic determined to move Dwight Howard and the Los Angeles Lakers seemingly bent on landing the All-Star center, the Cleveland Cavaliers once again could help facilitate a deal. And in return, the Cavs could end up with Lakers center Andrew Bynum, multiple sources told FOX Sports Ohio.Rumors suggesting these three teams were involved in a potential deal emerged over...
It started off pretty shaky at the Verizon Center last night as Team USA just couldn't get it together. The men's basketball squad was down by 10 at the end of the first quarter and it appeared as if the team just could not get in sync. Injuries to Dwight Howard, Blake Griffin and Chris Bosh have left the team with some gaping holes in the big-man department, but if this...
While visions of Dwight Howard might be dancing in the heads of Hawks fans, the future of another free-agent-to-be is more central to the teams long-term success. Hes one of their own -- Josh Smith. Anyone who watched the Hawks last season knew it was a travesty that Smith did not earn a spot on the NBA All-Star team. He was the Hawks co-leader in points-per-game (18.8) and leader...
The Houston Rockets should never go anywhere and gamble… EVER. Recently the Rockets tried to out smart their fellow NBA teams by offering some sneaky contracts to players. Their thoughts were to try and lock up these individuals so that the franchises couldn't be able to be major players in the 2013 free agency. This free agency will feature certain players like Chris Paul, Andrew...
Magic News

Delivered to your inbox

You'll also receive Yardbarker's daily Top 10, featuring the best sports stories from around the web. Customize your newsletter to get articles on your favorite sports and teams. And the best part? It's free!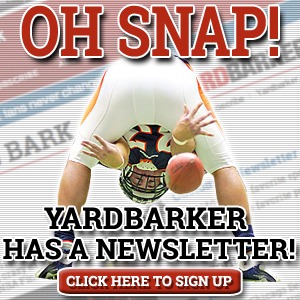 Latest Rumors
The Backyard

Today's Best Stuff

For Bloggers

Join the Yardbarker Network for more promotion, traffic, and money.

Company Info

Help

What is Yardbarker?

Yardbarker is the largest network of sports blogs and pro athlete blogs on the web. This site is the hub of the Yardbarker Network, where our editors and algorithms curate the best sports content from our network and beyond.