Found December 14, 2012 on Fox Sports Wisconsin:
MILWAUKEE -- Ask Monta Ellis about his career-low shooting percentage, and his answer will be simple. He'll say that he's getting his usual shots, that he just needs to knock them down. Ellis is a scorer, so naturally he believes he can make just about any shot on the court, and he certainly has during his eight-year NBA career. But as this season's numbers continue to pile up, it is becoming clear how Ellis has to score in order for the Milwaukee Bucks to be successful. One of the most dangerous players in the league driving to the hoop, Ellis is hard to defend when he's focused on that part of his game, like he was in 2007-08, when he shot 53.1 percent for the season. This season, on attempts closer than five feet from the basket, Ellis is a 55.8 percent shooter. He's at 50.0 percent on shots from five to nine feet. The drop comes after that, with his accuracy falling to 32.4 percent on shots from 10 to 14 feet and 31.7 percent on shots 20 to 24 feet away from the basket. A huge part of Ellis' career-low 39.8 percent shooting is his struggles behind the arc. Ellis, a 46.1 percent career shooter, is 7 for 19 on three-pointers from the corner this season but just 8 of 47 on every other three-point shot. Back in 2007-08, when Ellis had his best shooting season, he took only 0.6 three-pointers per game. This season he's shooting 3.3 per game. As a guy who's asked to create for himself and others, Ellis is going to have the inevitable tough attempts late in the shot clock, but surprisingly 69 percent of his shots have been taken with 15 or fewer seconds off the fresh 24. "It's the beginning of the season, it's a long season," Ellis said. "You go into slumps sometimes. You've just got to keep kicking at it. My teammates and the coaches have the confidence in me. I just have to keep shooting my way out of it." Since Ellis arrived in a trade with Golden State during the middle of last season, his teammates have seen his impact on the offense, even when shots aren't falling. Ellis has proven to be an excellent passer, and he's most successful doing that when he's driving the lane or coming off the pick-and-roll. "He's such a good scorer that he draws a lot of attention," Bucks forward Luc Richard Mbah a Moute said. "If you get on the same page with him, as far as getting open, you can get a lot of good looks because he draws so many people and draws a lot of attention. He does a nice job of finding guys and finding the open player. He's a good player." In Sunday's victory over Brooklyn, Ellis was the efficient scorer Milwaukee needs him to be. The vast majority of his shots were high percentage, leading to a 24-point night while attempting just 13 shots. Ellis followed that performance by dishing out 12 assists against Sacramento on Wednesday, constantly finding the open man under the hoop for a layup. Mbah a Moute was a big beneficiary, with half of Ellis' assists coming on his buckets. "This goes back to last year," Mbah a Moute said. "Every time I play with Monta, I kind of know his game and he kind of knows my game. He looks for me, and I look for him. I know when he drives, I know where he's going to pass the ball and when he's going to pass the ball. It goes back to last year, he's a really good passer." And though Ellis certainly can help his cause by taking better shots, his ability to create for teammates is just as important. When he plays like he did against Brooklyn and Sacramento, impacting each game in different but useful ways, the Bucks will be successful. "I was just doing whatever I could," Ellis said. "The ball fell in my hands, and I made open plays to open guys. (I was) just playing basketball." Follow Andrew Gruman on Twitter.
Original Story:
http://www.foxsportswisconsin.com/12/...
THE BACKYARD
BEST OF MAXIM
RELATED ARTICLES
Banged up, battered and bruised, the Milwaukee Bucks found a way to get the job done yet again. Playing down three players, with three more fighting to play through injuries and illness, Milwaukee won its fourth straight game. Forcing 27 turnovers, the most by an opponent since 2003, the Bucks did just enough to squeak out a 90-86 victory in Cleveland. While the headlines will...
CLEVELAND (AP) -- Monta Ellis scored a season-high 33 points, Brandon Jennings added 16 and the Milwaukee Bucks defeated the Cleveland Cavaliers 90-86 on Friday night. The win gave Milwaukee a season-high four-game winning streak and was the Bucks' ninth straight victory over the Cavaliers. Kyrie Irving scored 26 points to lead Cleveland, which committed a season-high 27 turnovers...
Monta Ellis scored a season-high 33 points, Brandon Jennings added 16 and the Milwaukee Bucks defeated the Cleveland Cavaliers 90-86 on Friday night. The win gave Milwaukee a season-high four-game winning streak and was the Bucks' ninth straight victory over the Cavaliers. Kyrie Irving scored 26 points to lead Cleveland, which committed a season-high 27 turnovers. The Cavaliers...
After collecting a steal during Saturday night's Los Angeles Clippers/Milwaukee Bucks game, Clippers forward Blake Griffin gave the ball up to Chris Paul. Chris then returned the favor to Blake with an alley-oop slam that Griffin soared to collect:
Kyrie Irving shoots over Brandon Jennings Kyrie Irving and company spotted the Bucks an early 13-5 lead and Milwaukee, lead by Monta Ellis's 33 points, successfully held off any and all Cavalier comeback attempts to escape with a 90-86 victory. To their credit, Byron Scott's Cavaliers never stopped fighting and it is somewhat remarkable, considering Cleveland had a NBA season...
MILWAUKEE (AP) -- Matt Barnes scored 21 points, Blake Griffin had 18 points and 11 rebounds and the Los Angeles Clippers routed the cold-shooting Milwaukee Bucks 111-85 on Saturday night for their ninth consecutive victory. DeAndre Jordan added 15 points and 11 rebounds for Los Angeles, which had lost three in a row in Milwaukee. Griffin had three spectacular dunks in a brief stretch...
MILWAUKEE - Monta Ellis scored 17 points with 11 assists and eight rebounds as the Bucks beat Sacramento 98-85 Wednesday at the BMO Harris Bradley Center. Ellis went 7-for-17 from the field and was 2-of-4 from behind the arc, including a shot from just inside half court to end the first quarter. According to basketball-reference.com, the shot was the longest by a Bucks player since...
A visit to Cleveland should provide the Milwaukee Bucks with a good opportunity to extend their winning streak to a season-high four games. The Bucks can accomplish that feat with a ninth consecutive victory over the Cavaliers on Friday night. Milwaukee (11-9) has not trailed over the final three quarters in any of its last three games, holding opponents to averages of 88.7 points...
Celtics (22-7) vs. Bucks (19-13) December 14, 1979 Boston Garden The Celtics opened their third straight weekend set of three-games-in-three-days with the Western Conference's Milwaukee Bucks.  The two teams squared off just five days earlier at the MECCA and were set to conclude the season series at the friendly confines of the Boston Garden.  Don Nelson's Bucks had started...
MILWAUKEE -- The Los Angeles Clippers won their ninth game in a row behind an 18-point effort from Blake Griffin in a 111-85 victory over the Milwaukee Bucks on Saturday night at the BMO Harris Bradley Center. Griffin, the reigning Western Conference Player of the Week, went 7 of 12 from the field and 4 of 5 from the free-throw line. The Clippers had their way with the Bucks'...
The Milwaukee Bucks lost to the LA Clippers last night 111-85. It was never close. Bucks fall to 12-10. Ralphnuts had the work Christmas party last night, so fortunately, breezed quickly threw this one on tape delay this morning. Ugggglllllyyyyy. Positives: Really hard to find any positives out of this one. Hey, Epke Udoh shot 4/5, that's pretty good. Hopefully, a good reality...
NBA News

Delivered to your inbox

You'll also receive Yardbarker's daily Top 10, featuring the best sports stories from around the web. Customize your newsletter to get articles on your favorite sports and teams. And the best part? It's free!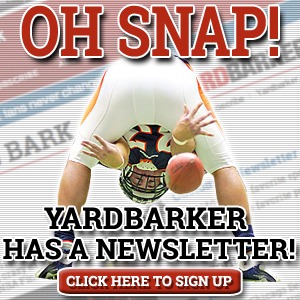 Latest Rumors
The Backyard

Today's Best Stuff

For Bloggers

Join the Yardbarker Network for more promotion, traffic, and money.

Company Info

Help

What is Yardbarker?

Yardbarker is the largest network of sports blogs and pro athlete blogs on the web. This site is the hub of the Yardbarker Network, where our editors and algorithms curate the best sports content from our network and beyond.