Found July 01, 2013 on Awful Announcing:
Robert Lipsyte began his highly anticipated tenure at ESPN with a column on the network's coverage of the Jason Collins story - specifically the episode of OTL that featured Chris Broussard saying homosexuals live in open rebellion to God. You can't say the column is timely given these events happened in late April, but Lipsyte does deliver the micro and macro analysis that gives you hope for his job as the independent voice providing a check and balance to the Bristol power structure.  Unlike many instances from his predecessor, Lipsyte takes on a topic that's still relevant to ESPN's consumers and those of us who have a keen eye to the inner-workings in Bristol.  Lipsyte sets the stage for his ombudsman tenure in the second paragraph: "More than one ESPN manager told me it was "a learning experience" and then couldn't come up with what had been learned. How about this: The tricky trifecta of religion, race and sexuality exposed not only the fault-lines in "OTL's" preparation but the inconsistent performance of ESPN journalism in general. The old story won't die because it brings up too many unresolved questions that we will be addressing in my scheduled 18 months as ESPN's fifth ombudsman." The Lipsyte column dives deep into that OTL episode and focuses on not just Chris Broussard, but host Steve Weissman and columnist LZ Granderson as well and how the entire framing of the conversation led to Broussard's comments that drew nationwide attention.  Lipsyte talked to all the principal figures in the show and some very interesting revelations are made through his reporting and analysis... * In what may be a surprise, ESPN executives found fault with all three individuals for allowing the conversation to evolve into one on the theological differences between Broussard and Granderson.  Namely, Weissman "lost control of the show" and allowed Broussard and Granderson to wander into a debate on their personal views on the news story. * In an absolute stunner, OTL producers or Weissman had no knowledge of Broussard's views on homosexuality before the episode aired in spite of him making them well-known publicly, even writing an ESPN column saying he's against homosexuality.  Considering the fact that John Skipper and ESPN threw Chris Broussard under the bus afterwards for speaking out of turn, it reflects even more poorly on the network for being unprepared that the conversation could go there. * 60% of feedback to Lipsyte as ombudsman was in favor of Broussard, either on religious or "freedom of speech" grounds.  I've had my say as a Christian who doesn't agree with Broussard's opinions on homosexuality, but considering the conversation went where it did focusing on Broussard and Granderson's personal beliefs it would be impossible to expect Broussard not to share them on that telecast. * Broussard and Collins did have a 10 minute conversation after the controversial OTL remarks. * ESPN would very much like to sweep this under the rug and move on: "The attitude, as I read it, was that these were small, regrettable, forgettable mistakes. No major fouls. In fact, considering ESPN's "Embrace Debate" mantra, it could have been far messier. In other words, we can move on. This was a one-off. You think? Or was it another example of that Jock Culture sensibility of not dwelling on an error, fine for the playing of games but not for the journalistic issues that affect our understanding and appreciation of those games." The majority of the column makes a nuanced point about context and Lipsyte questioning ESPN for trying to shrug off what was one of the most talked about moments on television this year and a black eye for Bristol.  I think it says something to the "Embrace Debate" culture as a whole that ESPN is happy to move on because it could have been worse.  What does it say about the network that the historic moment of Jason Collins coming out was overshadowed by the commentary and opinion offered on the network.   That's not to say people should be barred from sharing personal beliefs or ESPN should pretend sports exist in a mythical alternate universe that never intersects with important real-life issues.  As with anything in life, the key for ESPN is what they learn from the Broussard incident and whether they back away from tackling important real-life topics (hopefully not) or do they approach them with the proper context, preparation, and perspective (hopefully so).
Original Story:
http://www.awfulannouncing.com/2013/j...
THE BACKYARD
BEST OF MAXIM
RELATED ARTICLES
As the Washington Wizards enter the NBA Summer League with a good amount of young and potential studs in their line up, they're also looking to keep their core from last season in tact. This is a much different basketball team when they have all their players healthy and on the court at once as [...]
Martell Webster has agreed to a four-year deal to stay with the Washington Wizards. Webster reached terms with the team Tuesday. The contract can't be signed until July 10 under NBA free agency rules. Bringing back Webster was a top priority for the Wizards. The eight-year veteran swingman averaged a career-high 11.4 points last season and was a respected locker room leader...
Martell Webster has agreed to a four-year deal to stay with the Washington Wizards. Webster reached terms with the team Tuesday. The contract can't be signed until July 10 under NBA free agency rules. Bringing back Webster was a top priority for the Wizards. The eight-year veteran swingman averaged a career-high 11.4 points last season and was a respected locker room leader...
After adding Otto Porter to the roster in last week's NBA draft, the Washington Wizards took another step back towards respectability. With a young core of John Wall, Bradley Beal and Porter Washington clearly has a solid young trio to build around. While the team finds itself unable to make a run at any of the big free agents this summer the restricted free agent class of 2014...
Martell Webster will re-sign with the Washington Wizards for the mid-level exception, according to Adrian Wojnarowski of Yahoo! Sports.  The deal is reportedly for 4-years and worth $22 million. Webster, an 8-year veteran, was the Wizards No. 1 free agent priority after averaging career highs in points (11.4), 3-point shooting (42.2%), rebounds (3.9) and assists (1.9) last season with the team.
A solid backup point guard is very important to the success of an NBA team. Every team needs a reliable backup point guard to facilitate the offense in short spans of the game when momentum can shift at any moment. They need to be effective at keeping a game close, or conserving a lead. By [...]
The Washington Wizards will seek out Eric Maynor, Beno Udrih and John Lucas III as backup point guard options in free agency, according to sources. A.J. Price and Garrett Temple are both unrestricted free agents. Temple is the most likely of the two to return. The Wizards have already stated their goal is to make the playoffs next season.
The Washington Wizards will seek a backup point guard for John Wall in free agency and reportedly have interest in Eric Maynor who averaged 4.5 ppg and 2.8 apg with the Thunder/Blazers, Beno Udrih, 8.2 ppg and 4.6 apg with Bucks/Magic and John Lucas III, 5.3 ppg and 1.7 apg with the Raptors. According to the Washington Post: The Wizards still have four or five roster spots to fill...
The Washington Wizards have agreed to a four-year deal with Martell Webester worth $22 million. Webster averaged 11.4 points per game (42.2 percent on threes) last season for the Wizards. Webster was waived last offseason by the Minnesota Timberwolves.
A person with knowledge of the deal says Eric Maynor has agreed to a contract with the Washington Wizards. Maynor will serve as the backup point guard behind John Wall. Maynor's deal was confirmed a person speaking on condition of anonymity because NBA free agent deals can't be signed or announced until July 10. Maynor also confirmed the news on his Twitter account, saying...
Washington Wizards point guard John Wall joins Dwight Howard for a conversation in Chinese. You can imagine what follows.
According to Michael Lee of the Washington Post, point guard Eric Maynor, will sign a multi-year deal with the Washington Wizards. Maynor did not see much playing time in OKC and was traded mid-season last year to the Portland Trail Blazers where he averaged 6.9 points and 4 assists in 27 games.
Wizards News

Delivered to your inbox

You'll also receive Yardbarker's daily Top 10, featuring the best sports stories from around the web. Customize your newsletter to get articles on your favorite sports and teams. And the best part? It's free!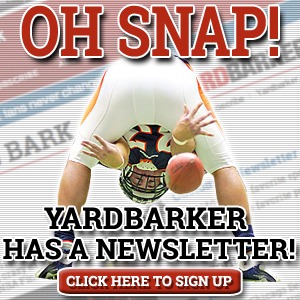 Latest Rumors
The Backyard

Today's Best Stuff

For Bloggers

Join the Yardbarker Network for more promotion, traffic, and money.

Company Info

Help

What is Yardbarker?

Yardbarker is the largest network of sports blogs and pro athlete blogs on the web. This site is the hub of the Yardbarker Network, where our editors and algorithms curate the best sports content from our network and beyond.