Found November 02, 2012 on NorthWest Sports Beat:
PLAYERS:
Nicolas Batum
,
J.J. Hickson
,
Kevin Durant
,
Russell Westbrook
,
Kevin Martin
,
Damian Lillard
,
Steve Nash
,
Steve Blake
,
LeBron James
,
Elliot Williams
,
Ronnie Price
TEAMS:
Portland Trail Blazers
,
Oklahoma City Thunder
,
Los Angeles Lakers
,
Miami Heat
First road challenge The Portland Trail Blazers started their season off on the right foot with a 116-106 victory against the Los Angeles Lakers, but now it's time to take their act on the road against the defending Western Conference champions, the Oklahoma City Thunder. Matchup: Portland (1-0) @ Oklahoma City (0-1) Venue: Chesapeake Energy Arena Time: 5:00 PM PT Date: November 2, 2012 The Thunder will be about as tough as it gets early in the year, but they're just one of a string of contenders the Blazers must face before the schedule lightens up in the second half of the month. Game Notes/How They Match Up Wesley Matthews needs another strong performance to take down the Thunder. Photo: AP/Don Ryan These teams have a lot in common. They're both young, they both have an established go-to scorer and they both play an up-tempo style of ultra-exciting basketball. The difference? Only one is considered a contender this season. Oklahoma City is looked at as the favorite out West in the eyes of many—especially considering the early struggles of the Los Angeles Lakers—and despite the changes in their roster from last year, they're going to be in the mix for a title run in 2013. Portland, on the other hand, is looking to simply upset one of the league's best teams. If the Blazers can come out strong with a ton of energy, they're going to challenge OKC from start to finish. If they can't, this game could expose the youth on Portland's roster, and the team could be in for a long night. What to Watch: Portland The Blazers are coming off a contest where the crowd had their back for an entire 48 minutes, and it will be interesting to see how this young group responds with the boos coming their way on Friday. The starters in Portland overachieved in a number of ways in the opener against L.A. We all know about the potential of Rip City's first five, but who really expected Nicolas Batum to lead the way with 26 points, J.J. Hickson to collect 10 rebounds and Wesley Matthews to chip in with 22 points on 4-of-6 three-point shooting. If the Blazers can get this kind of production every night, it's going to be a great season. However, this is a young roster, and you have to imagine that if things start going downhill, the dominoes will begin to fall in the wrong direction. Watch for this team to push the pace again on Friday, but as fans, hope that the term "disorganized chaos" remains a term of endearment and not an insult. What to Watch: Oklahoma City The Thunder don't possess an inside offensive presence this season, so their attack is going to come in the form of fast-break opportunities and superstar isolations. The subtraction of James Harden from the equation could slow down their offense slightly, but it could also open up more scoring opportunities for both Kevin Durant and Russell Westbrook. Both players are going to look to get involved, and both players are as hard to stop as it comes in this league. Of the team's newest additions, Kevin Martin is most noteworthy. His offense is dangerous, yet inconsistent, making him a wild card early in the year. OKC averaged the most blocks in the NBA last season, but with Portland getting their points in transition, the Thunder will look to win this game by simply outscoring the Blazers. Lillard is up against a challenge when he faces Russell Westbrook and the Thunder. Photo: Randy L. Rasmussen Key Matchup The key matchup in this contest is going to feature Damian Lillard against the player he openly compared himself to this past summer, Russell Westbrook. Westbrook has the tools to be a great defender on any given night, but his lack of effort and willingness to take risks limits his abilities on that end of the floor. That being said, he's going to be a huge upgrade defensively from Steve Nash and Steve Blake, and it will be interesting to see how Damian Lillard handles a point guard who is even more athletic than he is. Lillard's opening-night performance was arguably the best showing of any rookie in the entire NBA. His 23 points and 11 assists made him the first player to record at least 21 points and nine assists in his first game since LeBron James did it in 2003. He also became just the third player in league history to record at least 20 points and 10 assists in his debut. The other two are Oscar Robertson and Isiah Thomas—not bad company, right? Lillard and Westbrook are the epitome of today's NBA point guard, and this matchup is going to be a fun one to watch not just on Friday, but for years to come. Injury Report Portland: OUT—Elliot Williams, QUESTIONABLE—Ronnie Price Oklahoma City—N/A Prediction The Blazers took down their first big challenge on opening night, but an away game against the Thunder should prove to be an even bigger test. The Thunder had the NBA's third-most potent offense last year, and they'll be looking to display it proudly come Friday night. If Portland can't keep up, they'll be in trouble in their second game of the season. Blazers 98 – Thunder  109 CLICK HERE TO CHECK OUT THE BLAZERS BLOG IN OUR CLUBHOUSE TODAY AT NWSB!
Original Story:
http://www.nwsportsbeat.com/trailblaz...
THE BACKYARD
BEST OF MAXIM
RELATED ARTICLES
The Blazers came out with massive amounts of energy on opening night in the Rose Garden, and a balanced team effort led by Nicolas Batum and rookie Damian Lillard sparked the Portland Trail Blazers to a 116-106 victory over the Los Angeles Lakers.Head coach Terry Stotts' team-oriented motion offense is a far cry from former coach Nate McMillan's plodding, isolation offense...
OKLAHOMA CITY James Harden went off again. Yeah, him. Somehow, I get the feeling people around these parts are going to be talking about Harden this season. A lot. Forget the first-guessing, that's too difficult. It's all second-guessing now. It's a full-blown case of, "Should they or shouldn't they have traded Harden," and it's infected everyone...
According to a report, former Oklahoma City Thunder star (now Houston Rockets star) James Harden was traded from O.K.C. because of something he did with a teammates girlfriend in Los Angeles.The source says that Harden caught up with R&B singer Keri Hilson last week, at a Los Angeles nightclub. The source claims that one of the Oklahoma City Thunder executives took a photo of...
Athletes and local car commercials. This formula almost always produces instant gold for our viewing pleasure. Watch as various members of the Oklahoma City Thunder appear in a local spot for Norman Chrysler.  Kendrick Perkins will not sing that goofy song. Kendrick Perkins may also kill you for suggesting he sing such a song. Kendrick Perkins is actually quite frightening. 
In the preseason, people were asking me if they should take Serge Ibaka in the third round or the fourth round, as if those were the only two options. Sure, he's great with the blockin' and all, but I do not consider him a well rounded Center. Last night's game is about what I expected, although with more rebounds and less blocks: 4 points, 9 rebounds, 2 blocks. His value...
44 minutes, 37 points, 12 assists, 6 rebounds, 4 steals, 1 block. Those numbers have to hurt the Thunder at least a little bit.  Yeah it was only one game, but that one game was indicative of what they will be missing out on moving forward. There was James Harden, a central cog in the Thunder's run to the Finals last year and a figured future cornerstone of the franchise, dropping...
In the midst of the fervor and hoopla surrounding the state of Oregon's two undefeated college football teams last Saturday, in the midst of the countdown to the start of a conservatively promising Portland Trail Blazers season, during the climax of the World Series, and hidden behind the looming disaster of a ferocious hurricane and upcoming elections, the Portland Timbers...
Circumstances have changed for the Oklahoma City Thunder since they last played a meaningful home game. The Thunder have won their last three home openers heading into Friday night's matchup with the Portland Trail Blazers. The last time Oklahoma City was preparing to play at home, it was Game 2 of the NBA Finals against Miami after the Thunder took the opener. The Heat, of...
The Oklahoma City Thunder already faced a daunting task in trying to return to the NBA finals. That might have gotten even more difficult after last weekend's trade. The Thunder now have to make another push for a title without reigning Sixth Man of the Year James Harden, a quest they begin on the road Thursday night in a Western Conference finals rematch against the San Antonio...
Oklahoma City Thunder (0-0) vs.San Antonio Spurs (1-0) 9:30 p.m./TNT The Thunder kick off their Western Conference title defense against the team they needed to dethrone to get to the Finals for the first time since 1996 (or ever, depending on whose history you choose to believe). Oklahoma City may have lost James Harden, but this is largely the same team that took four straight...
The NBA decided not to wait too long to give us a rematch of last year's Western Conference Finals. The Oklahoma City Thunder open their season tonight in San Antonio against a Spurs team that they sent packing before falling short against the Miami Heat in the Finals.   The Thunder will look a little different this year after trading reigning Sixth Man of the Year James...
NBA News

Delivered to your inbox

You'll also receive Yardbarker's daily Top 10, featuring the best sports stories from around the web. Customize your newsletter to get articles on your favorite sports and teams. And the best part? It's free!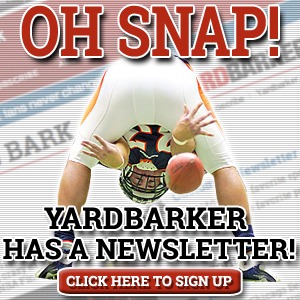 Latest Rumors
Best of Yardbarker

Today's Best Stuff

For Bloggers

Join the Yardbarker Network for more promotion, traffic, and money.

Company Info

Help

What is Yardbarker?

Yardbarker is the largest network of sports blogs and pro athlete blogs on the web. This site is the hub of the Yardbarker Network, where our editors and algorithms curate the best sports content from our network and beyond.