Found June 20, 2013 on Helmet and Pads Required:
"Carve your name on hearts, not tombstones. A legacy is etched into the minds of others and the stories they share about you." ― Shannon L. Alder At 9pm Est tonight when the Miami Heat and the San Antonio Spurs tip-off game seven of the 2013 NBA Finals. Everyone who is involved in tonight's game, will see their legacy affected someway, somehow whether they like it or not. It's just how life goes in the world of professional sports. Unfortunately for two people in particular, LeBron James and Tim Duncan, their legacy will be affected the most as they're the "cornerstone pieces/superstars" for not only their respective franchises, but also the NBA. Many, including myself, who truly know the game of basketball will tell you, "In the history of the NBA Finals. Superstars dominate and win game 7s." The spotlight will be on Bron and Duncan before, during and after tonight's game ends. The NBA seems to be the only pro sports league in which MULTIPLE rings are what separate the all-time greats from the "just greats". Whereas in other pro sports leagues, one ring is good enough to cement you as an all-time great. With that kind of ideology fueled by sports radio, fans, columnists and bloggers. The amount of rings, or in LeBron's case, ring, and accomplishments that Timmy and LBJ have, will almost be forgotten or down played when the outcome of tonight's game is decided. To many people, the loser of tonight's game will be looked at as not good enough to make it happen in the biggest game of the season when they needed to do so the most. Especially if that person coming up short tonight is LeBron. People love to hate them some LeBron. Why? …….. Because in today's sports world, people tend to live in the moment. Tim Duncan: For years, many people have put an imaginary asterisk next to the Spurs 1999 championship as it came during the strike shortened season where there was only a 50 game schedule. Then you have the 2007 championship against the Cleveland Cavaliers which was LeBron and 14 guys Cavs GM, Danny Ferry found off Craigslist. Many look at the 2007 NBA title as being won against maybe the worst team to make it to the Finals in NBA history. Then you have the fact that unlike other top 10/15 NBA all-time greats. Timmy has never won back to back titles. If Timmy can get number 5 tonight. It would make the "yeah but" people shut up, as Timmy would be in exclusive company with an NBA championship ring for each finger on one of his hands. That said, if Timmy doesn't capture his 5th ring tonight. He will face criticism from naysayers. But not as bad as what LeBron will. It's sad to say this, but its true. LeBron James: Everyone remembers LeBron in the 2011 NBA Finals where he basically looked as if he didn't even want to be in the game at times during that series after dominating the first three rounds of the playoffs that year. Prior to the 2011 Finals, you had the 2007 Finals in which he was outmatched and out manned by the Spurs. People have given him a pass on being swept by the Spurs. In fact, LeBron has gotten major props for just getting that 2007 Cavs team to the Finals because everyone realizes that the 2007 Cavs were straight trash. Then you have last year, the 2012 NBA Finals, where LeBron dominated and carried the Heat to that championship. To many, that's cool and all. Nevertheless, if LeBron is truly one of the all-time greats, many feel that he must win back to back titles and come through in the clutch. If he doesn't make that happen tonight, not only will he not have done so, but he will be 1-3 in the NBA Finals during his career. Now the funny thing is, people are making it (LeBron being 1-3 in the Finals if he loses tonight) to be such a big deal. But many seem to forget that other NBA all-greats have lost multiple NBA Finals too. Well…..I don't know if its because people forget, or they just don't know. In addition to LeBron's NBA Finals résumé. In this year's Finals, he has played very, very hesitant at times. LeBron has not looked like the player that he has been over the past two years. For someone who is considered to be the best player on the planet and has played like it anytime he steps on the court. LeBron not playing like the best player on the planet during this series will be thrown at his face everyday until he gets back to the Finals and redeems himself, especially if the Heat lose tonight. One could say, when you're being mentioned in the same sentence with Michael Jordan on a daily basis as LeBron is, your legacy is scrutinized daily. Any and every time you step on the court, you're putting your legacy at stake of not being good enough to Jordan or other all-time greats. Some would say, "LeBron brought this on himself." I would have to say the media did it more so than LeBron. Since LeBron was a sophomore in high school, the media, mainly ESPN and Sports Illustrated, has been hyping him as the "The Chosen One" and the next all-time great. The expectation of greatness that would rival MJ was there way before LeBron left high school. Luckily for Timmy, he doesn't face the scrutiny LeBron does and never has which is why I said earlier, even if Timmy loses, he won't get the same type of "shade" that LeBron will. All in all, tonight is all about "Legacy" and how one's legacy will be perceived by people globally. Question is, how will Timmy's and LeBron's be perceived after tonight? Only time will tell…..It will be interesting to see how things unfold.
Original Story:
http://feedproxy.google.com/~r/helmet...
THE BACKYARD
BEST OF MAXIM
RELATED ARTICLES
The NBA has confirmed that the Spurs made an illegal substitution when Tim Duncan was allowed back into the game after Ray Allen's game-tying shot at the end of regulation.
Tim Duncan was asked if he may consider retiring following the San Antonio Spurs' disappointing Game 7 loss to the Miami Heat. "Can't believe you're asking that question," he said. "It's been five, six years you're saying we're too old. I'm not going to answer that." Duncan was a First Team All-NBA selection and had a vintage performance in the NBA Finals...
Game 6 was over … and then, it wasn't. With the Miami Heat stealing victory from the jaws of defeat on Tuesday night, there will be a Game 7 in the NBA Finals. However, the fate of that game doesn't seem to be very much in doubt. After the Heat's dramatic win, of course, the Spurs aren't being given much of a chance to come back and triumph in the next game. It would seem...
With the championship on the line, emotions are running at an all-time high in tonight's Game 7 matchup. Spurs guard Tony Parker was smack dab in the middle of a threeway conversation with Miami's LeBron James and referee Danny Crawford when teammate Tim Duncan kindly reminded Parker that his presence was needed in the Spurs huddle by dragging the San Antonio guard to the sidelines...
The folks who run NMA World Edition really do have their collective fingers on the pulse of American sports, so it should come as no surprise that they have created one of their patented Taiwanese Animation Treatment videos for Game 7 of the NBA Finals. And, as they are wont to do, NMA managed to [...]The post Tim Duncan drives motorized cart in Game 7 Taiwanese Animation Treatment...
The San Antonio Spurs were within seconds of clinching the 2013 NBA title — what would've been the franchise's fifth since they drafted Tim Duncan in 1997 – but then, they collapsed. As far as collapses are concerned, it was a respectable one, but the pain hurts all the same. Now, the Miami Heat will take the court for Game 7 this Thursday with both momentum and the NBA...
In terms of classic GIF's, this one of San Antonio Spurs Tim Duncan pulling Tony Parker away from LeBron James by his jersey is an instant classic. Clearly, Tim is older brother here… *** Tim pulls Tony Parker away from LeBron James [Yahoo Sports]  
One more defensive rebound, and the Spurs would have been spraying champagne. One more board, one measly Heat miss corralled by the Spurs in the final 23 seconds of regulation, and the NBA Finals are over. Forget a Game 7, forget LeBron James' headband, forget Manu Ginobili laying a gigantic egg for the umpteenth time in the series. It should be over. Tim Duncan should be passionlessly...
MIAMI (AP) These NBA Finals were apparently about the kids. Whether it was Tim Duncan spending a few minutes with his children at halftime of Game 5 of the series a scene captured by television cameras as the Spurs' forward sat on the floor resting up for the second half or Miami Heat star LeBron James celebrating one of his sons' birthdays in San Antonio last week, kids...
Game 6 of the NBA Finals started out at a frantic pace. Both the Heat and the Spurs seemed to be scoring at will. Tim Duncan found the fountain of youth in Game 6. He went 11 for 13 in the first half and was a beast in the paint on both sides of the court. He finished the game with 30 points and 17 rebounds, but it was not enough as the Heat won 103-100 in overtime to force a Game...
It's the two best words in sports: Game 7. Sports fans around the country are in for a treat tonight as the Miami Heat and the San Antonio Spurs face off in a winner take all game for the NBA Championship. After four consecutive blowouts in Games 2-5, Game 6 was one for the ages. It had everything you ever wanted in a finals game. So after all the craziness that has been this year's...
It was painful to watch as the San Antonio Spurs walked off the Heat home court in a Game 7 loss in the NBA Finals. It was the first time in the Spurs' history they lost in an NBA Finals. The Spurs spoke about the loss and needless to say, the pain of losing in basketball's grandest stage was evident on their faces. Tim Duncan: Coach Pop: Tony...
NBA News

Delivered to your inbox

You'll also receive Yardbarker's daily Top 10, featuring the best sports stories from around the web. Customize your newsletter to get articles on your favorite sports and teams. And the best part? It's free!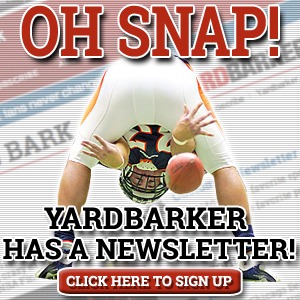 Latest Rumors
Best of Yardbarker

Today's Best Stuff

For Bloggers

Join the Yardbarker Network for more promotion, traffic, and money.

Company Info

Help

What is Yardbarker?

Yardbarker is the largest network of sports blogs and pro athlete blogs on the web. This site is the hub of the Yardbarker Network, where our editors and algorithms curate the best sports content from our network and beyond.