Found March 19, 2012 on NBA 24/7 365:
Monday, March 19th: Mavericks @ Nuggets, 10:30 ET, TNT: I've said it before and I'll say it again: the one aspect of the Nene trade that excites me is the minutes it has freed up for Kenneth Faried.  "Manimal" is one of the league's most exciting players to watch at his position thanks to his amazing athleticism and nonstop hustle.  He's a great fit in Denver's up-and-down system, and he's almost guaranteed to provide at least one top 10 play per game.  He had his best performance as a pro against Boston on Saturday, and I don't think Dallas has anyone energetic enough to keep him contained.  Hopefully he'll give us another spectacular showing. Tuesday, March 20th: Thunder @ Jazz, 9:00 ET, NBALP: I have total faith in the Jazz to compete with anyone on their home floor.  They should be feeling extremely confident coming off of a road win against the Lakers, and I expect them to leave it all on the court, because–depending on what happens in a couple of other games–this could be the victory that gets them back into the 8th spot.  This certainly isn't a game I'd put any money on… I think it could go either way. Wednesday, March 21st: Knicks @ Sixers, 7:00 ET, ESPN: This will be a solid test for Woody's Knicks.  The emotion involved in playing under a brand new coach should be starting to wear off, and we will, once again, have to wait and see what the Knicks are really made of over the next few weeks.  I figure Woodsanity will have gone the way of Linsanity by the time the season comes to a close. Thursday, March 22nd: Celtics @ Bucks, 8:00 ET, NBALP: Things could change by the time this game rolls around, but as of today the Cs are on a two-game losing streak, the Bucks are on a five-game winning streak, and only three games separate the two teams in the standings.  This match up presents a big opportunity for both teams.  It should be a good one. Friday, March 23rd: Nets @ Hawks, 7:30 ET, NBALP: Thanks to Gerald Green, the Nets are worth watching!  I've started to tune in nearly every time they play, but even if you aren't quite that intrigued I think they're still worth three hours of your week.  I chose a match up with Atlanta because the Hawks are liable to lay an egg. Saturday, March 24th: Grizzlies @ Clippers, 3:00 ET, NBALP: Zach Randolph should be starting to work his way back into regular form by the time this revenge game comes about.  I wish I could say the same for the Clippers, but they were never in form and certainly aren't showing any signs of working towards it. Sunday, March 25th: Grizzlies @ Lakers, 10:30 ET, ESPN: I'm going with the Grizzlies two days in a row.  After their last match up with the Lakers… how can I not?  Here's to hoping for a similarly great game but an entirely different outcome (the Grizz got shafted on their home floor, so I'm rooting for them).
Original Story:
http://nba247365.com/?p=5545
THE BACKYARD
BEST OF MAXIM
RELATED ARTICLES
The Denver Nuggets have brought back Wilson Chandler, agreeing to a five-year deal worth nearly $37 million with the versatile forward. Chandler played overseas for Zhejiang Guangsha of the Chinese Basketball Association during the lockout, averaging nearly 27 points and 12 rebounds in 32 games. Once the NBA season started back up, Chandler was ineligible to return until his team...
The Denver Nuggets have been crushed by injuries this year.  Nene was hurt earlier this year.  Rudy Fernandez missed significant time.  Danilo Gallinari was just getting back into his groove after missing a month.  But just as quickly as it seemed the team may have been starting to jell again, it's falling apart with ANOTHER Gallo injury.  This time, it's a fractured...
Another loss but at least they tried in this one.  But it also highlighted the need to get a rebounder.  If only Kenneth Faried had a twin brother that likes green.  Bring back Leon.  At least he boxes out and goes after rebounds.  I think the Celtics have forgotten how to box out.  Where's Cliff Ray when you need him?  Oh yeah, out in Sacramento. :(   Another game where...
Denver Nuggets forward Danilo Gallinari could miss up to four weeks because of a broken left thumb.Gallinari left Monday's 112-95 loss to the Dallas Mavericks in the third quarter after attempting to block a shot and hitting the thumb on the backboard.X-rays revealed a fracture after the game.The 23-year-old leads the Nuggets in scoring at 15.6 points per game.
With all of the March Madness games over the weekend the best play still came from the NBA.  It was Danilo Gallinari who had what will surely be the assist of the year (if that award exists.)   He barely managed to stay in bounds then threw a behind the back pass directly at Kenneth Faried's chest for the easy lay in.  Video of the pass is below. Like this post...
Ronny Turiaf is expected to sign with a team by Wednesday.
Danilo Gallinari fractured his left thumb on the backboard while trying to block a shot in Monday's game.
#CelticsTalk: You can add recently-waived Ronny Turiaf to the growing list of players that's on the #Celtics radar. — A. Sherrod Blakely (@SherrodbCSN) March 18, 2012 Please no. This former Laker sucked when he was getting clowned in the 2008 finals by the Celtics. Now he's a shell of his limited former self. Plus he's always injured and he has a bad ticker. Let the...
The signing of Wilson Chandler seems like it couldn't have come at a better time for the Denver Nuggets. With Danilo Gallinari and Andre Miller suffering injuries in their last game, the Nuggets might need Chandler to shoulder more of the offense Wednesday night against the Detroit Pistons. Denver (25-21) re-signed Chandler to a five-year deal worth nearly $37 million Sunday...
                              Kenneth Faried showed everyone why he's called the "Manimal" tonight. Faried had 8 boards in his first 8 minutes, and 11 in the first half. He finished with a game-high 16 boards, and had more offensive rebounds (6) than the entire Celtics' squad's 4. Denver had 17 rebounds alone in the 1st quarter, and destroyed...
NBA News

Delivered to your inbox

You'll also receive Yardbarker's daily Top 10, featuring the best sports stories from around the web. Customize your newsletter to get articles on your favorite sports and teams. And the best part? It's free!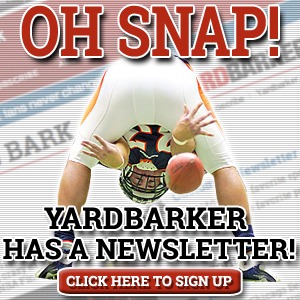 Latest Rumors
Best of Yardbarker

Today's Best Stuff

For Bloggers

Join the Yardbarker Network for more promotion, traffic, and money.

Company Info

Help

What is Yardbarker?

Yardbarker is the largest network of sports blogs and pro athlete blogs on the web. This site is the hub of the Yardbarker Network, where our editors and algorithms curate the best sports content from our network and beyond.