Found March 13, 2013 on Fox Sports West:
After finally climbing back above .500, the Lakers may get Pau Gasol back soon to help bolster their playoff run. Gasol's initial prognosis, after tearing the plantar fascia of his right foot, was a minimum of six to eight weeks for recovery. Injured on Feb. 5 in a win against the Brooklyn Nets, Gasol has hit the five-week mark but could be back as early as next week. On Tuesday, the veteran forwardcenter ran through his first on-court basketball drills. As long as he doesn't face any setbacks Wednesday, he'll continue to ramp up his activity. While there isn't a concrete date yet, a reasonable guess would be the March 22 game against the Washington Wizards at Staples Center. The Lakers have a busy schedule ahead with games Wednesday, Friday, Sunday and Monday followed by three days off before the Wizards on the following Friday. Gasol should be able to get enough practice time in by then, assuming his foot continues to improve. It's unclear whether Coach ...
Original Story:
http://www.foxsportswest.com/nba/los-...
THE BACKYARD
BEST OF MAXIM
RELATED ARTICLES
Dwight Howard made his highly anticipated return to Orlando Tuesday and he was greeted by a number of creative signs and t-shirts designed by Magic fans who were just delighted to have Howard back in town.     via Ben Golliver, Sports Illustrated, @madeineighty8, @Magicnba, @DavidBaumann33, @joekepner, @jose3030
The Los Angeles Lakers suffered a difficult defeat last night the Hawks, but more concerning is the loss of Kobe Bryant to injury. Bryant rolled his ankle and suffered a severe sprain on the final play of the game, as he came down awkwardly on his game-winning shot attempt. It appeared as if Dahntay Jones undercut him when he challenged the shot, causing Kobe to hurt himself. This...
Something about the Los Angeles Lakers brings out the worst free throw shooters. It started with Hack-a-Shaq and now it's become Hack-a-Dwight. Hack-a-Dwight is when a player may be intentionally fouled the moment he gains possession of the ball, but he may also be fouled when he is off-the-ball. However, the NBA has a rule discouraging the defense from intentionally fouling a...
Much has been made about Los Angeles Lakers big man Dwight Howard and his return to his former homecourt in Orlando. On Tuesday, Howard lived up to his Superman persona scoring 39 points and 16 rebounds in the Lakers victory over a a Magic team that is currently the worst in the NBA. Please click here to read this story and watch video from Howard's evening The post Dwight...
The Lakers' push for the playoffs might be without Kobe Bryant for a while. The Los Angeles star severely sprained his left ankle Wednesday night after missing a game-tying shot in the closing seconds of a loss to the Atlanta Hawks. Lakers spokesman John Black said Bryant is out indefinitely, just as a team that underachieved much of the season is playing its best basketball...
Dwight Howard was swarmed by media at Tuesday's shootaround in Orlando prior to his first game back since being sent to Los Angeles in a blockbuster trade. The 8-year Magic center says there is no nervousness or anxiousness about returning to play in the Amway Center, "..I'm just ready to go play. We need another win." He does, however, hope his and the teams accomplishments...
INSULT TO INJURY
The NBA posted a statement on its website that said a foul should have been called on Dahntay Jones on the play that resulted in Kobe Bryant's ankle injury.
ORLANDO Perhaps it's time to retire the talk that the Orlando Magic need to retire Dwight Howard's old jersey number. While the booing and fouling of Howard in his return to town as a member of the Los Angeles Lakers was predictable, here's something that wasn't: Tobias Harris, making his third start since being acquired three weeks ago in the trade which sent J...
Kobe Bryant's availability for Friday night's game will be a game-time decision. The Lakers' star has spent the past two days treating what he calls the worst sprained ankle of his career. He was injured after landing on the foot of Atlanta's Dahntay Jones in the closing seconds Wednesday night. NBA officials said Thursday a foul should have been called on the play...
ORLANDO, Fla. (AP) -- Dwight Howard scored a season-high 39 points, had 16 rebounds and was sent to the free throw line 39 times by his former team as the Los Angeles Lakers beat the Orlando Magic, 106-97 on Tuesday night. The victory came in Howard's first return to Orlando since his drama-filled offseason trade to the Lakers. He endured a chorus of boos throughout, and tied...
Go ahead and put the name Kobe Bryant into the search box here at hecmanhoops. Go ahead, don't be shy, it's fun! Try it and see what comes up. Actually, I'll save you the trouble, you're not going to find much. There's nothing to ever report! Other than his stellar fantasy lines anyway and where's the fun in writing about something you already knew. What possible insight...
After scoring 11 points grabbing 7 rebounds and dishing out 8 assist against the Orlando Magic Kobe Bryant spoke to the media about Dwight's return to Orlando, the "Hack-a Dwight" strategy, and keeping a rhythm as a team. sr_adspace_id = 1000001551307; sr_adspace_width = 728; [...]
NBA News

Delivered to your inbox

You'll also receive Yardbarker's daily Top 10, featuring the best sports stories from around the web. Customize your newsletter to get articles on your favorite sports and teams. And the best part? It's free!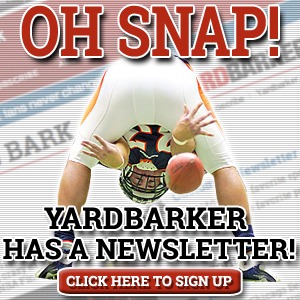 Latest Rumors
Best of Yardbarker

Today's Best Stuff

For Bloggers

Join the Yardbarker Network for more promotion, traffic, and money.

Company Info

Help

What is Yardbarker?

Yardbarker is the largest network of sports blogs and pro athlete blogs on the web. This site is the hub of the Yardbarker Network, where our editors and algorithms curate the best sports content from our network and beyond.