Found January 04, 2013 on Fox Sports Florida:
Theres a quote on the walls of the stairway leading up to the practice gym at WakeForest University. A quote that Orlando Magic point guard Ishmael Smith repeated countless times as he climbed that stairway in the late hours of the night and the early hours of the morning. A quote he still repeats today, now three years out of college and finding his way in the NBA. The quote reads: There are only two types of players, three to six players or six to three players. Which one are you?My coach, Skip Prosser used to ask us that all the time. Smith explained. He would tell us that if we want to be the best we have to put in extra time outside of our practices, which were from three oclock in the afternoon to six in the evening. That extra time, from six to three, is the reason why Smith undrafted out of college has found a home with the Magic. After practices, he can be seen following behind one of the assistant coaches, listening attentively to whatever lesson is being taught.I ask a lot of questions, Smith said. Well, this week it was FOX Sports Floridas turn to ask the questions. A change of pace for the speedy point guard, but just like a ball in his hands, Smith handled it like pro.FS Florida: Your coach, Skip Prosser, passed away after your freshman year at Wake Forest. It was a devastating loss to the game of basketball and to all who knew him. What do you carry with you from your relationship with Coach Prosser? Smith: Coach P. was one of the greatest guys I've ever been around. I always tell people, I would rather have spent one year with Coach Prosser than four years with any other coach in America. Thats how impactful he was in just one year for my life. He treated everyone with the same love and respect, and that has carried on in me and in the other guys hes coached. Coach P. was just a special guy. I'm so blessed to havespent time him. FS Florida: What was it like playing for him? Smith: Ahh man. Coach brings the best out of you. He was probably the hardest on me than any other coach Ive ever had. But when people are hard on you its because they see something in you that you dont see in yourself. Hes the one who taught me how to be a student of the game. When I came to college I was just speed. I was just going to be faster than you. But I had no control, no change of pace. Him and coach Battle, my position coach, they sat me down in the office every day and made me watch clips of guys who have learned how to use their speed to their advantage. They are the ones who really taught me how to be a student of the game. FS Florida: What does that mean, A student of the game? Athletes say that a lot. Smith: Well, for me as a point guard it means a lot more than just knowing your game and what you like to do on the court personally. I have to know all the guys on my team and on opposing teams. I have to know their tendencies, know where they're comfortable, where they're uncomfortable. You have to know time and score situations and how to manage a game. Its a lot of studying that goes into the game, and I just enjoy all of that. You prepare as much as you can so that when youre out there on the court you can just play and let your instincts take over. FS Florida: So since you are a student of the game, I would like to test your knowledge a little with a pop quiz. The category will be NBA player nicknames, since you also have a nickname. Smith: Okay, okay, I get it. Ish is my nickname. Its short for Ishmael. FS Florida: Yes, youre Ish. Now, whos "The Glide?" Smith: Easy, Clyde Drexler. Clyde the Glide. FS Florida: Jellybean? Smith: Kobe. No, no. Kobes dad. Im sorry. FS Florida: Speedy? Smith: Speedy Claxton. FS Florida: The Dream? Smith: Come on, Hakeem Olajuwon. FS Florida: Reign Man?Smith: Reign Man? Dang, I should know this one. I remember the Iceman, George Gervin. The Reign man? I dont know it. FS Florida: Shawn Kemp Smith: Ahhh. Yeah, thats one I shouldve got. Dang it. Whats next? FS Florida: Black Magic? Smith: I heard of Black Magic. Man, whats his real name? They used to call him Black Magic because he was so smooth. Everybody said when he played on the playground it was like magic. They called him Black Jesus too.FS Florida: And he has another nickname, The Pearl. Smith: Dang. Earl The Pearl Monroe. How did I not get that? He went to Winston Salem State! Whos next? FS Florida: Grandmama? Smith: Charlotte Hornets. Larry Johnson. FS Florida: The Glove?Smith: Gary Payton FS Florida: Were those too easy for a basketball guru like yourself? Smith: I missed two of them. Im not happy about that. Not happy about that all. FS Florida: How important is it for you to know the history of the game? Smith: Well, my father introduced the game to our family. He would show us old Jordan clips, old Isaiah clips, old classic games from back in the '80s and '90s. For me, the game has always been fun. I love to go back and watch those guys and see how they played. Its kind of like knowing your history, and knowing where you came from. Back in the '70s, '80s, and '90s basketball was some absolutely great basketball. FS Florida: Do you think your love for the game also came a little bit from growing up in North Carolina? A lot of people from North Carolina consider it to be a big basketball state. Smith: Well, yeah we do because were certainly not a football state (laughing). We have some good football players to come out of there, but theres a whole laundry list of basketball greats. I think being in the heart of ACC country and watching all those college games growing up, its hard not to fall in love. I really do feel like North Carolina is a grass roots state for basketball players. But thats just my opinion though. Im probably a little biased (laughing).FS Florida: Whats life like outside of basketball for you? Smith: If Im not watching basketball or downloading music, Im probably spending time with my family. My two older sisters, my brother, and my cousins, those are my closest friends. Growing up, I had the guys I played ball with and were all cool, but my family is my heart. I love spending time with them. FS Florida: So they come down here a lot then? Smith: Yes! Listen, when I was playing on the west coast it was so hard for them to come visit. Now, its like an hour and a half flight. They come visit me all the time and I love it because its just so much fun clowning around with them. FS Florida: Speaking of clowning around, I heard you watch a lot of cartoons. Whats your list of favorites? Smith: Yes! I love cartoons. I like a lot of them too. I mean, you got the classics like Bugs Bunny. Im a huge Bugs Bunny guy. Then you got Recess, Doug, Hey Arnold. Hey Arnold was my show, for real. I miss the days of waking up early on the weekends to sit in front of the TV and watch One Saturday Morning. Honestly, if Im not watching basketball, Im either watching cartoons or football.FS Florida: Would you say youre a big kid at heart? Smith: Oh yeah. Definitely. FS Florida: Why is that? Smith: Because Im only 24 (laughing). Honestly, I just like having fun. I dont ever want to be the type of person that takes life too serious, cant laugh or have a good time. The only time Im ever really serious is when I dont play well. You might not see me smiling, but even in that Im just thinking "bounce back." Life goes on. Get in the gym, work on your game and be better the next time you step on the court. I try not to let it steal my joy. FS Florida: Where does that child-like joy come from? Smith: The Lord. Im so serious about that too. My mother and my father instilled in all of us a strong faith at an early age. If I didnt have that, Id probably be going crazy right about now.FS Florida: Youve already told us youre not a good cook. So where do you go out to eat? Smith: Chipotle is the spot! I get the same thing every time too. Yes, let me get three chicken tacos, crunchy, sour cream, cheese, medium sauce, and some chips. Same thing every time and Im not going to switch it up. FS Florida: So youre a creature of habit. Smith: Yeah, I think thats what it is. It might not be the healthiest choice, but I am so used to doing the same things every day. Playing basketball all your life, you get into this regimented schedule. You just get comfortable. Like I know after the game Im going to Steak n Shake, every time. Maybe if I could cook I would try to switch it up, but I cant cook.FS Florida: Are you like that about the music you listen to before the games also? Smith: Yeah I am. I always have to listen to something chill before the game, something R&B, to calm me down. But, the funny thing is I have it blasting in the car (laughing). And I only live a few minutes away from the arena so Im literally just riding out, music turned up, just getting in my zone. FS Florida: How about what you wear? Is it always the same jacket, same lucky socks? Smith: No, no, I try to switch it up a little bit when it comes to my style. I would say thats probably the area Im the most likely to try something new. FS Florida: So how would you describe your style then? Smith: I like to say I dress fitted and sophisticated (laughing). I dont know though, maybe thats not what other people think when they look at me. FS Florida: Who would you say is the most stylish guy on the team? Smith: J.J. Redick. J.J. can dress. Hes always trying to look his best too. See right now I have on sweat pants. J.J. would never go out the house in sweat pants. Youre never going to see that from him. But, you see how I do it is, yes I have on the sweats, but to make up for that, I kill them with the shoe game. FS Florida: And whats your favorite shoe? Smith: I like a lot of shoes. But Ill go with the Air Maxes because thats what I got on my feet right now.FS Florida: Whats your most memorable basketball moment? Smith: You know, Ive been blessed to have a lot of memorable moments. In college I hit some game winners, but Id have to say my most memorable moment isnt actually a moment. Its just a time period in my life. Like basketball in high school is so special to me, that time of my life, because it was truly like a family thing. My family came to all the games. Its you and all the boys you grew up with working out every day trying to be the best you can and trying to win. Those were some of the best times of my life right there.
Original Story:
http://www.foxsportsflorida.com/01/04...
THE BACKYARD
BEST OF MAXIM
RELATED ARTICLES
Single game records arent made to be broken, at least not easily. If they were, it wouldnt have taken 19 years for a Magic player to pull down Shaquille ONeals rebounding record. The truth is, single game records are extremely hard to reach. Rarely do you see a player attain one and that is because its a result of many outside variables coming together on one very special night....
Glen Davis has always been a fighter. Not literally. Hopefully not, at least, because of the NBA's fines for fighting and sensitivity toward all that for its image, etc. But Glen Davis has overcome a lot to get where he is at. And this year has been a breakout season for him as he has taken a prominent role on a team for the first time in his career. A sprained shoulder...
Brace yourself. The news you're about to hear may come off as shocking, and could require a few minutes to register. The Orlando Magic will not pursue ex-Superstar center, Dwight Howard, when he becomes a free agent in July. In the most head-scratching scenario of "why in the heck would they anyways", Josh Robbins of the Orlando Sentinel reports that the Orlando Magic have...
The Magic are on a seven-game losing streak. No getting around that. Wins and losses are what teams are judged by and ultimately what success is determined from. They matter. Even for a team like this Magic team that is focusing on rebuilding and development, as Josh Robbins of the Orlando Sentinel writes. I think that the overall streak of losing does start to take a toll...
The Magic knew what was coming. Once Carmelo Anthony got the ball at the top of the key he was going to run a pick and roll. Once he had the ball in his hands, that is when it was unclear what he might do. That is when Josh McRoberts or Arron Afflalo or Nikola Vucevic, who all took turns guarding Anthony down the stretch, were stuck on that dreaded island. That is when they were...
The Orlando Magic built off a strong performance against Miami and snap a six-game losing streak. They accomplished one of those. Maybe not the one they wanted though. Orlando is still on a losing streak. Kirk Hinrich's bucket with 25 seconds left gave Chicago the lead for good as Jameer Nelson could not answer on two opportunities to tie it up. The Bulls front line proved...
Every injury is an opportunity. When Jameer Nelson and E'Twaun Moore went down with injuries against Washington, Ish Smith was brought to the forefront. He started against Toronto for the fifth time in his career and started again against Miami. In those two games, Smith averaged 7.5 points per game. More tellingly, maybe, Smith scored 13 points on 6-for-12 shooting as...
In their last home game before a 4 game road trip, the Magic will host the New York Knicks tonight at 7 p.m. EST. The Magic have lost their last 7 games, the majority of which were against relatively weak teams. This is their longest losing streak since February 22nd, 2006, when they snapped an 8 game losing streak. The Knicks have also slowed down recently, dropping 5 of their last...
Orlando, Fla. (22-10) vs. (12-20)    Time/TV: 7 p.m./FSFlorida Line: Knicks by 6 Tickets: $25-$950 on Vivid Seats Season Series: Lost 99-89 in Orlando on Nov. 13; Tonight in Orlando; January 30 in New York; March 20 in New York   Pace Off. Rtg. Def. Rtg. eFG% O.Reb.% TO% FTR...
ORLANDO -- Carmelo Anthony scored 40 points, including 16 in the fourth quarter, as the New York Knicks beat the Orlando Magic, 114-106, Saturday night at Amway Center. The Magic (12-21) lost their eighth consecutive game, their longest losing streak since the 2005-06 season. Anthony, who hit 14 of 29 shots, also had six rebounds and six assists. J.R. Smith added 16 points and...
Magic News

Delivered to your inbox

You'll also receive Yardbarker's daily Top 10, featuring the best sports stories from around the web. Customize your newsletter to get articles on your favorite sports and teams. And the best part? It's free!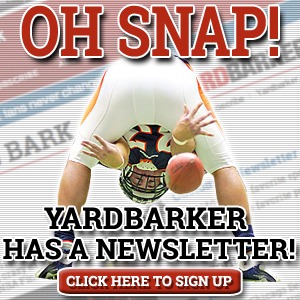 Latest Rumors
The Backyard

Today's Best Stuff

For Bloggers

Join the Yardbarker Network for more promotion, traffic, and money.

Company Info

Help

What is Yardbarker?

Yardbarker is the largest network of sports blogs and pro athlete blogs on the web. This site is the hub of the Yardbarker Network, where our editors and algorithms curate the best sports content from our network and beyond.