Grading the NBA trade deadline on the Vince Carter scale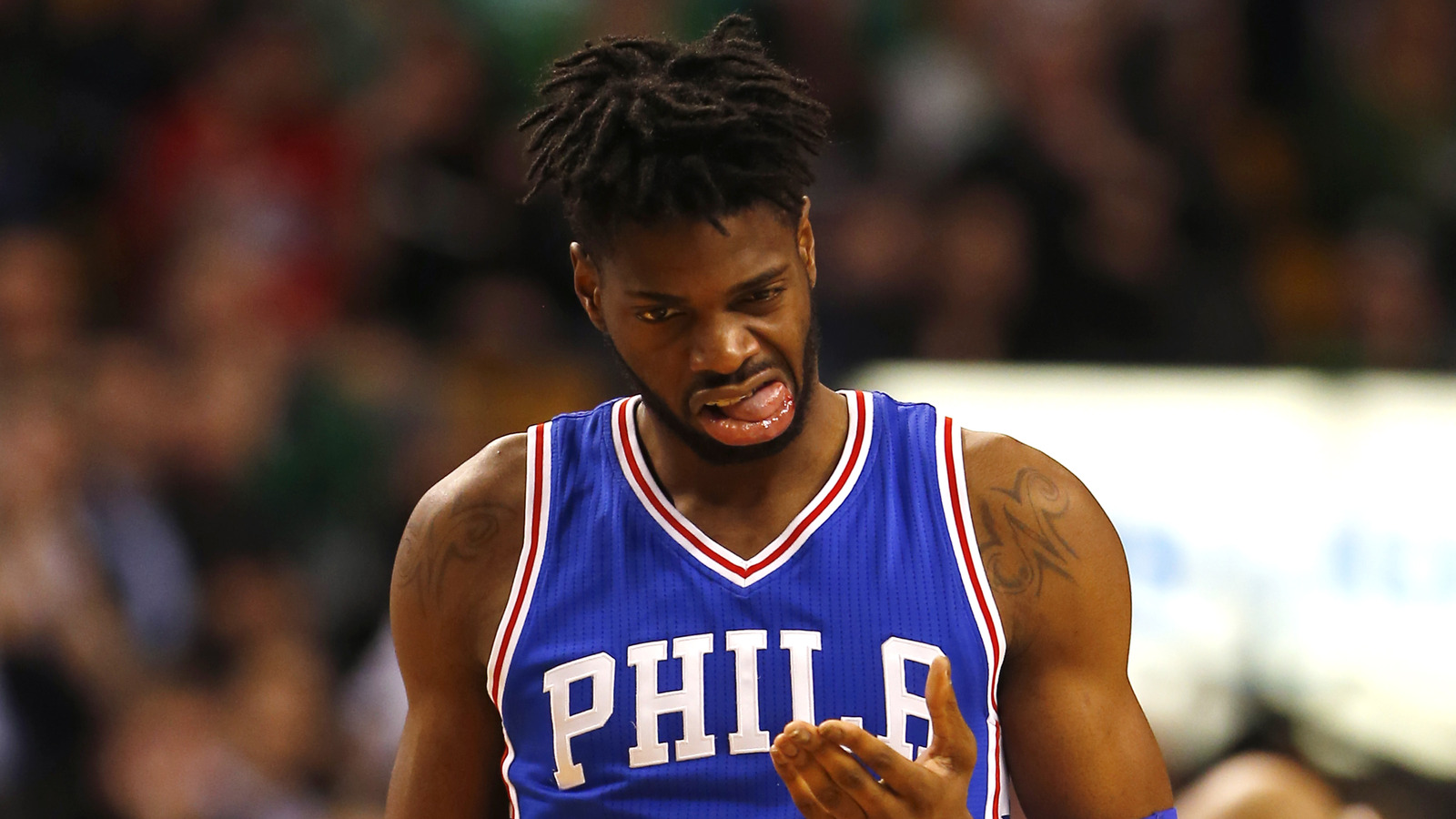 The Mavs haven't had much success at the trade deadline in year's past, where does the Nerlens Noel trade rank on the Vince Carter scale?
Jessica Rinaldi/The Boston Globe via Getty Images
At the NBA trade deadline in 2004, the Toronto Raptors sent their disgruntled superstar Vince Carter to the then-New Jersey Nets for Alonzo Mourning, Eric Williams, Aaron Williams and two first-round draft picks in 2005 and 2006. Mourning never played in Toronto, neither Williams exactly had their numbers retired, and what came of those two picks were Joey Graham (2005) and the rights to Renaldo Balkman (2006) that were sent to New York.
We know that every NBA city has endured at least one trade that made a team's fan base want to break things. Few transactions can cause as much emotional and strategic anxiety as those made at the trading deadline. And even fewer of those can gain the infamy of one of the most lopsided trades in NBA history. So in light of the Carter trade 13 seasons ago, we came up with our own way to measure the bulk of this year's deadline deals. On a scale of one Vince (good-to-great for both teams) to five Vinces (what the heck were they thinking?), we assessed each of the major moves and non-moves made before 3 p.m. Eastern yesterday. 
Lakers send Lou Williams to Houston for Corey Brewer and a first round pick – One Vince

Outside of the shocker in New Orleans, this may have been the best trade of the entire deadline. Under the radar for the majority of his career, Williams has always gotten buckets, so Mike D'Antoni can confidently give James Harden longer breaks in the stretch run as well as run a crazy small-ball trio of Williams, Harden and Eric Gordon. The Lakers have an unprotected pick from Houston, which gives new team prez Magic Johnson some offseason flexibility.
Wizards send Nets '17 first round pick for Bojan Bogdanovic – One Vince

Shooters are at a premium in the modern NBA, but so are potential lottery picks. The Nets learned that the hard way in 2013, so to get at least one first-round pick back salvages a piece of one of the worst trades in NBA history. Washington adds a pick-and-pop option for John Wall and Bradley Beal to try to make things a little more interesting against other top teams in the East. Besides, LeBron can't have every guy that can shoot close to 40% from three.
Raptors adding P.J. Tucker from Phoenix: Two Vinces
Phoenix is trying to dump as much salary as conceivably possible, though their direction, as has been the case in the post-Steve Nash era is still uncertain.
Unless Washington truly shakes things up in the East, Toronto is the most likely team that can get in the way of a third straight Finals appearance. Already adding size with Serge Ibaka, Tucker was brought on as that guy who is supposed big enough and perhaps annoying enough to mess with LeBron James.
It's a gamble that better work, not only for the Raptors' title hopes, but for our very playoff entertainment. DeShawn Stevenson, Jason Terry, Lance Stephenson and Draymond Green have all gotten under LeBron's skin in his playoff career… wait… actually, LeBron also went all Shang Tsung on them some way. Good luck, P.J.!
Mavericks trade for Noel, Sixers expect Bogut to crack the Liberty Bell after buyout – Three Vinces

Dallas traded a disgruntled veteran on the final year of a big deal for a younger, defensive-minded (but offensively-awkward) compliment to Harrison Barnes, Dirk Nowitzki and the out-of-nowhere Yogi Ferrell. (They also waived Deron Williams.) The Mavs haven't done well in free agency in the past, which is why getting a restricted free agent in Noel can work with less of a frontcourt logjam than what he left in Philly.
No one seems to want Jahlil Okafor, but for the time being, Philadelphia still has a bunch of centers in need of playing time. The Aussie center may find a new home quick enough after a potential buyout. Justin Anderson should get some playing time for a 76ers team still figuring itself out for 2017-18.
Hawks add Ersan Ilyasova, send Tiago Splitter and a second-round pick – Three Vinces
Atlanta is weird. They sent Kyle Korver to Cleveland, losing a shooter and seemingly starting to unbundle a decent, but middling roster with rumors around everyone but Dwight Howard and Dennis Schroder. Yet because they are within striking distance of the top four seeds in the East (and the top of the Southeast Division), getting a shooter like Ilyasova makes the Hawks kind of like Mark Walhberg during the Super Bowl – trying to get back in after… too soon? I'm so sorry, Atlanta. You're a great city.
And what's with the Sixers and injured big men?
Knicks not moving Carmelo Anthony or Derrick Rose – Three Vinces

Most people assumed way too much when it came to Anthony because it was the Knicks and he's been a divisive figure among the fan base. His contract won't expire until 2019 and no team was going to give up what the team needed in return – cap relief and first-round draft picks. Rose was always the more likely candidate (reportedly, it almost happened) and that wasn't saying much: Minnesota may want to wait until the offseason to assess his value after his contract ends. Status quo means New York has to run with what it has, for better or worse. Meanwhile, James Dolan just invited Knicks legend Keith Van Horn to sit next to him at the Garden. (Kidding… maybe.)
OKC bolsters bench, Chicago likes to not have an offense – Three Vinces

The Thunder gets back a three-point shooter (Doug McDermott) and a rebounder with defensive moments (Taj Gibson) that's essentially insurance for when Enes Kanter returns. As for Chicago, the plus is simple: they found a point guard that could possibly take the reins for the next few years in Cameron Payne. The minus: the Bulls have like 67 point guards that can't shoot. The other minus: they actually wanted another guard who isn't really a shooter in Andre Roberson. Yeah, we can't call it either.
Boston not making any moves – Four Vinces

Celtics fans have been hoping, praying and BEGGING for Danny Ainge to make something of the multiple first round draft picks the team owns, yet he stood pat because of his professed belief that this team had enough to make a deep playoff run.
The truth is that those picks are like buying two weeks' worth of fresh produce for your new diet. Sure, you have kale the first night and maybe some broccoli the next, but if you don't eat the rest, they'll rot in your crisper and your significant other will be mad about the money wasted. (This happened to me last week. My soul was shattered.)
Pacers ticking off Paul George – Five Vinces

It's not about Indiana not moving him, but about letting rumors and discussions put a cloud over your franchise player. On top of that, the Pacers also didn't make a move to show George that they are serious about supplanting Cleveland in the East. Clearly he wasn't happy with Larry Bird letting him dangle in the air. You have to wonder if the Pacers are daring George to walk after this season, especially if the rumors of him going home to a rebuilding (and hometown) Lakers team are true.
New Orleans trades for DeMarcus Cousins, send a King Cake Baby bobble head to Sacramento – Five Vinces
In essence, this is the closest to the infamous Carter-to-the-Nets trade as you could get. All you need to know is that despite getting smacked around by Houston in Cousins' first game, the Pelicans are going to make out fine because they are not the Kings. Vivek Ranadive is willing to put Buddy Hield in the same class as Stephen Curry because… well, we have no damn idea.
If Hield truly is the next 'Baby-faced Assassin,' someone should go tell LaVar Ball. We're due for another absurd Sports Dad moment.
(As for New Orleans, a certain writer here said Alvin Gentry's job was in jeopardy, this was before New Orleans shocked the basketball world, so perhaps they bought the coach some time.) 
PLAYERS:
Vince Carter
,
Joey Graham
,
Magic Johnson
,
John Wall
,
Bradley Beal
,
P.J. Tucker
,
Serge Ibaka
,
LeBron James
,
Jason Terry
,
Harrison Barnes
,
Dirk Nowitzki
,
Yogi Ferrell
,
Deron Williams
,
Jahlil Okafor
,
Justin Anderson
,
Ersan Ilyasova
,
Tiago Splitter
,
Kyle Korver
,
Dwight Howard
,
Dennis Schroder
,
Carmelo Anthony
,
Doug McDermott
,
Taj Gibson
,
Enes Kanter
,
Cameron Payne
,
Andre Roberson
,
Danny Ainge
,
DeMarcus Cousins
,
Buddy Hield
,
Alvin Gentry
,
Keith Van Horn
TEAMS:
Memphis Grizzlies
,
Cleveland Cavaliers
,
Washington Wizards
,
Phoenix Suns
,
Toronto Raptors
,
Milwaukee Bucks
,
Dallas Mavericks
,
Philadelphia 76ers
,
Atlanta Hawks
,
New York Knicks
,
Chicago Bulls
,
Oklahoma City Thunder
,
Boston Celtics
,
New Orleans Pelicans
,
Sacramento Kings
,
Los Angeles Lakers
MORE FROM YARDBARKER
NBA News

Delivered to your inbox

You'll also receive Yardbarker's daily Top 10, featuring the best sports stories from around the web. Customize your newsletter to get articles on your favorite sports and teams. And the best part? It's free!