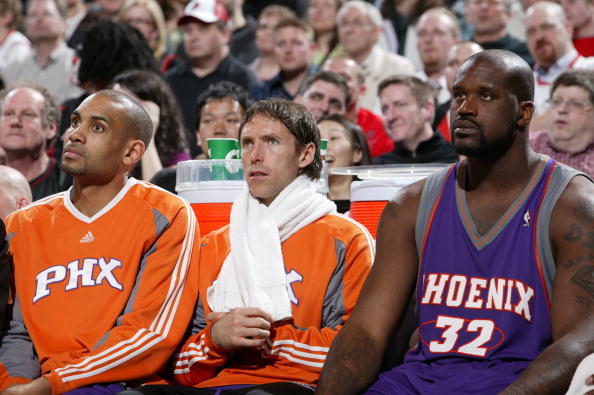 Grant Hill, who is the host for the new-old NBA TV "NBA Inside Stuff," was filling in on the set for TNT's "Inside the NBA" on Thursday when he revealed some stories about playing with Shaquille O'Neal in Phoenix. From AZCentral.com: It turns out O'Neal and Gordan Giricek, who had been with the Suns for all of six weeks, mixed it up verbally during a closed practice to the point that O'Neal auditioned for his WWE future. He put Giricek in a sleeper hold, except it was no fake. Giricek passed out. Giricek played in the remainder of the season, but it was his last NBA season. Hill also said O'Neal once knocked over the team's Christmas dinner. The first was when Roger Mason Jr. stole Christmas. Jason Richardson famously left Mason alone in the corner for a buzzer-beating 3-pointer that gave San Antonio a 91-90 victory at US Airways Center. Hill said O'Neal came into the Suns locker room and knocked an entire postgame Christmas feast for the players onto the floor. [FTW] The post Grant Hill says Shaq once chocked out a Suns teammate appeared first on Sports Glory.
Read the rest of this story...
MORE FROM YARDBARKER

NBA News

Delivered to your inbox

You'll also receive Yardbarker's daily Top 10, featuring the best sports stories from around the web. Customize your newsletter to get articles on your favorite sports and teams. And the best part? It's free!