MEMPHIS, Tenn. -- Memphis Grizzlies center Marc Gasol was named the Kia NBA Defensive Player of the Year on Wednesday, but teammate Mike Conley isnt quite sure the 7-foot-1 Spaniard understands how much of an honor it is. Im proud of him. We all congratulated him and tried to get him to understand its a huge award Conley said. Gasol may understand exactly how much of an honor it is. It might just be that he is singularly focused on the Los Angeles Clippers at the moment. FedExForum had plenty of buzz long after Gasol left the ceremony. Staffers colored the stadium yellow with Growl Towels, one on every seat for an expected sellout of 18,119 for Thursdays Game 3 of the Western Conference first-round playoff series with Los Angeles. The Clippers hold a 2-0 advantage as the series shifts to Memphis. To be honest, on my mind right now is how to stop Chris Paul and that pick-and-roll, Gasol said to claps from the pro-Grizzlies crowd. Thats all Im thinking right now and hopefully tomorrow well do it. Teammate Zach Randolph and Memphis coach Lionel Hollins sat on the front row for the awards ceremony in the grand lobby of The Forum. Hollins was the first to tell Gasol of the award, but word spread quickly via social media Tuesday night and Wednesday morning. I dont know how you guys found out so quick, Gasol said. I dont know how yall did it, but it got out really quick. I didnt tell my family, I didnt tell anybody. Yall are good. Gasol is the first player in Grizzlies history to win the award. He won it with 212 of a possible 1,089 points -- 63 more than LeBron James and ahead of Serge Ibakas 122. Gasol is the first European to rearn the honor. The 28-year-old anchored the leagues stingiest defense (88.7 points allowed). Gasol attached the rest of the team to the award and a couple of his teammates got in on the voting. Allen placed fifth and point guard Mike Conley got a single third-place vote of his own. Gasol had enough first-place votes alone to win the award. Joakim Noah finished fourth. Hes been great for us. I just try to tell other bigs, Watch how Marc talks, watch how he communicates, just look at his body positioning, said Memphis forward Tayshaun Prince. Obviously hes not the fastest guy in the world but just the way he positions himself and things like that, it makes up for a lot of things. Just the little things is what makes things so important and he does those things. Gasol is one of only six players to average at least 1.5 blocks per game (1.7) and a steal per game (1.0) this season. He didnt lead the league in rebounds or blocked shots. Randolph leads the Grizzlies in rebounds and Gasol is 12th in the league in blocks. But his presence is backed up by some of the numbers. Memphis is second in the league with a 97.4 percent overall defensive rating and boasted a 7.5 score differential when Gasol was on the floor, compared to a -3.9 when he was on the bench. Some circles praise the choice for noticing the defensive intangibles Gasol brings. He even used his shoe -- it came off while running back on defense -- to poke the ball away from Derrick Favors in Utah earlier this year. Prince talked about Gasols communication and positioning. Conley backed it up. Hes our anchor. He controls a lot that goes on on defense. He keeps me and TA Tony Allen and Tay Tayshaun Prince all in the right positions and when we mess up, hes there to help us, Conley said. Gasol attended the press conference for big brother Pau, the NBA Rookie of the Year in 2002. In a fan-attended press conference Wednesday that turned to laughs more than once, Gasol was asked if there were any more Gasols Memphis could acquire. His Utah shoe incident created a few laughs as well. I was just trying to stop the game. Im not really fast. Without the shoe, Im a lot slower, Gasol said, so I had to stop the game somehow. Oklahoma City center Kendrick Perkins didnt take it well that Gasol won the award over his teammate Ibaka. He tweeted this Tuesday night. I'm not hating but the NBA just give awards away. Serge don't get defensive player of the year. That don't make any sense. SMMFH. Gasol helped Memphis to the top of several defensive categories: third in field goal percentage allowed, second in three-point field goal percentage allowed and first in total rebounds and sixth in forced turnovers. We know if we want to win, we have to get stops, he said. Thats a little bit of everybody on that trophy. Were not going to score 120 points every game.
Original Story:
http://www.foxsportstennessee.com/nba...
MORE FROM YARDBARKER
NBA News

Delivered to your inbox

You'll also receive Yardbarker's daily Top 10, featuring the best sports stories from around the web. Customize your newsletter to get articles on your favorite sports and teams. And the best part? It's free!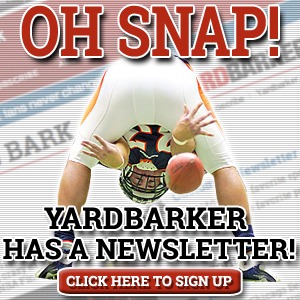 Latest Rumors
Best of Yardbarker

Today's Best Stuff

For Bloggers

Join the Yardbarker Network for more promotion, traffic, and money.

Company Info

Help

What is Yardbarker?

Yardbarker is the largest network of sports blogs and pro athlete blogs on the web. This site is the hub of the Yardbarker Network, where our editors and algorithms curate the best sports content from our network and beyond.