Found December 23, 2011 on Fox Sports Tennessee:
PLAYERS:
Kevin Durant
,
Rudy Gay
,
Zach Randolph
,
Marc Gasol
,
Darrell Arthur
,
Xavier Henry
,
Shane Battier
,
O.J. Mayo
,
Tony Allen
,
Nate McMillan
,
Dwight Howard
TEAMS:
Memphis Grizzlies
,
Oklahoma City Thunder
,
Miami Heat
,
Golden State Warriors
,
Orlando Magic
,
San Antonio Spurs
Memphis may be the home of the blues, but the music coming out of Memphis last spring was anything but melancholy. The Grizzlies won 46 games, the third-most in a season in franchise history, won the first playoff series in franchise history, beating the San Antonio Spurs, then gave Kevin Durant and the Oklahoma City Thunder all they wanted before bowing out in seven. Heading into the abbreviated 2011-12 season, the problem the Grizzlies face is a common one for teams making the kind of break out the way the Grizzlies did last year. Following up on your success now that people know who you are and meeting expectations, which naturally and unrealistically get ratcheted up. That said, Memphis has what it takes to improve on or at least come close to matching its .561 winning percentage from last year and move up from eighth place, where it finished last season (they would have been fifth in the East). They should even be able to close the gap on the perennial Southwest Division powerhouse Spurs and Mavericks, although there will still be some separation. Here are some things to watch for as Memphis heads into 2011-12. Rudy Can't Fail: Forward Rudy Gay was averaging 19.8 points and 6.2 rebounds before missing the final two-plus months of the season with a shoulder injury. Gay is healthy and excited to help carry the load. Ironically, without Gay, the team was the same five games over .500 overall but played .600 ball down the stretch without him. They scored about the same, allowed one less point per game, but shot 25 points higher (.488 to .463). Still, you can't not be happy to have a dependable, hard-working guy like Gay on the floor, especially during the grind to come (more on that in a bit). Must I Paint You a Picture?: One reason the Grizzlies shot better without Gay was because the focus of the offense went inside to power forward Zach Randolph and center Marc Gasol. Randolph (20.1 ppg., 12.2 rpg), and center Marc Gasol (11.7, 7.0) helped the Grizzlies average 55.0 points in the paint sans Gay they averaged 49.9 with him. The Grizzlies have led the league in PIPs over the last two seasons (51.5 last year, 51.4 last year) and have a good start on doing so for years to come, with the duo locked up through 2014-15, as Gasol recently inked a four-year, 57 million deal. Walking (Gingerly) In Memphis: Staying healthy is going to be vital and on that front, the Grizzlies are already hurting, having already suffered a pair of key injuries. Forward Darrell Arthur is out for the year with a torn right Achillies Tendon and two-guard Xavier Henry is out for two-to-four weeks with a second-degree ankle sprain. The injury to Arthur, a three-year pro is a crusher, as the talented forward was coming off a superb third season (9.1 ppg, 4.3 rpg), was a solid two-way player and was key to giving Randolph and occasionally Gay a rest. Arthur's loss, combined with Shane Battier's signing with Miami, leaves Memphis short on depth up front. The signing of Dante Cunningham will help, but he's not the defensive player Arthur is. The loss of Henry is temporary, and have the team thanking its lucky starts it held on to O.J. Mayo, who was rumored to be going to Indiana. Guarded Optimism: The starting back court of Mike Conley, entering his fourth season, and Tony Allen, a seven-year pro who is starting his second year in Memphis, gives the Grizzlies a reliable back court. Conley had a 3-to-1 assist-to-turnover ratio, 11th in the league, and had career-bests for points (13.7) an assists (6.5). Allen, meanwhile is a defensive force, whose 4.14 steals per 48 minutes was the best in a season since Nate McMillan's 1993-94 season. He made 1.79 thefts per game, despite playing 20.8 minutes. Be Careful Out There: While Memphis took the ball away, they didn't give it back. The Grizzlies led the league in turnover margin (222), turnovers forced per game (16.5), steals per game (9.40) and games with at least 10 steals (34), and were second in the league in points off turnovers (19.4 per game). About That Schedule: Bringing up the Past : The NBA schedule makers don't like the idea of teams putting the past behind them. Quite the contrary. They seem to enjoy opening those wounds back up. The Grizzlies open at San Antonio, against the Spurs, who they knocked out in the first round last season, then, two days later host Oklahoma City, the team which took them out in the Conference semis. April Fools!: The Grizzlies end March and begin April with a treat that only the condensed 66-game schedule can offer: A SEVEN-GAMES-IN-NINE NIGHTS stretch! The Bataan-like march starts on March 30 in Houston, continues the next night in Milwaukee, then, after an off-day, picks up in Oklahoma City on April 2. That's followed by a home game with Golden State on the 3rd, a trip to Dallas on the 4th, a travel day to Miami on the fifth, a match-up with the Heat on the 6th and it concludes with a home game against the Mavericks on the 7th! Happy Ending: Should the Grizzlies survive the first half of April, which includes the 7-in-9 venture followed by a brutal 4-in-5 right after (Phoenix, at San Antonio, Utah, at New Orleans), they have a chance to build up momentum for the playoffs. Four of their final six games are at home and of those six opponents, three of them, Minnesota (away), Charlotte (away) and Cleveland (home) missed the playoffs last year. Of the other three, New Orleans (home) and Portland (home) may struggle to make it this year and Orlando (home) will likely either be resting Dwight Howard or reeling having just dealt him.
Original Story:
http://www.foxsportstennessee.com/12/...
THE BACKYARD
BEST OF MAXIM
RELATED ARTICLES
The scene didn't quite compare to the chaos that decked the halls as Nike introduced a re-release of an Air Jordan sneaker from 15 years ago, thankfully, but that didn't stop the Oklahoma City area from being snarled in traffic jams on Friday as Thunder All-Star Kevin Durant gave away pairs of his own brand of shoes. The roads were no doubt already clogged due to the preponderance...
Jacob NobleDurant is someone that no one can say anything bad about.  He's young, successful and has done every step of the way, the right way.  Coming out of college, highly touted as the second best player, he didn't complain or get jealous over Greg Oden's hype.  In the NBA, he went to an awful team on the verge of moving.  No sounds were made off the court by...
With Kevin Durant leading the way, the Thunder plowed through two tough playoff series against Denver and Memphis before falling to eventual champ Dallas in the Western Conference Finals. Along the way, some questions arose about Russell Westbrook's maturity, making this year critical to just where he fits in this young team's future. No doubt Durant was the MVP of the...
Kevin Durant seems to have the right idea. If you want a shot at wearing the crown, you don't celebrate your upcoming season by throwing a Miami Heat-like preseason celebration. You take a good look at the real King and figure out what he did to get there. Maybe that's why Durant, in preparation for another NBA regular season that kicks off Sunday, has spent some quality...
The Orlando Magic taking backward steps come playoff time - and maybe the front office's inability to help change that - made Dwight Howard restless and ready to move on. Kevin Durant and the Oklahoma City Thunder don't believe they are anywhere close to peaking following a deep postseason run. It seemed for a while this might not be the case, but Howard is starting the...
By adding Pondexter, the Griz believe they now have a true small forward to play behind starter Rudy Gay.
The Orlando Magic taking backward steps come playoff time - and maybe the front office's inability to help change that - made Dwight Howard restless and ready to move on. Kevin Durant and the Oklahoma City Thunder don't believe they are anywhere close to peaking following a deep postseason run. It seemed for a while this might not be the case, but Howard is starting the...
The San Antonio Spurs' 61 wins in 2010-11 were their most in five seasons, yet none of them mattered to the upstart Memphis Grizzlies when the teams met in a first-round playoff series. Memphis' six-game victory over top-seeded San Antonio may have been a surprise, though it could have been the beginning of a power shift in the Western Conference. With age hindering the...
NBA News

Delivered to your inbox

You'll also receive Yardbarker's daily Top 10, featuring the best sports stories from around the web. Customize your newsletter to get articles on your favorite sports and teams. And the best part? It's free!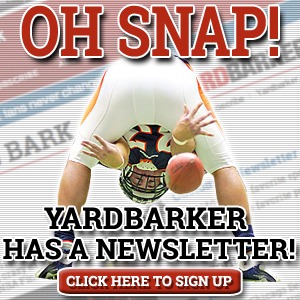 Latest Rumors
The Backyard

Today's Best Stuff

For Bloggers

Join the Yardbarker Network for more promotion, traffic, and money.

Company Info

Help

What is Yardbarker?

Yardbarker is the largest network of sports blogs and pro athlete blogs on the web. This site is the hub of the Yardbarker Network, where our editors and algorithms curate the best sports content from our network and beyond.