Found November 07, 2012 on Fox Sports Southwest:
PLAYERS:
James Harden
,
Kobe Bryant
,
Kevin Martin
,
Jeremy Lamb
,
Cole Aldrich
,
Jeremy Lin
,
Omer Asik
,
LeBron James
,
Serge Ibaka
,
Chris Paul
,
Kevin Love
,
Steve Nash
,
Dwight Howard
,
Pau Gasol
,
Chandler Parsons
,
Patrick Patterson
,
Marcus Morris
TEAMS:
Houston Rockets
,
Los Angeles Lakers
,
Oklahoma City Thunder
,
Miami Heat
,
Los Angeles Clippers
,
Minnesota Timberwolves
,
San Antonio Spurs
,
Arizona State Sun Devils
HOUSTON So there is this guy, James Harden, and he has a long beard and a well-constructed Mohawk, but he does not speak like a guy with a long beard and a Mohawk, which is to say he is not trying to play some kind of character. He doesn't speak much, really. Well, not much more than he has to, although now that he's the star of the Houston Rockets, he has to speak a lot. But Harden seems like he would be just fine if he never had to talk at all. Yes, it is as if the beard and the Mohawk are supposed to take care of all his personal expression. The beard says old school. The Mohawk says self-assurance. What else do you want to know? He is the Western Conference player of the week. And does that mean anything to him? "No," he said. "Not at all." Before he was the big star in Houston after three games he is averaging 35.3 points, which is almost nine points more than the NBA's No. 2 scorer, Kobe Bryant Harden was a bench player for the Oklahoma City Thunder. He was a great bench player. So great, actually, that they put him on the U.S. Olympic team, which won the gold medal. That being the case, you could say Harden was one of the best bench players of all time. He was so good in that role. So comfortable. And he was on this great team in Oklahoma City that made it to the NBA Finals last year. He was a 23-year-old man who had a beard and a Mohawk and a great role on a great team and a contract worth more than 12 million. What a life, huh? Well, things are never quite that simple in professional sports. There are salary caps and luxury taxes, egos and agents. "It's a business," people always say in situations like these. Harden was worth more than he was making in Oklahoma City, and everybody knew it. The Thunder figured out it just wasn't going to work out with Harden. Either they trade him and receive something in return, or just watch him walk away as a free agent. So here comes Houston, with this roster that didn't make a lot of sense. It has been that way a lot in Houston over the last couple years. The general manager, Daryl Morey, has had this theory that you don't have to be terrible in order to be great. That makes him a little unconventional. Most NBA teams figure that in order to get the best players, they have to have the highest draft picks, and the odds are that in order to get the highest draft picks you have to have the worst records. It is not uncommon for bad NBA teams to be accused of getting worse on purpose. Morey does not see that as necessary. His approach has been to acquire just the right players with just the right kinds of contracts assets, really so that he can flip them for a star player. Mostly it has not worked. But then came Harden and the Thunder, and it turned out Houston had the best assets to offer veteran shooting guard Kevin Martin, rookie shooting guard Jeremy Lamb, and three draft picks in exchange for Harden and reserve center Cole Aldrich. Morey was thrilled. "He's absolutely someone that, when they see him step into the role of the star of the Houston Rockets, people are going to realize just how good he is," Morey said at the time. That made a lot of people wonder if Morey had stopped taking his desperation medication. The Rockets this offseason had already signed point guard Jeremy Lin, whose quick rise to fame in New York made many people think he was a flash in the pan, and center Omer Asik, who had been a bench player in Chicago. It was hard to tell if that made Houston any better than it was last year. The narrative with Harden had been written. He was a great player in a supporting role, but he wasn't a star. He had been uncomfortable as The Savior at Arizona State, and had thrived off the bench in Oklahoma City. He didn't want the pressure. Everybody knew that. This is the Harden Myth. "It's a fine line," said Scott Pera. Pera met Harden when he was just 13 years old. He coached Harden at Artesia High School in Lakewood, Calif., and then as an assistant on Herb Sendek's staff at Arizona State. The two talk several times a week, and Pera feels Harden's demeanor has been oversimplified. "He was a great player and we relied on him a lot," Pera said. "Everything ran through him. He's had that happen to him before. Trust me." And yet there is some truth to the Harden Myth. As a boy, Harden was not a superior athlete. When Pera met him, he didn't think he was looking at a future NBA player, or even much of a college one. He wasn't that big, wasn't that strong and couldn't jump that high. Pera, high school coach that he was, figured he'd just try to help Harden become the best high school player he could be. But then he noticed something. Harden seemed to have this knack. It's difficult to explain, but we can start here: People sometimes say that by the time you really understand how to play basketball, you're too old to play it. It is the sport's great paradox. Young men see basketball as a game of explosions running, jumping, dunking, blocking. Old men see basketball like music, a game of timing and spacing and rhythm, punctuated by little solos. Well, as a boy, Harden could hear the music. "He would do things in practice where I would say to myself, 'He sees things a little differently than most kids I've coached,'" Pera said. "Things happened in his mind that you can't teach, no matter how hard you try, especially to a kid at 13 or 14." The way Harden liked to play, they were all just part of a jazz band. Maybe he was on lead sax, but it was still a band in harmony together. Harden only averaged 18 points on about eight field goal attempts in high school. After the only game Artesia lost during Harden's junior year, Pera told Harden he was going to get him fired if he didn't start shooting more. Something about phrasing it that way clicked for Harden, and he started ripping off 30- and 40-point games. He went to Arizona State as one of the top 20 players in the class of 2007. Harden knew he was supposed to be the star, and he was, but he was going to do it his way. "He came in with a kind of interesting approach of not looking to dominate everything even though all this attention was on him as this big savior at Arizona State," Pera said. "He just kind of wanted to be a good teammate and blend in. But he knew when the lights came on, he would be the guy that would take the shot that mattered. He just didn't act like that in practice. He was very intelligent. It was almost brilliant. He really endeared himself to his teammates." Endeared, then elevated. "I saw a young freshman that every once in a while hit somebody in the face with a pass," Pera said. "The teammate would be like, 'I wasn't open,' and I'd be like, 'Yeah, you were. James saw it and you didn't, and you're a senior.'" Harden averaged 18 points, five rebounds and three assists as a freshman at ASU, then 20-6-4 as a sophomore before declaring for the 2009 NBA Draft. The Thunder took him third. They were expecting a star. And it's what the Rockets expected when they traded for him. If this worked, it would vindicate Morey's philosophy. "Obviously playing with Kevin (Durant) and Russell (Westbrook) he played well, but if you really studied the film when he had to carry the load with those guys off the floor he excelled," Morey said. "When there was just one of them on the floor he excelled. Really, frankly, in all environments." This was commonly known, too. Everybody in the NBA knew Harden could play. Really play. But nobody in the NBA expected what happened next. First night out: 37 points, 12 assists, six rebounds. Houston flipped out. Pera sent a text to someone in the Rockets front office joking that they'd better not expect that ever night. The next night out, Harden scored 45. Then 24. The Rockets are 2-1. Around the NBA, players were surprised at the sheer numbers, but not that Harden appeared to transition so quickly into a starring role. "I mean, the numbers, of course," Lebron James said. "But I'm not surprised of the impact. Forty-five, 37. Anybody would (say), 'Wow. Look what he did.' But I'm not surprised at the impact.'' Kobe Bryant experienced an equally low level of shock. "Not even a little bit," Bryant said. "He was the biggest problem for us because he was coming off the bench and his ability to facilitate, shoot, penetrate and get teams into the penalty. We all knew how good he was. I certainly knew what a great player he was. Now he's just having the opportunity to showcase it to everyone else." The bigger surprise has been that the Thunder let Harden get away. This was an NBA Finals team with a young nucleus of Durant (age 24), Westbrook (23), Harden (23) and Serge Ibaka. OKC was already the best team in the Western Conference last year, and the Los Angeles Lakers and San Antonio Spurs aren't getting any younger. The feeling was that the Thunder had a 10-year run in them. But the organization just wasn't going to offer Harden the kind of money he could get in the open market, so they traded him to Houston, where he quickly signed him to a five-year, 80 million deal. That was particularly confusing for Chris Paul's 3-year-old son, Chris II, "My son actually called him the other day and asked him why he's playing for the Houston Rockets," Paul said. "I'm happy for him. He seems happy. He is playing unbelievable basketball right now, so if he's happy, I'm happy." Contract issues, though, aren't just confusing for young children. Timberwolves forward Kevin Love was taken aback by the whole negotiation. "I was surprised with the idea that he was only going to get 54 (million) only, I say only 54 from Oklahoma City, and he ended up getting 80," said Timberwolves forward Kevin Love. "I thought he would definitely get the four-year, 60, but the 80 kind of surprised me." Because the Lakers acquired Steve Nash and Dwight Howard and the Thunder lost Harden, there is a perception the balance of power in the Western Conference has shifted to Los Angeles. But Lakers big man Pau Gasol isn't listening to that. "We're not going to fall into that stupidity from our end," Gasol said. "He's a great player and they'll miss him. But we still have to go out and focus on our game, and get everybody healthy, before we start talking about who's best." The Thunder, naturally, have grown tired of discussing the trade, which we'll say was "unpopular" in Oklahoma City. The most important piece they received in the deal was Martin, who is an excellent outside shooter, but a poor defender who also lacks Harden's playmaking ability. So the focus returns to Houston, where the Rockets suddenly, amazingly, finally appear to have a lineup with which they can move forward. They are the youngest team in the league, with Lin (24) and Harden (23) in the backcourt, and a frontcourt consisting of some combination of Chandler Parsons (24), Patrick Patterson (23), Omer Asik (26) and Marcus Morris (23). Nearly every important Rocket is still coming into his own as an NBA player, so it is difficult to say with much certainty how close to or far from championship contention the Rockets are today. Typically it takes three star players. In Harden, it looks like Houston has at least one, which is one more than last year. "He's a franchise-type player," Love said. After practice Monday the man with the long beard and the Mohawk dutifully took questions from the local media. The beard says more than the mouth it engulfs, but even the beard doesn't say much, if you want to know the truth. The truth is that he wears the beard because one day in college he didn't feel like shaving, and one day turned into two, which turned into two years and now it's his identity. He wears No. 13 because when he got to ASU the coach held up two jerseys, 13 and something else, and he liked 13 better. "People want all these stories on James," Pera said. "None of them are really that exciting." That's it. Harden is not a metaphorical kind of person. He's just a dude. But there is a twinge on his face when he gets asked one particular question. He is asked if he's the kind of guy who makes his teammates better. This bothers him, if only a little. You can see that he doesn't like that there was doubt about this matter. "That's what I did," he says. "Even in Oklahoma City I made my teammates better. Not just a scorer, but a playmaker. That's just my type of game." You hear the words, but you see the beard. And, you know what? Maybe it does mean something. "It's almost like James Harden himself," Pera said. "It just kind of evolves. He started this whole growth at Arizona State, nice and neat. and he just let it grow."
Original Story:
http://www.foxsportssouthwest.com/11/...
THE BACKYARD
BEST OF MAXIM
RELATED ARTICLES
This haircut of a member of the Red Rowdies (a group of Houston Rockets hardcore fans) is extremely frightening and wonderful. Check out the super fan's haircut which is one of the best tributes to James Harden that you will most likely ever see. I am a bit confused as to the interesting changes that the barber made to Harden's mug, but when all is said and done the beard will...
Jacob Eisenberg explains why James Harden's early dominance in his new role as the star of the Houston Rockets is anything but beginner's luck. James Harden's dominant arrival in Houston should not come as a surprise to anyone. Dispel all … Continue reading »
MIAMI LeBron James had plenty of critics to drive him last season on the way to his first championship. With many of the skeptics having gone on vacation, the general belief is James will have to rely mostly on self motivation to win another. Then again, maybe not. The Miami small forwards dander has been raised. With there still being some concern over how the Heats small ball...
MIAMI -- LeBron James didn't think anybody would be talking about defense after the offensive show his Miami Heat put on Monday night. The Heat scored their most points since the fifth game of last season in a 124-99 rout of Phoenix at AmericanAirlines Arena. They had a team-record eight different players make a 3-pointer while shooting 57.1 percent from beyond the arc. But...
Two of the best players in the NBA had embarrassing bloopers last night. Although the Miami Heat crushed the Brooklyn Nets and LeBron James had a monster game; I am sure his teammates got on him for his missed dunk attempt. The Lakers are 1-4 but more embarrassing last night was Dwight Howard's free throw. He air balled it. How do you shoot an air ball when you are a pro and have...
THE BROOKLYKNIGHT RISES
After teaming up and working with Marvel on the superhero concept, the Brooklyn Nets unveiled the team's new mascot Saturday: BrooklyKnight.
MIAMI -- The Brooklyn Nets have the second-biggest payroll in the NBA, but the team that was on the money Wednesday night was the Miami Heat. Miami, playing its most complete game of the season, defeated the Nets, 103-73, to raise its record to 4-1. It's also the first time in franchise history that the Heat has started a season 4-0 at home. The Heat have now beaten the Nets...
LeBron James had 23 points and 11 rebounds, Dwyane Wade scored 22 points and the Miami Heat beat the Phoenix Suns 124-99 on Monday night. Chris Bosh finished with 18 points and Ray Allen had 15 for Miami (3-1), which is averaging 111.8 points to open the season. Allen became the 24th player in NBA history to eclipse the 23,000-point mark when he made a free throw with 1:01 left...
The Brooklyn Nets (1-1) will make a trip to Florida to face the Miami Heat (3-1) for an Eastern Conference showdown. However, it will be a tall task for the Nets to leave South Beach with a win as Miami is undefeated at home early in the season. Not to mention the Nets have lost six in a row in Miami. Miami is coming off a 124-99 win over Phoenix while Brooklyn is coming off...
While the Miami Heat are known for their offensive prowess, they're proving mighty stingy on the defensive end, too. The Atlanta Hawks know all too well how hard it can be to generate offense against the defending NBA champions. Seeking a fourth consecutive win overall, the Heat try for a sixth straight road victory over the Hawks on Friday night. The Heat (4-1) are coming...
NBA News

Delivered to your inbox

You'll also receive Yardbarker's daily Top 10, featuring the best sports stories from around the web. Customize your newsletter to get articles on your favorite sports and teams. And the best part? It's free!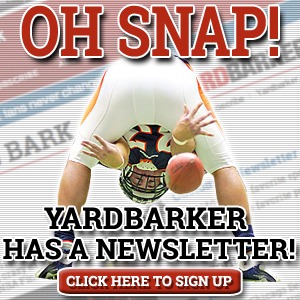 Latest Rumors
The Backyard

Today's Best Stuff

For Bloggers

Join the Yardbarker Network for more promotion, traffic, and money.

Company Info

Help

What is Yardbarker?

Yardbarker is the largest network of sports blogs and pro athlete blogs on the web. This site is the hub of the Yardbarker Network, where our editors and algorithms curate the best sports content from our network and beyond.