Posted January 07, 2013 on AP on Fox
Losing Kevin Love to injury leaves a huge hole in the Minnesota Timberwolves' lineup, but coach Rick Adelman can't afford for his team to wait for the All-Star forward to return. Now, it's uncertain when Timberwolves center Nikola Pekovic will be back. Point guard Ricky Rubio, though, is expected to return from his injury on Tuesday night when the host Timberwolves try to end an 11-game losing streak to the Atlanta Hawks. After missing the first three weeks of the season with a broken right hand, Love re-fractured that hand in Thursday's 101-97 victory at Denver. Love - averaging 18.3 points and 14.0 rebounds - will visit a hand specialist in New York City this week, and the Timberwolves (15-14) will learn if he'll need surgery. "The league doesn't stop for you, there's nobody coming over the mountain for us, it's who we've got right now,'' Adelman said after Saturday's 102-97 home loss to Portland. "And that's what w...
Original Story:
http://msn.foxsports.com/nba/story/Ha...
THE BACKYARD
BEST OF MAXIM
RELATED ARTICLES
MINNEAPOLIS Kevin Love has re-fractured the third metacarpal on his right (shooting) hand, the Timberwolves announced Saturday. Andy Weiland, the hand specialist who treated Love's previous break, will examine the power forward in New York later this week, and more information about the treatment will be known then. Love injured his hand in the third quarter of Thursday'...
MINNEAPOLIS Kevin Love will fly to New York on Wednesday morning to meet with Dr. Andy Weiland, a hand specialist at the Hospital for Special Surgery in New York. Weiland worked with Love on his past two hand injuries, and Love has an appointment scheduled with him for Wednesday afternoon. The team will have a better idea of the course of action to be taken after that appointment...
Minnesota Timberwolves forward Kevin Love, a two-time All-Star, has broken a bone in his shooting hand for the second time this season and will be out for several weeks, multiple media outlets reported. An MRI on Saturday afternoon revealed the fracture of the third metacarpal bone in his right hand. Love is scheduled to see Dr. Andy Weiland in New York this week to determine...
MINNEAPOLIS There are no simple mathematics to missing Kevin Love. On Saturday, the Timberwolves lost by five points, 102-97, to the Trail Blazers. Love is good for those five points, easy. He's good for an average of 18 this season, 30 or more when he's on. But that comes at the expense, perhaps, of Derrick Williams' 18 fourth-quarter points Saturday, of Dante Cunningham...
Things are not going terribly well for Kevin Love so far this season. He missed the beginning of the season with a fractured right hand, and recently returned to play in 18 games for the Timberwolves.  Now, it looks like he will have to miss some additional time, as he fractured his right hand once again. Via Real GM: Kevin Love has refractured the third metacarpal in his right...
Minnesota Timberwolves forward Kevin Love met with doctors in the Twin Cities on Monday to evaluate his right hand, which is broken for the second time this season. Timberwolves president of basketball operations David Kahn says Love also will consult with a hand specialist in New York this week before determining a course of action. There is no timetable for his return, but Kahn...
No Love for K-Love! Our worst fears were revealed last night just before the games started when the Minnesota Timberwolves announced that Kevin Love re-broke that finger he broke before the season. The T-Wolves just cannot buy a break with Rubio being out for most of the season, Love breaking his finger (on shooting hand), Twice!! and to top it off, Nikola Pekovic (21/15) left in...
MINNEAPOLIS Timberwolves coach Rick Adelman will miss Tuesday's game against Atlanta in Minneapolis for personal reasons. The coach was absent from Monday's practice and Tuesday's shootaround, and the announcement that he'd be absent Tuesday night came just three hours before tipoff. Assistant coach Terry Porter will serve as acting head coach. No word has been given...
Minnesota Timberwolves coach Rick Adelman was not at the arena for Tuesday night's game against Atlanta due to personal reasons. The team released a statement a few hours before the Wolves were set to play the Hawks announcing assistant Terry Porter would coach the team in Adelman's place. Adelman also missed practice on Monday. It was not immediately known if the coach...
The NHL lockout is finally over, and it couldn't have happened at a better time for Minnesota sports fans. The news broke early Sunday morning that the NHL and the players' association reached a tentative agreement to bring an end to the league's 113-day lockout. Hockey fans across the country celebrated the return of their sport -- especially those in the Land of 10...
MINNEAPOLIS Cody Metz looks like any other 16-year-old Timberwolves fan. Sitting courtside while the team warmed up Tuesday for its game against the Hawks at the Target Center, Metz had the requisite jersey and awestruck smile. He was this close to Ricky Rubio, to Derrick Williams. He could have been hit by an errant basketball, for that matter. Of course he was a little overwhelmed...
MINNEAPOLIS -- The Minnesota Timberwolves keep losing players, and Tuesday night, they played without their coach as well. Still they pushed their record back above .500 this late in the season for the first time since 2007, earning a 108-103 victory over the Atlanta Hawks at Target Center. With coach Rick Adelman absent due to what the team called a personal matter, top assistant...
NBA News

Delivered to your inbox

You'll also receive Yardbarker's daily Top 10, featuring the best sports stories from around the web. Customize your newsletter to get articles on your favorite sports and teams. And the best part? It's free!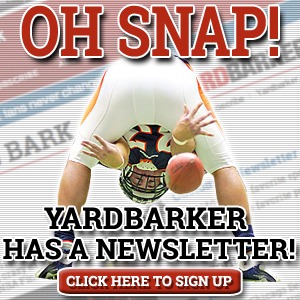 Latest Rumors
Best of Yardbarker

Today's Best Stuff

For Bloggers

Join the Yardbarker Network for more promotion, traffic, and money.

Company Info

Help

What is Yardbarker?

Yardbarker is the largest network of sports blogs and pro athlete blogs on the web. This site is the hub of the Yardbarker Network, where our editors and algorithms curate the best sports content from our network and beyond.