Found January 15, 2013 on Project Spurs:
Just when you thought all the "restgate" drama was behind the San Antonio Spurs comes news today that a Miami Heat fan is suing the Spurs because coach Gregg Popovich elected to send several of the teams players home prior to their November 29 game against the Heat. Popovich sent Tim Duncan, Tony Parker, Manu Ginobili and Danny Green home prior to the game to rest his players early in the season during a grueling road trip that had them playing their fourth game and five days. For most fans, an apology and public tongue-lashing of the Spurs from David Stern and then a $250,000 fine would have been enough, especially considering it took a late Ray Allen three-pointer for the Heat to get past a mostly reserve Spurs unit. Darren Rovell of ESPN is reporting that attorney Larry McGuinness has filed a class action lawsuit against the Spurs in Miami-Dade County. On Monday, Larry McGuinness filed a class action suit in Miami-Dade County, stating that the team's head coach, Gregg Popovich, "intentionally and surrepticiously" sent their best players home without the knowledge of the league, the team and the fans attending the Nov. 29 game against the Heat. McGuinness contends that he, as well as other fans, "suffered economic damages" as a result of paying a premium price for a ticket that shouldn't cost more. In Rovell's report, he notes that ticket prices are often higher against better teams, which hardly seems like the Spurs fault. McGuinness also compared paying a premium for the Spurs-Heat game to paying for a premium steak and getting a substandard cut instead. "It was like going to Morton's Steakhouse and paying $63 for porterhouse and they bring out cube steak," said McGuinness, who said he bought his ticket on the resale market. "That's exactly what happened here." I've bought my share of tickets for sporting events and while I can agree that it can be a letdown to get hyped up over a game with a better opponent and not have their top players playing, I'd argue that Heat fans that paid for the Spurs game got to see a good game and got their money's worth regardless if some of the Spurs' most popular players were in Miami or an a Southwest Airlines flight home. It's not up to me to decide whether or not what Popovich did violates state deceptive and fair trade practices law, but if the Spurs had beat the Heat on November 29, I wonder if there would be a lawsuit at all. That cube steak is looking awfully good next to the pile of 80/20 ground beef that would have signified the Heat losing to a Spurs team lead by reserves.
Original Story:
http://www.projectspurs.com/2013-arti...
THE BACKYARD
BEST OF MAXIM
RELATED ARTICLES
San Antonio Spurs guard Manu Ginobili is expected to miss 10-14 days with a left hamstring strain. The Spurs say Ginobili had an MRI on Monday after getting hurt in the second quarter of Sunday night's game against Minnesota. Ginobili didn't play after halftime against the Timberwolves after scoring 12 points. He also had five assists in his 12 minutes. San Antonio won...
The San Antonio Spurs caused a controversy when they sent home four of their top players prior to a nationally-televised game against the Miami Heat on Nov. 29. They have already been punished by the league for the move, and now they are being sued by a fan. According to ESPN, attorney Larry McGuinness filed a class-action suit in Miami-Dade County against the Spurs for their actions...
Gregg Popovich made news and angered David Stern when he benched Tim Duncan, Manu Ginobili, Tony Parker, and Danny Green in a nationally televised game against the Miami Heat. Stern eventually fined him, although Popovich has been known to do this somewhat regularly to keep his key players fresh for the end of the season. Understandably, some Heat fans were disappointed that they...
Sometimes fans get frustrated when a coach gets ejected during a game. They believe the team has the best possible chance to win if the head coach is out there, especially if your team's coach is Gregg Popovich. From a player's perspective, it's a far different story. When asked about Pop's ejection, small forward Stephen Jackson joked: "Is that my dad? Am...
LeBron James was the youngest player in NBA history to win rookie of the year, to record a triple-double, to score 1,000 points, to score 10,000 points, to win MVP honors at an All-Star Game ... You get the idea. His latest youngest-to-do-it milestone could come as early as Wednesday. He needs 18 points to become the 38th NBA player to score 20,000 in his career. If it happens...
It came to somewhat of a shock (and lots of laughs) when Miami Heat fan Larry McGuinness filed a class action law suit Monday, claiming San Antonio Spurs head coach Gregg Popovich intentionally sent Spurs' Tim Duncan, Manu Ginobili, Tony Parker and Danny Green home without the knowledge of the NBA, the Heat or their fans  prior to their November 29 game.  Of course Spurs...
Manu Ginobili will miss the next 10-14 days with a Grade 1 strain of his left hamstring.
These "Groupie Tales" are always funny to me, because they could be 100% accurate (athletes just like anybody else, do some crazy things behind closed doors) or could just be someone looking for their 15 minutes of fame. That is the gift and the curse of being a celebrity, someone is always trying to get the scoop on you.  For instance Full Court Pumps relays a message from...
The Timberwolves may have dropped a game to the Spurs last night in the Alamo City, but Wolves' Derrick Williams sure left an impression on Spurs' DeJuan Blair. During the second quarter, Williams got Boris Diaw off a fake and view right past him for the fantastic jam on Blair. Check out Williams putting Blair on a poster. [follow]
Ballertainment Fan escorted from arena for taunting Dwyane Wade Dwyane Wade will not have his buttons pushed and demonstrated such, Monday, when a Utah Jazz fan was escorted from his floor seats at EnergySolutions Arena by security after too much taunting of the Miami Heat guard. First off, allow me to make this public service announcement… Your expensive purchase of floor seats...
NBA News

Delivered to your inbox

You'll also receive Yardbarker's daily Top 10, featuring the best sports stories from around the web. Customize your newsletter to get articles on your favorite sports and teams. And the best part? It's free!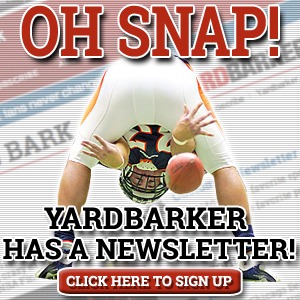 Latest Rumors
Best of Yardbarker

Today's Best Stuff

For Bloggers

Join the Yardbarker Network for more promotion, traffic, and money.

Company Info

Help

What is Yardbarker?

Yardbarker is the largest network of sports blogs and pro athlete blogs on the web. This site is the hub of the Yardbarker Network, where our editors and algorithms curate the best sports content from our network and beyond.