Found December 07, 2011 on Fox Sports South:
PLAYERS:
Dwight Howard
,
Steve Nash
,
Chris Paul
,
Monta Ellis
,
Kevin Garnett
,
Zaza Pachulia
,
Josh Smith
TEAMS:
Orlando Magic
,
Phoenix Suns
,
Golden State Warriors
,
New Orleans Pelicans
,
Boston Celtics
,
Atlanta Hawks
So the Hawks schedule is out. AJC's Hawks beat writer Michael Cunningham (veteran NBA writer and my homeboy) has a nice overarching analysis. Stuff like, "There are two games each against Chicago and Miami in a six-day January stretch" and "The routes for two of their road trips make no sense: Milwaukee to San Antonio to Detroit to New Orleans to Toronto in January and then Indiana to Miami to Detroit to Sacramento to Denver to to Los Angeles in March" and a few more goodies. Check it out. But, I know what you really want to know, specifically you Hawks fans here in the "A"...you want to know who's coming to town and for which of those games should you get your StubHub on. You'll want to make your way downtown to the Highlight Factory for the games below. (Oh, btw...the Lakers? Yeah, they got nixed from the Hawks' schedule. You can thank the lockout for that.) Dec. 30, Orlando: But only if Atlanta homeboy Dwight Howard is still manning the middle. As you know -- everyone with a brain knows he a short-timer. And, just for comedy sakes, you might want to know that retiring Magic owner Bob Vander Weide may or may not have drunk-dialed Howard asking him to stay in Orlando...which is hysterical. Jan. 5 and Feb. 12, Miami: It's like the circus when they roll through town. If you come early, you should walk down to the lower bowl, pull out a good camera and zoom in on LeBron's hairline. It's epic. Then enjoy him drop a triple-double. Jan. 7 and March 28, Chicago: Chicago will return virtually the same lineup, possibly with an improvement at shooting guard. But it's all about Rose. He's one of the five most spectacular players to see live. Go see him in January and then get one more D-Rose for the road in late March. Feb. 6, Phoenix: Catch Steve Nash while he's still capable of periodically elite hooping. Feb. 29, Golden State: There are "Chris Paul for Stephen Curry" rumors floating around. Either way, you'd get to see either one of those cats and Monta Ellis, meaning you'd be watching one of the most exciting backcourts in the league. Steph moped around the court like Linus in Charlie Brown for Golden State's lone visit, last season. That was an aberration, though. He had 31 and 11 the year before as a stud rookie. March 3, OKC: Will the Thunder be leading the West by this point or will the fake "Durant vs. Westbrook" imaginary feud have turned real and started an OKC-implosion? March 19 and April 20 Boston: One of these day, Kevin Garnett and Zaza Pachulia might finally square off and throw hands. You don't want to see that live? March 30 and April 22, New York: It's always fun when Knicks fans swarm Phillips Arena. And they've come out of the woodwork now that "STAT & Melo" are holding it down. April 24, LAC: Blake Griffin is going to be reeling back for some ridiculous dunk, then Josh Smith is going to come from the weakside for the block, they're both going to meet somewhere 10 to 14 inches above the rim and then...I don't know, the earth might collapse. April 26, Dallas: The Hawks close out their season hosting Dirk and the defending champs.
Original Story:
http://www.foxsportssouth.com/12/07/1...
THE BACKYARD
BEST OF MAXIM
RELATED ARTICLES
Adrian Wojnarowski (who I believe is among the top four Basketball writers we have on this planet today  behind just Bob Ryan, rounding out my list: Jackie Mac (despite those of you that I know openly dislike her she is a great basketball mind especially when she is partnered with Ryan on the radio) and [...]
Twitter / @MisterRudolph: Sources indicated that Bob ... via kwout This, my friends, is rock bottom.  It's like Mike from "Swingers" bad (I still can't sit through that scene).  I'm sorry, Orlando Magic fans.  You definitely deserve better than to be at the center of what is, at the risk of being hyperbolic, among the most embarrassing stories...
It is the season for little children and grown ups to look over their Christmas wish list before Santa comes down the chimney. And if you are the Orlando Magic, then you just got a wish list from your franchise player Dwight Howard with a list certain players he wants you to pursue in order to sway him from staying with your franchise. That's right, Howard, a free agent after...
The Lakers are known to want to get younger after their aging core fell short in last year's playoffs, and they are reportedly willing to revamp almost their entire roster. The Lakers are willing to part with anyone except Kobe Bryant to pull off two trades, one for Magic center Dwight Howard and one for Hornets point guard Chris Paul, ESPN's Chris Broussard reports. That...
L.A. would have to give up Andrew Bynum and probably Lamar Odom or Pau Gasol, but it's what the Lakers need to give them a jolt.The Orlando Magic made its most desperate attempt to court Dwight Howard the other day in a move understood by starry-eyed lovers everywhere.
The absolute joy of the NBA lockout coming to a close is that we're back to a non-stop fury of trade and free agent rumors that make absolutely no sense and are almost entirely unsubstantiated. For instance, did you know that since both the Orlando Magic and New Orleans Hornets want Andrew Bynum in a deal with the Los Angeles Lakers if they trade Dwight Howard and Chris Paul,...
According to Adrian Wojnarowski of Yahoo! Sports, Chris Paul is headed to the Lakers. The proposed deal will send Pau Gasol and Lamar Odom to the Hornets in exchange for CP3. The Houston Rockets could also be involved. The details will soon be hashed out, but it appears phase one of the Lakers makeover is [...]
The Orlando Magic formally announced several key changes at the top of their hierarchy Wednesday morning, and team officials pledged, again, that they will do everything they can to keep Dwight Howard for the long-term.
I'm not sure if you've heard about this or not, but the Celtics really want Chris Paul and they're willing to give up Rajon Rondo for his services. I know, breaking news. Apparently, Danny Ainge is willing to give up more than Rondo in order to acquire Paul. Much, much more. However, New Orleans doesn't appear to be doing back flips over Boston's proposal....
Two years ago -- reflecting the political debate at the time -- I made the case that there were "two NBAs": The teams actually competing for a championship and the ones clearly not. The split was roughly a half-dozen or so actually competing and four-dozen not.In light of the Chris Paul trade to the Lakers -- and the inevitable trade of Dwight Howard to a contender (cripes...
NBA News

Delivered to your inbox

You'll also receive Yardbarker's daily Top 10, featuring the best sports stories from around the web. Customize your newsletter to get articles on your favorite sports and teams. And the best part? It's free!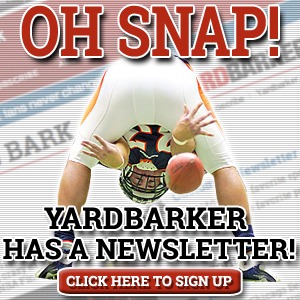 Latest Rumors
The Backyard

Today's Best Stuff

For Bloggers

Join the Yardbarker Network for more promotion, traffic, and money.

Company Info

Help

What is Yardbarker?

Yardbarker is the largest network of sports blogs and pro athlete blogs on the web. This site is the hub of the Yardbarker Network, where our editors and algorithms curate the best sports content from our network and beyond.