Found January 30, 2013 on Taking Bad Schotz:
PLAYERS:
Derrick Rose
,
Nate Robinson
,
Jimmy Butler
,
Richard Hamilton
,
Luol Deng
,
Joakim Noah
,
Kirk Hinrich
,
Carlos Boozer
,
Taj Gibson
,
Nazr Mohammed
,
Vladimir Radmanovic
TEAMS:
Chicago Bulls
The Chicago Bulls entered this season with a dark cloud hanging over their heads.  Derrick Rose was unavailable until further notice. Crucial role players, including C.J. Watson, John Lucas III, Ronnie Brewer, and Omer Asik had all left to pursue more money, and more playing time, elsewhere.  The year had already been a dry one in Chicago. The Cubs finished with fewer than 70 wins AGAIN, The White Sox missed the playoffs, and Blackhawks fans were left in a bitter rage after losing a string of first-round overtime wins against the Phoenix Coyotes. Nobody, in Chicago or around the country, thought the Bulls were going anywhere. The conventional wisdom was that the Bulls had to hang around on the edge of playoff contention until Rose came back, and then find a foot-hold in a tough Eastern Conference. Yet here we are, half way through the season, with the Bulls flying high at 27-17, good for third place in the Eastern Conference. And nobody is talking about it. The Bulls, under the steady hand of Tom Thibodeau, continue to get it done on the most important end of the floor: defense. Chicago is ranked 3rd in the league in opponents points per game with 91.2 and continue to provide a consistent effort on the glass, ranking 6th in rebounding per game with 44. Seems like a pretty good way to combat the loss of one of the best scorers in the game doesn't it? The most impressive part of this Bulls team is the contributions they've gotten from overachievers such as Nate Robinson (21.3 mins/42.8%/38.5%/10.9pts), Marco Bellinelli (24.7mins/39.6%/38.8%/9.5pts), and most recently, Jimmy Butler ( 20.5 mins/48.7%/25%/6.4pts).  All three of those guys come of the bench, and each has a specialized role to play. Robinson, for instance, is counted on for offense explosions when scoring gets anemic, bringing energy and a higher pace that can overwhelm some second units. Bellinelli also brings the energy, even if he does look perpetually surprised, and isn't afraid to take his shots or drive into the lane. He's effective creating his own shot, and the Bulls can rely on him to play a lot of minutes while Rip Hamilton is at the nursing home resting his legs. That's a HUGE plus. Jimmy Butler, who has been seldom used since being picked 30th overall in the 2011 draft, has gotten a ton of minutes the past week while All-Star Forward Luol Deng missed several games due to a hamstring injury. With Deng out, Thibodeau leaned on Butler to play ridiculous minutes, sometimes more than 40 a game, and Butler rose above anyone's expectations. He transformed into a viable back up for Deng, who has carried the team in tandem with Joakim Noah, which means that Deng will be able to reduce his league-leading 39.8 minutes a game and ensure that he is fresher for the playoffs. via espn.go.com This highlights the Bulls' greatest strength: depth in key positions.  The Bulls are stocked with two effective ball handlers in Kirk Hinrich and Nate Robinson who are diverse enough to play matchup basketball. They have a solid shooting guard situation for the first time since Ben Gordon chased a big contract out of town, and they trot out an All-Star and a serviceable back up at small forward. At power forward they have a scorer in Carlos Boozer who has actually been earning his pay recently, even earning Eastern Conference Player of the Week honors. Behind him is Taj Gibson, the best-kept starter-caliber secret in the league. Finally, All-Star Joakim Noah, has put up ridiculous numbers (38.5 mins/45.7%/11.1 reb/4 asts/2.1 blks/12.1 pts PER GAME) in the absence of Derrick Rose is locking down the center position at the United Center. Behind him is rarely used reserves Nazr Mohammed and even Vladimir Radmanovic. The luxury of Taj Gibson is that he can be played at the center position if the Bulls need to play small. Again, these Bulls are built to match up with almost anyone. Still, nobody is talking about it. via cleveland.com The best part is that Derrick Rose hasn't played a minute. Oh yeah, Derrick Rose. That guy. Forget about him? Chicago fans sure haven't. Bulls coverage in Chicago stops when Derrick Rose PRACTICES.  It's almost like a kid staying up for Santa Claus and Derrick Rose is Santa Claus in Chicago. He wears a red suit, he's beloved by millions, and he brings gifts to children, (or in this case, adults in Chicago) and his return is the most wonderful time of the year.  Derrick Rose is one of the best five players in the world, and this team is already the seventh best team in the league? How scared are the coaches in the NBA at the fact that Santa Claus is coming to town in May? The Bulls, as they stand, are an elite defensive team who is about to get a shot in the arm by one of the most gifted athletes in the past decade.  Derrick Rose can take the ball to the hoop himself, he can slash and kick, he can pull up in the middle of the lane and bury the ball in the bottom of the net, he can distribute, and he can toe the three point line and shoot the lights out. He is the most terrifying presence on the floor in basketball outside of LeBron James. Just ask MVP voters from two years ago. But, nobody is talking about it. So where does this team go? I'll put it out there. The NBA Finals.  The Chicago Bulls will win the Eastern Conference over the Miami Heat because they have all the things that Miami lacks. Depth and a dominant big man. Joakim Noah will, in my opinion, destroy whoever Miami trots out there to try to combat him, Derrick Rose will destroy Mario Chalmers, and Luol Deng will be good 'ol Luol and hit his shots. The Heat are going to have to get transcendent performances from LeBron and Dwayne Wade in order to compete these guys. Call me crazy, but I think Derrick takes this team from very good to great.  The 2012 playoffs were a fluke without Derrick Rose. His absence allowed the Celtics to make it to the Conference Finals, and I think these Bulls are a better version of that Celtics team that pushed Miami to seven games. Obviously, it all depends on how Derrick performs when he comes back, and boy, is it going to be fun. -Fenton
Original Story:
http://www.takingbadschotz.com/?p=12025
THE BACKYARD
BEST OF MAXIM
RELATED ARTICLES
Nate Robinson explodes to the rim for a one handed dunk off a back door cut during the Bulls victory over the Bucks on Wednesday evening. It was the 5'9" 3x dunk champion's first dunk since the 2010-2011 season as he is heard yelling after the throw down "I want my money" to Rip Hamilton who he made a bet with that he would have one this year:
Former Celtic and NBA Dunk Contest champ Nate Robinson had a pretty sweet dunk during last night's Bulls-Bucks game. Stacey King (who played 5 games for the C's), was doing commentary on the game and goes nuts after Nate's dunk, mentioning that he has been waiting for little Nate Robinson to dunk this year. I would love to see Nate Robinson in the dunk contest this year...
Robinson was a late Bulls addition this season and said he wasn't concerned before Thibodeau contacted him as he thought he'd play in the NFL this season if he didn't land with and NBA. It's Nate's world. "I was going to (try for a) tryout (with the Seahawks) and play football," said Robinson. "If no team wanted me for basketball I was going to play football." Robinson...
With a couple of exceptional one-handed jams thrown down by Harrison Barnes and Carlos Boozer, there was yet another tough call to be made today.  I decided to put this one to a vote, and my friends from the InsideHoops forums chose Boozer by an 8-2 tally.  I'm pretty surprised that the polling didn't turn up a tighter race, but I don't necessarily disagree with the result...
Chicago Bulls coach Tom Thibodeau said Wednesday that Derrick Rose is now taking "full contact" and the only thing left in his return from ACL surgery is putting in more time and then getting acclimated to a game situation. "He's full contact, yeah," Thibodeau said before Wednesday's morning shoot-around as the Bulls prepared to face the Milwaukee Bucks. "He can...
CHICAGO (AP) -- Jimmy Butler scored a career-high 19 points and Nate Robinson added 15 as the Chicago Bulls defeated the Charlotte Bobcats 93-85 on Monday night. Luol Deng returned to the Bulls' lineup after missing five games with a hamstring injury, and scored 12 points in 31 minutes. The Bulls won three of five without Deng as his absence was eased by the strong play of Butler...
The Chicago Bulls got a lift last night as Luol Deng returned from an injury that had sidelined him for the last five games.  In his first game back, Deng helped the Bulls to a 93-85 victory over the Charlotte Bobcats.  Deng appeared to move around the court well, and he looks like he is completely healed.Deng suffered a strained hamstring nearly two weeks ago.  He had not been...
CHICAGO -- Bulls forward Jimmy Butler is only in his second NBA season, but he appears ready for any challenge. After playing well as a starter for five games in place of the injured Luol Deng, Butler returned to a reserve role Monday, yet he still scored a career-high 19 points as Chicago held off the Charlotte Bobcats 93-85 at the United Center. Deng, who missed time with a...
Nate Robinson scored 16 of his 24 points in the second quarter, leading the Chicago Bulls to a 104-88 victory over the Milwaukee Bucks on Wednesday night. Jimmy Butler, a second-year pro from Marquette, had 18 points and five rebounds in a return to the arena where he played college basketball. Samuel Dalembert had 14 points and a season-high 13 rebounds for the Bucks. Ersan Ilyasova...
CHICAGO – Jimmy Butler returned to a reserve role Monday, but still scored a career-high 19 points as the Chicago Bulls held off the Charlotte Bobcats 93-85 at the United Center. Butler started the previous five games in place of forward Luol Deng, who was sidelined by a right hamstring strain. Deng was back in the starting lineup Monday against the Bobcats and scored 12 points...
Celtics (37-13) vs. Chicago (18-33) January 29, 1980 Chicago Stadium The Celtics continued to build some momentum before the All Star break with a 103-99 victory in Chicago over Jerry Sloan's Bulls.     The win was anything but easy.  A 23-minue delay in the third quarter due to a broken clock allowed Bill Fitch some extra time to devise a plan to pick apart the Bulls' defense...
MILWAUKEE -- There would be no comeback this time. After surrendering double-digits leads in their last two losses against Milwaukee, the Chicago Bulls put a halt to every attempt at a surge Wednesday, holding on to beat the Bucks 104-88 at the BMO Harris Bradley Center. Nate Robinson scored 16 of his game-high 24 points in the second quarter, and five other Bulls players scored...
Bulls News

Delivered to your inbox

You'll also receive Yardbarker's daily Top 10, featuring the best sports stories from around the web. Customize your newsletter to get articles on your favorite sports and teams. And the best part? It's free!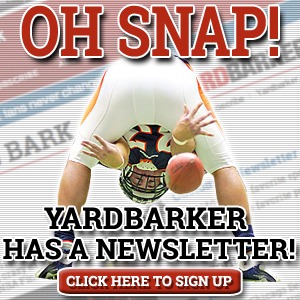 Latest Rumors
Best of Yardbarker

Today's Best Stuff

For Bloggers

Join the Yardbarker Network for more promotion, traffic, and money.

Company Info

Help

What is Yardbarker?

Yardbarker is the largest network of sports blogs and pro athlete blogs on the web. This site is the hub of the Yardbarker Network, where our editors and algorithms curate the best sports content from our network and beyond.