Found February 15, 2013 on Fox Sports South:
FOX Sports South: The Hawks knew that the situation with Josh Smith, who will become a free agent this summer, was going to come to a head at some point. How do you think theyve dealt the trade rumors? I think theyve dealt with it as well as you possibly can. They made their presentation to Smith before the season started. One thing we did not hear about on a week-to-week basis was what they were going to do with him. It wasnt until about a week ago that all this came to fruition and thats only because the trade deadline is Feb. 21st. This could have hung over them all year long and been a total distraction. I applaud both Josh Smiths people and general manager Danny Ferry for keeping this basically under wraps and out of the headlines, newspapers and talk shows on a daily basis until about a week ago. FSS: How have the players dealt with not knowing whats going to happen to one of their best players? Its been my experience, regardless of the sport, that all athletes realize first and foremost that they are playing a professional sport and there isnt one athlete out there that will hold it against another athlete if he does what is best for him and his family. They all realize that they are playing for a paycheck and you have to do what you have to do. If that means Josh leaves or if the team has to trade him, they understand the business aspect of the team. As disappointing as it is, sometimes with friendships or with team chemistry, they all understand at the end of the day its the individual players decision for the most part or the team's. So nobody ever holds it against another player in that aspect. Thats just been the experience Ive had, whether it was early days covering football or my days covering the Braves and Hawks. FSS: Entering the All-Star break, can you take stock of where things are with this team? Going into the season, I thought this team was a sixth or seventh seed. Right now with 29 wins if youd told me at the beginning of October that they would be where they are, I would have taken it in a heartbeat. That being said, I think they should have 32 wins instead of 29. I think they let a couple get away from them. Ill take 29 wins, especially with the injuries they went through and losing Lou Williams the way they did. Without question, if I were a Hawks fan Id be terribly excited heading into the second half of the season. FSS: When you look at the point guard situation, you mentioned Lou Williams injury, do you think they have the amount of depth there to carry them into the playoffs? I do, but it all depends on injury. They lost Devin Harris for so long and if he goes down again, theyre going to be in a lot of trouble. Now with both him and Jeff Teague there, theyre fine. Theyre going to have to make a decision on Jannero Pargo and they havent made it yet. I think theyre better off with three, but I think they can get by with two as long as Harris is healthy, but you never know. Teague or Harris could get hurt and if that happens, theyre desperately going to need to do something. FSS: The Hawks get a few days before they have to face the Heat on Feb. 20 at home. How key is this game as far as building momentum? I spoke with the Stinger, Mike Glenn, about this in the postgame show after the win Wednesday night against the Magic. He said its just a great boost to go into the break with a two-game winning streak. But I just think you cant carry momentum I dont care how talented you are over a six-day layoff like that. Youre going to lose a little bit of rhythm. I dont care how good you are, how bad you are, how well youre playing, how much youre struggling. Six days in a row off changes everything, but thats just my opinion. FSS: Is this a must-win game for the Hawks with the defending champions in town, a team theyre looking up at in the Southeast Division? I dont think its a must-win situation. It may build their confidence to get the W, but I dont think its anything where theyre going to look back a month from now and go Oh, we should have beaten the Heat that day. I dont think its really that big of a deal because once you get into the playoffs, its all going to be determined by how you play in that first round and how you match up with them over the series. I dont think one game, in middle-to-late February, is going to be that big of a deal.
Original Story:
http://www.foxsportssouth.com/02/15/1...
THE BACKYARD
BEST OF MAXIM
RELATED ARTICLES
The Josh Smith trade derby could include the Dallas Mavericks. CBS Sports' Ken Berger reported that the Mavs have had internal discussions about acquiring the Atlanta Hawks' star forward. However, Berger wasn't sure if the Hawks and Mavs have discussed a deal. With Mark Cuban saying the "Bank of Cuban" is open, it's logical that the Mavs would be mentioned...
The Hawks are widely expected to trade Josh Smith before the Feb. 21 deadline.
Josh Smith is still being strongly linked to Boston, and the rumors that are going around swap Brandon Bass and Jeff Green for Josh Smith.  Gary Woelfel from Journal Times has been all over the Josh Smith rumors, I do not know how/why he has the insider information, but he has been posting a lot on the latest happenings and Atlanta's musing regarding their star power forward....
The Hawks are continuing to look for a trade of Josh Smith.
It appears San Antonio could be the potential landing spot for Josh Smith, according to Sam Amico via Fox Sports Ohio. San Antonio could emerge as a potential landing spot for Smith, according to an Eastern Conference GM. With Smith's expiring contract, it is believed the Spurs wouldn't have to surrender much in return — and that coach Gregg Popovich and stars Tim Duncan...
The Milwaukee Bucks have the assets to possibly intrigue the Atlanta Hawks into parting with Josh Smith. The question is whether J-Smoove would be interested in playing in Milwaukee or if it'd be a half-season rental. The Racine Journal Times reported that "there are whispers" that the Bucks are interested in Smith. And the offer could be pretty good one. The...
ORLANDO, Fla. (AP) -- The Atlanta Hawks have had trouble at times playing consistently against struggling teams. They chose a great time to jettison a bad habit. Josh Smith had 30 points and 10 rebounds and Al Horford added 26 points and 12 rebounds as the Hawks blew past the Orlando Magic 108-76 on Wednesday night. The Hawks led by as many as 38 points and decimated the Magic...
ATLANTA With a 108-76 thumping of Orlando on Wednesday, the Atlanta Hawks head into the NBA All-Star Break with a bit of momentum and at least one major unanswered question. At 29-22 and in sixth place in the Eastern Conference, the Hawks have won three out of four but sit only two games behind Indiana for third place, as the NBA trading deadline looms on Feb. 21. With 31 games...
According to Gery Woelfel of the Racine Jornal Times (he's a beat guy for the Bucks), the Celtics are 'salivating' over potentially acquiring Josh Smith, and are willing to give up Brandon Bass and Jeff Green for him. From Woelfel's article. I've heard for a few weeks now that Boston is salivating over Atlanta forward Josh Smith and would be receptive to unloading...
In the past twelve hours, three major trade rumors involving the Celtics have leaked. First, we saw a proposed trade that would send Rajon Rondo to the Lakers for Dwight Howard. Then Kevin Garnett was rumored to be going to the Clippers for Eric Bledsoe and DeAndre Jordan. Now, the Celtics are interested in acquiring Josh Smith from the Hawks for Jeff Green and Brandon Bass, according...
Today February 13, 2013 The 28-22 Atlanta Hawks take on the 15-36 Orlando Magic. The Hawks have won 8 straight against the Magic coming into this game. The Atlanta Hawks got off to a slow start shooting 1-10. After that they went 6 for their next 10, taking the lead and control of the game. At the half the Hawks led 57-36. Atlanta led by Al Horford who already recorded his 27th double...
Hawks News

Delivered to your inbox

You'll also receive Yardbarker's daily Top 10, featuring the best sports stories from around the web. Customize your newsletter to get articles on your favorite sports and teams. And the best part? It's free!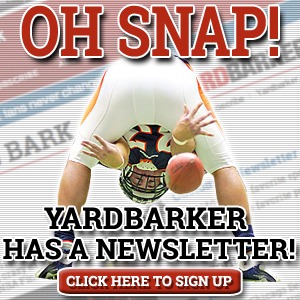 Latest Rumors
The Backyard

Today's Best Stuff

For Bloggers

Join the Yardbarker Network for more promotion, traffic, and money.

Company Info

Help

What is Yardbarker?

Yardbarker is the largest network of sports blogs and pro athlete blogs on the web. This site is the hub of the Yardbarker Network, where our editors and algorithms curate the best sports content from our network and beyond.